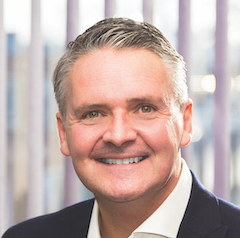 Leaders with true vision are investing in the development of a broader purpose including quality of life, culture and communities, according to Charlie Blakemore, Group MD at Intercity Technology.
It is true that the emphasis of many businesses is moving towards people centricity, diversity, sustainability and care for the environment, rather than double down on making a handsome profit at all costs. The chief reason for matters such as sustainability rising up the corporate agenda stems as much from Covid-19 as other purposeful priorities. "The pandemic has put a new perspective into everybody's lives, on a personal and a professional level," stated Blakemore. "It has reset the strategic outlook of many companies by highlighting the importance of their people and the value they bring to an organisation. As a result, we're seeing more and more business leaders pose the question: 'Is what we're trying to achieve still relevant in today's rapidly changing business landscape?'.
"However, it's not always what you do that matters – it's how you do it. The pandemic has reinforced this tenet in what has been an extremely challenging and prolonged period for businesses, where teams and individuals working remotely have had to rely on each other more than ever to get the job done."
Intercity Technology has implemented a number of initiatives and processes over the years to ensure it remains socially and environmentally responsible, from a local schools programme to its Women in Tech Networking Group. "These are well developed and built to deliver value for our colleagues and our local community," added Blakemore. "But most importantly, our initiatives have allowed us to stay engaged and connected during these challenging and unprecedented times.
"You can never rest on your laurels and we continually seek to create a better working environment for colleagues. The same outlook applies for our community. We often take time out as a team to help those in need as we appreciate the added value it brings to the wider community and demonstrates our understanding of the local external environment. Caring for our customers, each other and the communities we work in is in our DNA and will always remain one of Intercity's core values."
It's not always what you do that matters, it's how you do it
Intercity Technology's bias in favour of advancing a 'higher purpose' agenda includes working with local schools to raise awareness of careers in ICT among young people. "As part of our longer-term objective to develop a pool of young talent in the tech industry we work closely with social enterprise Ahead Partnership to support schools across the Midlands, where our business is headquartered, to educate students on the range of opportunities available across our industry," explained Blakemore.
"We also established the Women in Tech Networking Group at Intercity in January 2020. The Group discusses topics like how to celebrate our gender diversity and managing a work-life balance, as well as how to encourage more women into the industry, and importantly, how we can improve our working environment and culture. These themes are all part of Intercity's development strategy."
Blakemore bevies that strategic visions such as his must underpin the future of all organisations and key to success is measuring the effectiveness of all initiatives. "You'll fail to understand the true value they bring to your organisation if you don't measure their success," he added. "We often carry out internal surveys to hear what our colleagues think about the company and the areas we could look to improve.
"Our values are more important now than they have ever been. As a family-run business, it's been hugely rewarding to come through this challenging period. But we've done this by doing the right thing. Helping our colleagues, looking after our customers and continuing to invest our time in the community – and not by prioritising short-term gains. That's the key, and I'd encourage other businesses to do the same to ensure a successful and sustainable business model is developed for the longer-term."