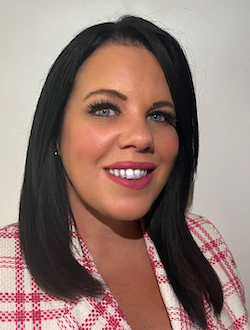 ANS Group's first Chief People Officer Toria McCahill discusses how D&I will play an ever growing role in shaping ANS's strategy, and shares insights into how female representation in boardrooms can be increased.
McCahill's appointment puts diversity and inclusion more under the spotlight as ANS seeks to deliver a fresh strategy that moves the dial on fostering female talent. "When it comes to our people initiatives and incentives we're not here to do BAU," she stated. "My passion is diversity in all its forms, to build diverse and high-performing teams, enabling people to develop and grow their careers."
McCahill has a background in finance and M&A but made the switch to HR more than a decade ago. She has held senior roles at Samsung, Dentsu and Dixons Carphone Warehouse; and her career experience has given her a deep understanding of commercial strategy and how it links to people strategy, especially attracting, retaining and engaging the right people through an inclusive culture. "One of the ways we promote diversity is through various EDI groups," added McCahill. "A person's identity is about more than their gender, and it's important for us to create an environment where everyone can be themselves."
 
She explained that the Women in ANS group is about bringing a community of women together to share experiences and to network. "It's a neutral space where women have the opportunity to talk to and learn from those in different roles and business areas who they might not otherwise have regular access to," added McCahill. "It's about being inspired and having great role models, as well as finding common ground and supporting each other with shared challenges."
 
Tomorrow's leaders
Alongside the Women in ANS group the company is developing a Future Leaders programme which looks closely at how to nurture female leaders and ensures they have access to coaching and mentoring. "Sometimes women can be reluctant to push themselves forward for leadership positions," said McCahill. "That could be due to a lack of confidence in their ability, concerns about managing other caring responsibilities or misconceptions about the behaviours required of leaders.
"We may need to proactively search out the great women in our organisations and push them forward, as they're not always as good as men at self-promotion. This programme makes sure we're not missing out on amazing potential female leaders who won't necessarily put themselves out there."
We're at a pivotal point and must continue to shine a spotlight on not only gender inequality, but also other under-represented groups – and acknowledge that there's a long way still to go
McCahill urged senior business people to make use of their wider networks to open up opportunities for others. "I'm working with the CEO of another Inflexion partner, and through networks like these we can ensure we've got a pool of mentors for females at all levels, and in different industries, to help people grow their breadth of experience," she said.
 
"Taking a longer-term view, we work with a number of local schools and colleges, meeting young people and engaging with young women in particular to inspire them about what a career in tech can offer. We provide routes into the sector via our apprenticeship scheme and are working on the launch of a new graduate scheme."
 
Among other initiatives designed to help increase the presence of women on boards ANS, alongside a number of other businesses, is working with the Tech Talent Charter on a project to address the lack of diversity in the tech industry. "I recently attended an event as part of this project at the House of Commons to work directly with Government and policymakers on the lack of diversity in tech board rooms, and what we can do to really push that forward and make sure it's high on the agenda," commented McCahill.
When it comes to our people initiatives and incentives we're not here to do BAU
She believes that more action needs to be taken to boost the number of women on boards, and that it's everyone's responsibility, not just womens', to boost diversity at the most senior level. "If you want your business to be diverse your exec team has to be behind it otherwise you're fighting a losing battle," commented McCahill. "I feel fortunate at ANS that the rest of the board have bought into increasing diversity and that as a woman on the board I have an equal voice. But there's a long way to go across the industry before diversity is unanimously seen as a priority.
 
"It's about looking at everything through a diverse lens and considering everyone. We need to make sure that everything from our culture, our benefits, our events and our communications really reflect the 30 per cent of females in the business and take into account women who might be considering a career with us."
 
Flexibility
As part of this approach ANS encourages hybrid, remote and flexible working, while offering an attractive office environment for those who want it. "This is about supporting different lifestyles and different people, whether they're men or women, have a family or are single," said McCahill.
 
She says the onus is not on ambitious women influencing their own ability to reach a board level position, rather how a business inspires and supports young females to grow into top level roles. "It's important to try and be a role model and to demonstrate true leadership behaviours as a female," noted McCahill. "I was lucky to have brilliant support and coaching around me, so I want to pass that on to give other females the confidence that they can do it too."
Key juncture
Has the ICT sector in general made progress in recent years on increasing diversity at leadership level? "I've been in tech for a long time now," said McCahill. "In the first tech business I joined we had just four per cent female representation in the entire company. There has been some brilliant progress, but not enough in my view. We're now at a pivotal point and must continue to shine a spotlight on the issue – not only on gender inequality, but also other under-represented groups – and acknowledge that there's a long way still to go.
"We might not see true parity for another 20 years, but if we start early by getting into schools and inspiring everyone towards careers in tech, in the future we'll see a better balance in the sector. Then it's about making sure people have the right support in place to help them grow and move into those leadership positions.
"We've also got to think about our children and our children's children. We've got to make sure that the opportunities are there for them, but also do our part in inspiring the young women of today to join the industry – so it doesn't remain so male dominated."