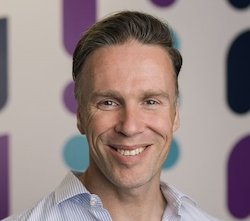 ANS Group CEO Richard Thompson has solid plans for accelerating the firm's channel growth fuelled by an ambitious vision and new propositions that fuse cloud, digital and security strategies.
ANS Group's channel growth ambitions ramped up last summer with the instatement of former TalkTalk MD-Indirect Richard Thompson as CRO. In October he stepped into the CEO role to build on the company's sale to Inflexion while extending the growth strategy towards new channel partnerships and a broader customer base. At the time of his appointment Thompson said: "I love to be the challenger, disrupting markets and generating growth."
He joined ANS following 20 years with TalkTalk where he helped grow its wholesale broadband market share to more than 60 per cent. It is this experience that Thompson hopes to leverage as ANS embarks on the next phase of its development. With an 800-plus headcount, the business operates at scale across the SMB, enterprise and public sector customer segments and Thompson's remit is to drive significant growth through these existing channels and new channel partner routes to market. He is also focusing heavily on ANS's people and engagement, while investing in the group's capability for scale.
"We're expanding our channels and investing in talent while maintaining our focus on the customer experience, our strengths in cloud, security and digital, and on unlocking opportunities for our customers with these technologies," stated Thompson. "Technology partners want access to cloud vendors and solutions but don't necessarily have the in-house expertise or resources to do so.
"We're building on 25 years experience of making cloud simple for our partners and their customers and we're committing to investing further because this is an area where we can deliver significant value. We're investing in our systems and capability because it's critical that it's easy to do business with us."
Another of Thompson's strategic aims is to build on the integration of recently acquired Microsoft Dynamics 365 CRM Partner and Power Platform Expert Preact. As a Microsoft Gold Partner and five-times winner of Inner Circle status for Microsoft Business Applications, Preact will accelerate a significant part of ANS's strategy to expand its SMB offering.
Being a driver of change at the right point of the market and product lifecycle is key, believes Thompson. "We play in high growth markets that are expanding," he commented. "The time is very much now for cloud, digital, and security products."
Thompson emphasised that the channel proposition is built with transparent rules of engagement across the direct and partner business. "How a channel partner interacts with us depends on their competency in the cloud," explained Thompson. "Our referral scheme caters for any technology businesses wanting to fill product gaps. We have more than 500 referral partners and expect to see an acceleration in numbers. We are also looking to build out our reseller capability, targeting traditional channel partners and giving them access to our cloud, security and digital portfolio."
Indirect Sales Manager Ryan Martin is tasked with driving the channel operation day-to-day. "Our plan is to make technology simple, affordable and quick to deploy, while retaining all the required governance and security," he said. "We fundamentally believe that every business, charity, government body, should be able to realise their ambitions. They should never be held back by the inaccessibility or cost of digital transformation tech. Our strategy is focused on bringing digital transformation to all."
Thompson also noted that cloud adoption is continuing to expand rapidly, with Gartner predicting that by 2025, 85 per cent of organisations will be cloud-first. "Digital transformation to the cloud is vital for businesses to be competitive," he added.
Gartner also states that by 2025, 95 per cent of digital workloads will be deployed by cloud-native platforms. Furthermore, observed Thompson, it's crucial that organisations understand their areas of vulnerability and know how to protect against threats. "ANS takes security technology, pre-configures and automates it to provide the highest level of threat monitoring and defence to protect organisations at every layer," he stated.
According to Thompson, many within the channel are seeking to make the move from fixed line connectivity and telephony to cloud-based services and are looking for a partner that can help them on that transition pathway. "I'm bringing over 20 years channel experience to deliver a proposition across cloud, digital and security," he commented.
"Digital transformation shouldn't be the domain of big business, every organisation large or small should have the right to transform. We're a fresh challenger in a fast-paced industry, making the right decisions and investments to provide digital transformation for all."
Just a minute with Ryan Martin, Indirect Sales Manager, ANS
Role model
Steve Jobs or Jeff Bezos. Both were catalyst for the new digital age and key architects for the highly connected world we now live in. They were passionate about what they were building and backed themselves. Steve Jobs particularly was a captivating leader that presented technology in a simple new way to millions of people.
What talent do you wish you had?
To play a musical instrument as my daughter is obsessed with music.
What do you fear the most?
Bad Wi-Fi
Tell us something about yourself we don't know:
I was a finalist in the All-Ireland Debating Championships in 2008.
Name three ideal dinner guests:
Marcelo Bielsa, as an avid Leeds fan it would be great to share a glass of Malbec with the great man! Ayrton Senna, in my opinion the most natural gifted F1 driver in history. It would be fascinating to know what motivated him and take the risks he did. Chris Stapleton, perhaps an obscure one, but genuinely one of the most talented artists, singer and songwriters around. I'd love to know the stories behind the songs.
What are your greatest strengths, and what could you work on?
I've always loved presenting, especially if it is something I'm passionate about. I'm far more comfortable delivering to a large group of people than I am in 1-2-1 situations, so I could work on dealing with those situations better.
How would you like to be remembered?
First and foremost, as a great dad and husband. Someone who genuinely gave life their best shot and made people happy along the way.
Name one thing you couldn't do without in your job.
Coffee. I could own a Costa franchise by now with the amount spent on coffee!
Best piece of advice you have been given?
Not so much advice but a quote that has always resonated with me is, 'Everyman is the architect of his own fortune'.
Give one example of something you've overcome.
Last year, shortly after the birth of our daughter I suffered a TIA. Although it wasn't overly serious, there was an initial period of shock that was hard to overcome. But I had a good group of people around me and I view it as a positive now as it put a lot of things in perspective for me.
If you weren't in IT what would you be doing?
Selling something, probably cars.
What's the biggest risk you have taken and why?
Moving to England straight after Uni for my first 'proper job'. In hindsight I didn't fully think it through at the time, and although I was only a 30-minute flight from home, I didn't appreciate how difficult it would be. But I knew I was moving to build a career and open the door to many more opportunities that I simply wouldn't have had at home, and it turned out to be one of the best decisions I have ever made.
How do you relax when not working?
Huge fan of the log cabin weekend breaks with my wife, daughter and Hunter our Boxer dog.
Top tip for resellers:
Always have the customer experience in mind and keep it simple. With price pressure more prevalent than ever in the channel, ease of doing business is critical. Leverage the expertise of suppliers/vendors to enhance the overall customer experience.