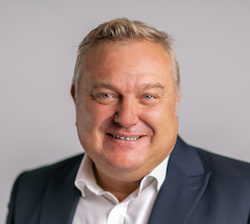 Britannic CEO Jonathan Sharp's capacity for critical thinking and problem solving not only keeps the business moving forward it ensures he remains in control of challenges and makes the right strategic decisions.
As incoming chief exec, this highly experienced comms professional already stands out as a dynamic leader with unstoppable momentum.
When it comes to solving problems and challenges Sharp's systematic thinking process kicks in automatically and a positive outcome is the inevitable result. He is a goal setting dynamo that only sees solutions, not problems. Therefore it's safe to assume that nothing will stand in his way. "There have been many challenges along my career," said Sharp.
"I have always focused on doing the right thing and acting with integrity, remaining positive, working hard and solving problems – seeking the win-win. I learnt a long time ago that it's always possible to find a solution by stepping back, approaching the problem calmly and remaining positive. Then test and review. All problems are solvable – it's all about attitude and mindset. Think laterally and logically, break it down and have a go because there is no such thing as 'can't'."
Sharp joined Britannic 25 years ago as Marketing Manager, becoming Sales and Marketing Director in May 2003. He took the helm as CEO in March this year, succeeding company founder and Managing Director Richard Dendle who led Britannic for almost 40 years and is now Executive Chairman. "I have in-depth understanding of the business, market and customers," stated Sharp. "I am dynamic and have a passion for developing the business, taking it forward to be the best version we can be.
"Today, business value is created by problem solving, integration and digital transformation through a deep understanding of customers and a consultative approach. Our problem solving skills enable us to challenge the status quo, ask questions and not accept things at face value. Our desire is always to step into the unknown, take new things on and extend the capabilities of technology and business. The pace of innovation and change is not likely to slow down any time soon, which will drive some businesses out of the market, but Britannic with its innovative mindset will continue to be a force to be reckoned with."
All problems are solvable – it's about attitude and mindset. Think laterally and logically, break it down and have a go because there is no such thing as 'can't'
Britannic is witnessing a positive return to growth post-pandemic, increasing sales order input by 35 per cent following a period of consolidation and change within the business. "We are developing a number of areas in our portfolio in-house and through strategic partnering," added Sharp. "The market is moving fast and we need to ensure we continue to move with it. Our formalised processes of new product onboarding are key to smooth out this journey."
One of Sharp's immediate priorities is to establish company-wide functional roadmaps that keep the business moving forward, propelled by a team with a shared vision that supports Britannic's values and cultural development. The company has also implemented a new CRM system as part of its ongoing review of processes and systems to deliver greater consistencies and efficiencies, enabling it to reinvest time gained in driving more improvements in the customer and employee experience. "Our Innovation Hub has also seen some great new value releases with more planned as we strive to differentiate ourselves in the market, by adding value to our customers and supporting sustainable and managed growth," added Sharp.
Deep experience
With nearly 30 years in the IT, telecoms, software and consultancy industry he is well qualified for the top job. "I have an intimate understanding of the business, team, customers and partner community," added Sharp. "I have worked across all aspects of the company from sales, marketing, project management, service management, systems and product development, and P&L responsibility. I have been instrumental in acquisitions, founded two businesses, delivered consultancy, run customer workshops, discovery and scoping sessions, set vision and direction and successfully executed change. I have a firm belief in the direction of travel and our commitment to the future."
Britannic's key technology partners include 8x8, Five9, Mitel, BT, Calabrio, Uniphore, Bizvu, Cisco and Juniper. It's a line up that Sharp says will ensure Britannic sees continued growth of the cloud, whether public, private, hybrid or multi-cloud. "New models of engagement and business opportunities will continue to emerge," added Sharp. "Our biggest opportunity is the speed of change combined with new technologies.
Resolving a challenging situation is always made easier by involving others, building shared goals with a desire to move forward
"Dynamic AI technology is so disruptive that it is about to turn the world upside down, changing how we work, live, learn and play. We haven't had this transformation in tech since the Internet. This is one of the most exciting times to be in the industry, and we view challenges such as speed of change and a saturated market as opportunities that can be harnessed to grow our businesses."
At the top of this article we referred to Sharp as a 'goal setting dynamo', which along with his natural skill to replace challenges with opportunities may well become another of his defining characteristics. Especially having received a dynamic energy boost from a milestone birthday. "Last year I turned 50 and embarked on 50 challenges to raise money for Cancer Research UK," enthused Sharp. "This brought many great experiences and shared memories with family members and friends, including cycling to Paris and surfing with my daughter, walking the three peaks and swimming in the Lake District with my wife, making and racing a go-kart with my son and father, and so much more.
"I have carried on walking, visiting new places and seeking out fresh challenges. These shared experiences all underline the fact that resolving a challenging situation is always made easier by involving others, building joint goals supported by a strong desire to move forward together."
Sharp's leadership priorities
• Helping to create and grow the right culture
• Innovation and change management
• Motivation and empowerment
• Collaboration
• Problem solving
• Entrepreneurship
• Partnerships