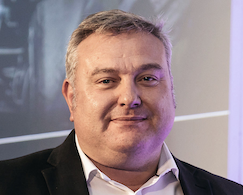 Jonathan Sharp, Sales and Marketing Director at Britannic Technologies, is a past master at putting on customer events and the company's latest Convergence Summit again showcased the advantages of rallying clients to the Britannic flag.
In a fast-moving technological world, maintaining high touchpoints is becoming crucial for ICT providers who must continually keep customers educated, motivated and fully aware of all the new products and services they can offer. Newsletters, e-bulletins, webinars and the like are all well and good, but do they offer that face-to-face engagement that can be so valuable? And can any sales leader justify to their financial manager hundreds of miles on the road and hotel overnighters spent by sales teams in a bid to keep 'in touch' with customers?
Since 2003, Sharp has solved this conundrum by reversing the paradigm and running an annual event for customers which brings them to him and his sales teams and hits the motivation and education buttons at the same time. It's a good branding and PR exercise too, and with suppliers funding a large element of the cost it represents a sure-fire win-win strategy.
You can't underestimate the effort that goes into the event and that it's an investment
This year, Britannic's 16th Convergence Summit was staged at Mercedes Benz World in Weybridge and Sharp's ability to field a high quality line up of diverse speakers combined with some high octane race track experiences once again gave customers the best of both worlds and 'something different'. Speaking to Comms Dealer just minutes after his event wrap up, Sharp explained the genesis of the Britannic Convergence Summit and how it has stayed successful and relevant for 16 years.
"I joined Britannic just over 22 years ago from a business which ran a big event for BT," he said. "What that taught me was the benefit of coming to market with a differentiated offering and going wider than telecoms. So, I started running seminars and workshops designed around helping people to communicate. Rather than talking about the technology we focused on business change and how enablement can be achieved through new technology.
"We invited a lot of customers, then their salespeople and, over time, we created an audience. In 2004 I was at a meeting with our account manager at BT who said, 'this is working well, but maybe we should look at scaling it up a bit?' He got on the phone and after a minute or so he said, 'right, six weeks from today, could you put on an event at BT Tower? If you can do it and you want to do it, we'll pay for the lot'.
"Of course, I said yes. He walked out of the room and then I thought, what have I done? But we got some great presenters lined up and closed the deal. So, there I was opening our event at the top of the BT Tower and for some reason I said welcome to our annual Convergence Summit and the rest is history."
After 16 events how does Sharp and his team keep the summit fresh and potent? "We're never short of ideas," he added. "We're close to the market and do a lot of research to get a feel for what's going to be the next trend to keep customers one step ahead, and ultimately the event determines our direction for the coming 12 months. It now marks the start of the next step in our journey. This year's theme around workplace integration is as much about the modernisation programmes customers are undertaking. Instead of pushing water uphill with acronyms from our industry, we said let's listen to the customers and give them what they're after.
"There's a lot of tech out there and our role is about how we blend that technology together to underpin four things – solving problems, enabling improvement, supporting the change forced upon people and outlining the opportunities for transformation and growth. With a £15 million turnover we're a strong business, but we have to be different by continually adding value to customers."
Would Sharp encourage other providers to take the plunge into running their own customer event? "You can't underestimate the effort that goes into it and the fact that it's an investment," he explained. "But if you get it right, you'll see the dividends. It's one of those projects you have got to commit to. You've got to plan it out, build it and link it in with other activities.
"We also run a series of other seminars throughout the year. And, working with partners, we do approximately six to eight additional events a year. We've built up a following and have developed long standing and strong customer partnerships, so we tend to see people coming back year after year.