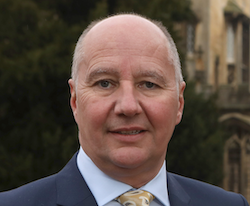 Belfast-based Barclay Communications is fast becoming a household name in the comms industry as founder and MD Britt Megahey continues to extend his reach and influence in target regions.
The momentous purchase of Megahey's first mobile phone is etched in memory – the sales pitch, the process, the shop floor atmosphere and overall wow factor – so much so that new possibilities were immediately unleashed. "It was then that the seeds of a communications business plan were planted in my mind, despite having grown up in the world of agriculture," stated Megahey. "Technology was always a fascination to me growing up."
This year is Barclay Communications' 25th since inception. Megahey started out with a network of walk-in phone shops for consumers and at its height operated out of ten shops across Northern Ireland, with rapid success. "But it became apparent that there was a gap in the market, a niche to provide communication packages and services to the business community," he explained. "We knew we could fill that gap so formed Barclay Communications. From the outset our objective was to take the weight off the customer so they could focus on their business. That is still in our DNA and has been instrumental in securing more and more contracts over the years. Some of our first corporate clients are still customers."
Having quickly embedded in Northern Ireland Megahey made a bold decision to expand the business at an early stage. "We were thriving and could have plodded along," he said. "However, especially in Northern Ireland, there was a real need for excellence in our field so I took that step to invest and grow. We purchased new offices and expanded the team. It was a gamble, but one that paid off."
The company grew rapidly from 10 staff to over 100 and established teams in England and Scotland. "One of the keys to our success has been a reluctance to settle," added Megahey. "We have a growth mindset in terms of the products and services we offer and the size of the company. I've always believed in investing in the business, and myself and the team are always evolving as a result of that mindset."
Megahey has several companies and between them they turn over circa £30 million. "We have been successful in the public sector and with leading organisations over recent years, and have seen our base now exceed 100,000 connections across all products," noted Megahey. "Winning a recent £3 million contract with the University of Cambridge to provide 5,000 connections across 37 sites in various countries was a major feat. To be the communications provider for an establishment that has spawned some of the greatest minds in our living history is an achievement."
To be the communications provider for an establishment that has spawned some of the greatest minds in our living history is an achievement
One of the Barclay Communications Group companies is WorkPal, a mobile workforce management software business. "WorkPal is our own product and something that we built from scratch," said Megahey. "It's been transformative for those who use it, making field worker management the slickest it's ever been. The early years took a lot of development and our feature map keeps growing. I look at the product now versus where it was in the early days and it is remarkable."
Megahey has invested £1 million in WorkPal and plans to double its workforce to more than 50 heads over the next two years. The roles will be in software development, consultancy and technical support thereby enabling a larger team to reach more clients nationally and globally. "This will help grow the existing client base that spans over 500 businesses here and abroad," added Megahey. "While mobile is the heartbeat of what we do – and as well as growth within our WorkPal mobile workforce software product – there is significant customer interest in VoIP, landlines, hosted services and IT. These services and demands have hugely impacted our expansion. As mobile holds our largest customer base we have set our target at 15 per cent growth while we expect at least a 200 per cent increase in VoIP and WorkPal subscriptions."
Barclay Communications is undergoing large system changes to facilitate expansion but its long held focus on all areas of B2B and its ambition to work in all sectors means the portfolio is already primed for further growth. "We had a goal that whatever technology, whatever solution or whatever need a customer had – we never wanted to say, 'sorry we can't do that'," added Megahey. "Working with major networks such as O2, Vodafone and BT/EE enables us to align with leading channel partners such as apple, Samsung, Sony, BT, Gamma and LG-iPECS. We are in great company and have the brawn of those partnerships to carry us into our next phase. We are now selling and rolling out our plans in the south of Ireland and we are in the first stages of London planning. Bringing our portfolio to more corners of the UK and Ireland is an immediate goal."
Mobile has also paved the road towards Megahey's biggest growth opportunity – software in job management, VoIP and all things cloud-based. "Customers are hugely behind in their technology solutions," he stated. "With the analogue switch-off and the inability to scale quickly by not being on a hosted platform coupled with huge costs means this area is only at the beginning of its boom. Software within the likes of WorkPal will continually grow – people don't want to use paper. They need solid and robust platforms that allow them to assign and track jobs, keep detailed reporting of stock or assets, capture remote signature and information while being able to take it all through to invoice seamlessly."
There is little doubt that Megahey will achieve all of his ambitions by the time he hangs up his boots, and the same founding principles that underpin the business apply today. "We set out with a clear vision to be different and disruptive," stated Megahey. "There was a real gap in the market for a customer-led approach and as the industry boomed we kept that at the forefront of everything we did. This meant as competition really stepped up in the last 10 years we had record low churn as customer experiences were instrumental.
"This has been key to keeping the company and its offering vibrant, relevant as well as forward thinking. Right now, I look forward to seeing how people will change with 5G, how technology will evolve and transform the 'normal'. This again means a shift in what we may sell and the problems we can solve. While pragmatic, especially in times like this – I am a risk taker. This can be perilous and detrimental to success as you can over invest, but it has paid off for me."