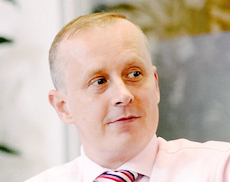 Pay heed to Martin Bacon: All resellers should waste no time in solving customer painpoints with a 'perfect mix' of unified modern day ICT solutions, says Chess's Cloud Voice Specialist.
The rise of hosted comms has long fostered optimism and underpinned industry talk in the channel, but that does not undermine the strength of Bacon's message to partners, that they should, if not already, provide rounded solutions with cloud voice a key component. To prove the point he cited an IT reseller organisation that recently had its first cloud telephony experience courtesy of Chess Partners and is now generating enough revenue to justify hiring a cloud and connectivity specialist to drive greater business growth. 
There is no doubt that the addition of cloud telephony to the resellers' traditional IT portfolio has vastly transformed its ability to open up a new front in adjacent market territory. But first it was necessary to open the eyes and mind of the reseller business owner who, although piqued by the prospect of cloud telephony and seeing no point in defying change, was stymied by hesitancy until Chess removed all barriers and let loose the force of product diversification. 
It is time for all traditional resellers from all backgrounds to think outside their box, according to Bacon, because business communications is being reinvented as the meeting point for an expanding raft of technologies as the cloud telephony market continues to grow. "It's an important opportunity for resellers to table a one-stop-shop solution," he stated. "Many partners have already moved away from selling just one product in one area and, for example, are taking the cloud PBX product line into a customer with connectivity at the back end while bringing in mobiles at the same time. The glue is a single carrier agnostic cloud-based billing solution that brings everything under one roof and also caters for utility billing. This makes life easier for the business and all support is centralised, enabling partners to gain as much wallet share from the customer as possible." 
To this end, claimed Bacon, Chess's one-stop-shop proposition has become a distinct offering, as different from traditional on-premise products as services are from goods, but always retaining feature rich functionality while bringing greater scope for comprehensive and integrated solutions across all areas of a customer's business. "We leverage our pre-sales support and demonstration capabilities to build proof of concepts to show that we understand the customer's issues and overcome their fear of cloud by explaining what this technology can do," commented Bacon. "Every proof of concept I have created has led to a sale."
The market potential for cloud telephony is broad and the commercial gain that will follow resellers who grasp the opportunity that sits under their nose is just as plain to see. But with a myriad of competing cloud telephony and infrastructure providers in the UK, for them to stand out in the crowd demands no other approach than to fully support partners with useful initiatives. "Everyone is on the cloud PBX bandwagon and one of our differentiators is free accreditation and internal demonstration accounts," explained Bacon, who carries out all accreditations himself. 
Accredited partners qualify for an internal demo account consisting of five licences with DDIs, a mobile app and soft phone with the option to buy hardware attachments. "This elevates partners to the next level, enabling them to create customer scenarios with the client, work out their issues and show them first hand how the solution works," added Bacon. "There is nothing better than a live demo."
Cloud telephony is a solution with a greater purpose, but resellers must be sensitive to its full potential in order to build coherent long-term propositions that dovetail with the customer's wider growth strategy
Chess's hosted comms proposition is based on the NFON platform which, says Bacon, provides commercial flexibility and the chance to develop international deals. NFON is currently present in 14 countries across Europe and Chess has customers working out of north and south America and Asia. Recently added to the proposition is a web-based UC client and unlimited conference bridge capabilities. Call recording and analysis is provided by Tollring's ICS platform. 
"As with all cloud-based tech the development cycles are quicker than traditional on-premise technology," added Bacon. "Much of this is around premium call recording, monitoring of queues, statistics, interactive dashboards and reporting services etc, which all give partners something else to speak to their customers about, empowering them to lever an uplift in sales and increase margins." 
Contact centre options and specialist sector packages are also on hand, along with out-of-the box CTI integration for around 15 different apps and CRM systems. "Chess performs bespoke integrations with any CRM as long as we can get to the database," noted Bacon. "Such projects include click-to-dial-out from records, screen pops on incoming calls, clipboard dialling and database lookups through the telephony platform."
Bacon also pointed out that TalkTalk Business and KCOM are primary connectivity partners with mobile solutions supported and simplified by Chess's relationships with Vodafone, O2 and EE. The end point line-up includes Snom, Yealink and Polycom handsets, while Gigaset and Panasonic provide DECT options. However, partners are at liberty to source their own products if they wish and add them to the Chess cloud voice proposition. 
Investment by Chess in partner support pillars is increasingly built-in, while efforts to be everything other than a 'faceless company' continue to soar, according to Bacon. After all, what can be achieved in isolation? "The concept of local support is strengthening alongside the role and presence of regional BDMs," added Bacon. "This policy is also evidenced by our push on airtime via introducer and dealer mechanisms, supported by a nationwide team of BDMs."
This rising sense of locality is also reflected in how Chess engages partners on all deal propositions no matter the technology, according to Bacon. "We work on bespoke deal building with resellers," he added. "On large deals when we are up against competition we get our heads together with partners and arrive at a strong commercial proposition."
Cloud telephony is a solution with a greater purpose, and resellers must be sensitive to its full potential in order to sell coherent long-term propositions that dovetail with the customer's wider growth strategy. These solutions could encompass, for example, mobile, billing, cloud voice, connectivity, airtime and tech sales. But this is about more than convergence. It is also about revamping reseller businesses as full blown solution providers, from hosted telephony in the first instance through to related products and services, and then to customer experiences.
Just a minute with Martin Bacon...
Role model: 
Both my hard working and family focused grandfathers 
Biggest career achievement: 
Growing a business through to a valuable and successful acquisition 
If you weren't in comms what would you be doing? 
Something to do with cars or motor sport
Best piece of advice you have been given? 
Always have a plan before doing anything, then adapt and overcome the challenges 
How do you relax? 
Getting my hands dirty with DIY or engines. I'm also a history buff
What's the biggest risk you have taken? 
Leaving a successful job to run my own business  
Name three ideal dinner guests: 
Winston Churchill, Nikola Tesla and Gordon Ramsay 
Your main strength and what could you work on? 
I'm adaptable and can bridge the technology/sales divide to make things easy to grasp. But I try to squeeze too much into every day
Top tip:
Tap and hold the space bar on your iPhone to turn it into a trackpad when editing text
What possession could you not live without? 
My Outlook diary
Industry bugbear: 
Implementing technology and not training people to use it. Businesses can save fortunes by investing in their biggest assets – people
Something about yourself we don't know: 
I'm into the outdoors and animals, with three horses, three dogs, two cats and more being added