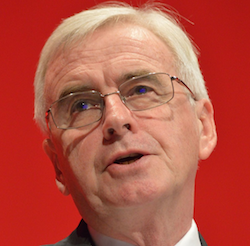 By Stuart Gilroy, Editor, Comms Dealer: That the Government would be a key influencer in delivering fibre and 5G is a given, but who could have predicted Labour's proposed interventionism?
It did not take long for the revelation of Labour's plan to nationalise Openreach – along with BT's technology arm and other elements of the Group – to morph into an unprecedented farce in which there will be no commercial model for broadband.
When he spilled the beans on Labour's intention to own the UK's broadband sector, should it come to power, Shadow Chancellor John McDonnell declared the establishment of a system of smash and grab on three counts – it would rapaciously grasp the full fibre sector, pocket chunks of BT, and hijack altnets that do not fall into line – all under the 'British Broadband' slogan. 
The predicament of altnets is thus: Virgin, Sky, TalkTalk, CityFibre and the many other full fibre trail blazers will be forced into an access arrangement, or they will be strong armed to work alongside the Government, or if minded not to cooperate they will become part of British Broadband, because, says McDonnell, 'they have failed'.
"The private sector has not delivered on the scale that we need, nor fast enough," he added.
He seems oblivious as to why the UK has a paucity of fibre, and equally ignorant about the inroads and achievements delivered by the private sector in response to a leaden footed incumbent that until recently habitually protected past investments. 
The Conservative Government has so far invested £5 billion in support of full fibre, which McDonnell says is not enough. So Labour has pledged to add £15 billion, an amount that would give it an automatic right to own the broadband industry and bring part of BT into public ownership, said McDonnell. Like it or not, Government bonds will take the place of shares and pensions. 
The impact of a state owned entity on BT's pension scheme undercuts the grand project's rationale alone. If those paying into a BT pension do not gleefully embrace a two per cent Government Bond dividend instead of a BT one that offers seven per cent, perhaps they too will be nationalised.
McDonnell says this fiasco is all about 'hard nosed economics', but Labour has certainly underestimated the cost of its venture by multiple factors.
The only sensible response to Labour's aspiration in broadband is to view it through a lens of 'doublethink'. Having said that the existing commercial model has not worked, Labour wants to replace it with another one, but less invigorated, less entrepreneurial and state owned, where lower exec salaries would no doubt lead to a leadership and innovation brain drain – all dumbing down British Broadband.
Another target is to kibosh the Government's Future Telecoms Infrastructure Review (FTIR) published on July 23rd 2018. Its aim is to catalyse the role out of full fibre and broaden access to spectrum for 5G services, and to drive competition and commercial investment.
In two BBC interviews McDonnell's strident, contemptuous and uncompromising tone has left many in the industry shocked and puzzled. But what is more surprising is the simplistic nature of his and Labour's thinking following their light bulb and damascene moment. 
According to Labour's plan the day-to-day running of the British Broadband network will be financed by hefty taxes levied on multinationals, especially the tech giants like Apple, Facebook, Google and Amazon. And its figures are overly reliant on a hoped-for £59 billion increase in fibre related productivity.
Nothing seems to strike McDonnell as too difficult to achieve, because he is blinded by political ambition, knows nothing about the task in hand and cares not a jot about the people who will be affected by Labour's dismissal of the nation's connectivity providers. 
There has not been a word about the devastating impact of these flawed plans on the UK service provider sector, where successful companies will go to the wall and many fine people put out of work through no fault of their own. Crucially, a commercial model does not coexist with Labour's vision for British Broadband.
It is therefore inevitable that ICT provider customer bases could in time be raided by Government. There is also no question that the channel's thriving businesses will be devalued and investors will run to the hills. It does not take a wild stretch of the imagination to envisage how more elements of the ICT value chain could be brought under the Government's wing.
Notably, there has been little clarification on who explicitly will own and support the end customer. It is likely that end users will not want to be British Broadband customers. But they will have no choice.
McDonnell's idealistic vision is also for free broadband to promote a more equal and inclusive society, in which those yet to be born are a far greater priority than people working in today's thriving ICT service provider industry . "If we do not do this, future generations will not forgive us," he said. 
Brace yourself, John, should Labour win the election – because in your world there is no logical thinking nor equality of consideration, and the ICT sector is not in a forgiving mood.
Broadband bungle: How comms industry fury will devour Labour's pie in the sky politics 
Crackpot broadband proposal slammed
Labour's broadband vow 'calamitous' for the sector