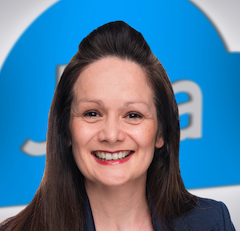 The comms industry can sometimes seem trapped by its heritage of sustaining a less than diverse character, but this continuation is far from inevitable, according to Jola Marketing Director Cherie Howlett.
Here, she raises some key questions and shows how exposure to opportunities in ICT can change the aspirations and career directions of young people.
Anyone attending a comms channel conference will note almost universal maleness. But a greater representation of female business leaders could be afoot, believes Howlett, if certain preconditions are met. She said: "Speaking as a female who started up on her own with a team of channel veterans, I often ask myself – why are there so few female MDs in the channel? Jola has grown rapidly from a blank sheet of paper in 2014, due in no small part to the policy of diversity and inclusion we adopted from the start.
"We hire well and offer our employees career progression, investing in training and mentoring programmes, which has resulted in support agents moving into product management and provisioning agents moving to accounting positions. The apprenticeship scheme we started in technical support in 2018 has been so successful that we have expanded it to other departments."
To promote greater diversity Jola takes special care of the wording in its job adverts to avoid unconscious bias, resulting in a greater number of applicants and successful hires that advance the diverse nature of the business. Howlett has also witnessed first hand how exposure to something different sparks fresh thinking, plants seeds of ambition and steers changes in direction.
"My daughter just turned seven and aspired to be either a teacher, beautician or a YouTuber," she commented. "After spending six months listening in on conference calls and webinars during lockdown she now wants to run her own business using data SIMs in pet-cams, so owners can check in on their pets in her care. She wants her business to be as well-known as Pets at Home and has some interesting ideas on how to build her brand using social media."
The more diverse the industry, the better we can meet the needs of our customers and the faster we will grow
The theme of exposure to new possibilities underpinned a two week programme Jola rolled out last year, through which it introduced a teenage girl to the comms industry and its career opportunities. "She has just started a two year business management course at a local college, having previously considered a career in beauty therapy," said Howlett.
As a Director of a channel-only business she is often asked why there are so few females in senior positions in the comms sector. "What is going wrong?," she asked. "Why are we attracting fewer women than other sectors? Is it our recruitment policies? Or is it something else entirely? Is there a myth surrounding our industry that you have to be a techie to be involved in it? If you don't have your own home network with guest Wi-Fi access and Alexa controlling your mood lighting, you won't be welcome? Or are other sectors more appealing to women?"
Some say the problem starts at school with fewer females being encouraged to study STEM (Science, Technology, Engineering and Mathematics) subjects. According to recent UCAS data provided by HESA, 35 per cent of STEM students in higher education are women and only 15 per cent are studying computer sciences. 2019 Workforce statistics state that there are now over one million women in STEM in the UK. But the proportion of tech roles filled by women has flatlined at 16 per cent since 2009.
"Others say recruitment is a problem, that not enough females are applying for advertised roles in our sector," noted Howlett. "Maybe we should also look at promoting the opportunities available in our sector to students, apprentices, graduates and professionals in other sectors? Could we do more to mentor and promote those we attract? By working closely with CEOs/MDs/CFOs/CTOs/CMOs could we develop a more diverse management team?"
Howlett also hypothesises that the matter could be, in part, addressed via a greater home life balance as well as in the workplace. "Looking at the marital status of individuals running organisations across all sectors, many are married with families," she said. "The majority have someone at home they can rely on to support them. Maybe we should be looking at work-life balance and shared responsibilities at home to achieve equality at work. Maybe this shift would help avoid burnout, promote better mental health and improve decision making, resulting in more profitable businesses and happier home lives across all sectors.
 
"I hope more females will rise to the top of their organisations and expect to see more women starting their own businesses in the current climate. The more diverse we are as an industry, the better we can meet the changing needs of our customers and the faster we will grow."