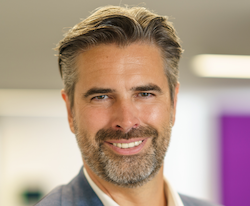 Many small business customers do not realise their organisation is a contact centre – which represents a sales goldmine for resellers, according to Andy Robinson, Head of UCaaS Practice at Gamma.
Speaking at the London leg of the service provider's nationwide series of seminars promoting its upgraded UC and mobile solutions, Robinson said views on what is a traditional contact centre sales opportunity should change, giving partners the opportunity to maximise on ongoing upgrades to Gamma's web-based Horizon Contact solution launched last year. 
"Horizon Contact is not just for traditional enterprise contact centres, agents, supervisors and so on. It's mainly for people who don't know they're a contact centre, like the receptionist or customer service salespeople in a car showroom. I bought a new car recently and I didn't speak to anyone before I bought it. I saw something on the manufacturer's website, engaged in a web chat, organised a test drive, liked it, and did the deal. Everything was done online through the receptionist, sales and finance. 
"The majority of Horizon Contact sales to date have been via receptionists in doctors and vets and retail outlets. The first deal one of our partners secured was to a retailer selling electronic cigarettes."
Although Horizon Contact was launched at the height of the Covid-19 pandemic, Robinson says product evolution has been rapid and sales have been buoyant, with the channel embracing the opportunity.
"Sales have far exceeded where we thought they would be. People know Gamma as a service provider, but with the acquisitions we've made, we're becoming more of a technology provider with a network underneath it. And when you're a technology provider, or a software provider, it's all about product evolution. We are committed to releasing new versions every six weeks, so the latest version is almost a completely different product from the one we launched last year."
To demonstrate the capabilities of the platform to existing Horizon customers, Robinson said Gamma is talking to channel partners about the benefits of demoing Horizon Contact to their existing customer base.
Gamma is also offering cash incentives to encourage partners to upgrade any current call centre customers to Horizon Contact. 
"Effectively we are offering you money to move customers from one Gamma product to another," Robinson told partners.  
"We'll give partners £50 on a three-year term and £100 on a five-year term for every call centre they have and that they move to Horizon Contact."
Gamma says it is offering comprehensive training on Horizon Contact and implementation support ranging from project shopping through to full end user training.