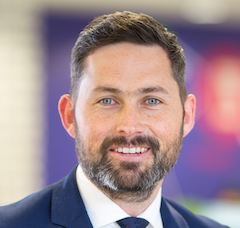 Gamma's capability boosting acquisition of Telsis in November 2019 marked a new phase of product development that led to this month's launch of Horizon Contact.
Here, Head of Gamma's UCaaS Practice Andrew Robinson and Channel Managing Director Daryl Pile (pictured left) spotlight how the latest integrated contact centre solutions provide a lifeline to SMEs.
Gamma's launch of an integrated business communication and customer contact solution provides enterprise-level multichannel customer interaction across voice, email and webchat, explained Robinson. "Horizon Contact is the culmination of a development drive following Gamma's acquisition of the software and development capability of Telsis," he said. "Horizon Contact provides a self-service feature set for small to medium-sized businesses. Built within the core Horizon service, our cloud-based contact centre solution provides the channel with an integrated up-sell option for their existing Horizon customers, as well as a differentiated proposition when competing for new business."
According to Gartner, two thirds of organisations are competing primarily on the basis of the customer experience they offer. Therefore the importance of CX cannot be underestimated, but gaining that competitive advantage is easier said than done as customer demands have evolved. "Customers want to use multiple channels to contact a brand, but they also want their experience to be seamless, effortless and quick," said Pile. "They expect brands to know them and their preferences, and to store their data sensitively and securely. In today's digital economy competition is high and customers want more from businesses. With a world of choices at their fingertips, they can move on from one brand to another in a matter of seconds. One bad experience can lead to the loss of a customer, which means getting it right is critical."
The channel has driven the SIP and hosted voice market, now is the time and opportunity to do it again with contact centre solutions
The pandemic has greatly exacerbated these issues, believes Pile, and providing an outstanding customer experience has never been more critical. "To deliver on all these expectations and demands, organisations risk finding themselves overwhelmed," he added. "This is particularly true of SMEs that have often overlooked advanced customer contact solutions, deeming them too complicated or expensive. SMEs have traditionally struggled to integrate an advanced contact centre solution into their strategy leaving them unable to compete in the customer experience battle on equal terms with larger organisations.
"Complex deployments, complicated interfaces and high costs have been the traditional obstacles preventing smaller organisations from investing in the full potential of contact centre technologies and solutions. Now, it's easy to see how a modern contact centre solution ticks all the boxes for most organisations, and it's time for full contact centre capabilities to move away from the sole domain of the large businesses that could afford such deployments and have the IT resources required to manage them."
Pile says that many businesses operate informal contact centres and may not consider supercharging their business by learning about features and functionality which can significantly improve their customer service and profitability. "Only the channel can educate customers on the importance of having a contact centre solution," he added. "The channel has driven the SIP and hosted voice market, now is the opportunity to do it again with contact centre solutions. We're providing enterprise level features, fully integrated with Horizon, with a wholesale support wrap for our partners at a price small businesses can afford."
Leveraging WebRTC technologies, businesses will only need to ensure their agents have an Internet connection and a browser to log into the platform, explained Robinson. "This doesn't only reduce costs and required resources, but it also enables agents to easily work from wherever they prefer – whether that is the office, their home or another location," he said. "Moreover, to allow businesses to empower their agents and build a customer experience strategy founded on data, Horizon Contact also offers a built-in CRM and CRM integration with some of the top CRMs in the market, including Salesforce and Microsoft Dynamics. Access to enhanced data and improved reporting allows businesses to make better decisions and assists agents in helping customers more effectively."
It goes without saying that SMEs need a solution that's easy to deploy and manage, which is why Horizon Contact doesn't require capital outlay, additional hardware or software, pointed out Pile. "Designed to work seamlessly with Gamma Horizon phone system and Collaborate, the cloud-based contact centre solution overcomes front and back-office silos, truly unifying communications systems. Horizon Contact provides simple partner support and management, and partners will be supported with training, resources, tools and information to help them maximise the opportunity."