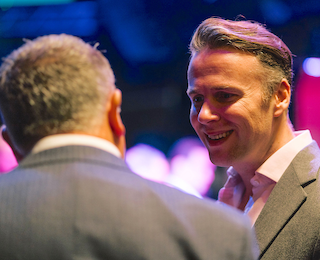 Platinum sponsor TalkTalk Business's assessment of project Digital Britain shows the depth of its commitment to rolling out full fibre as a disruptive challenger brand, according to Director of Partners Richard Thompson who revels in strategising the emerging high speed opportunities for channel partners.
Digital Britain relies on the future of full fibre, and it isn't just the channel that is waking up to this. Full fibre is gaining momentum in the mainstream news and press, as well as being firmly on the Prime Minister, Boris Johnson's, agenda. It's no surprise FTTP is evoking the interest of politicians. A study by Ofcom found that investment in faster broadband has significant benefits to the UK economy, increasing the UK's GDP by 0.47 per cent per annum on average. This may seem like an insignificant number but it equates to around £12 billion a year. You don't have to be an economist to understand the transformative impact of FTTP on homes and businesses and the huge opportunity this brings to the channel.
As a challenger brand, TalkTalk Business is looking forward to disrupting the market again in the same way we did years ago with Local Loop Unbundling (LLU). Earlier this year, TalkTalk's CEO Tristia Harrison addressed our partners at the Connectivity Matters Summit and explained that our FTTP strategy is a two-pronged approach, delivering Openreach FTTP and working with FibreNation and other altnets to offer true scale in a simple, ubiquitous way. Over the last year we have invested millions in our Fibre for Everyone Programme with the help of our dedicated team which has grown to over 130 full-time employees. This is one of the biggest projects we have ever seen, and investment in the programme is only second to the investment into our network, highlighting just how serious we are about FTTP. The entire business is dedicating huge amounts of time, energy and investment into making it a success. Over the next few months we will be working with several of our partners, focusing on building the capability that meets their needs so we can jointly create the products of the future together.
You don't have to be an economist to understand the impact of FTTP on homes and businesses and the huge opportunity this brings to the channel
In 2018 TalkTalk transformed York into the UK's first Ultra Fibre Optic city. The full fibre network rollout spans more than 33,000 homes and businesses and is on target to reach up to 55,00 across York by 2020. We learnt a huge amount from building this full fibre network and we're committed to sharing our insights with partners to help them succeed. FTTP proved transformational for the speed-hungry residents and businesses of York, with a CSAT of 87 per cent and a very low churn rate and cost to serve. We learnt valuable lessons about the engineering and build of the network, as well as how to effectively market and sell FTTP utilising hyperlocal marketing across all stages of the customer journey.
In addition to working on our own offering we're at the heart of infrastructure and regulatory changes. We're working with the Government and Ofcom on behalf of our partners to push full fibre to as many places as quickly as possible and ensure that our partners have a voice. We want to encourage a vibrant and competitive market for the channel, which as we've seen with LLU thrives when there is competition from multiple access providers instead of a monopoly environment. We welcome the Government's ambitions for a full fibre rollout and as a customer champion we will do everything we can to get our partners connected as soon as possible. All of this can only be done if the whole nation embraces FTTP, with multiple providers building in many areas at the same time encouraging more competition.
A smooth customer experience is essential for the success of FTTP. There will be a patchwork quilt of coverage offered by multiple providers without standardisation, and each provider will have their own set of technical standards, operational models, pricing, product variants, SLAs and customer journeys. It will be extremely complex and challenging for the channel to navigate this new world. But our aim is to work with a variety of access providers, making it as simple as possible for our partners to consume through our user friendly portals and APIs. They'll be able to deliver a cost-effective and reliable product to their customers with one SLA.
Digital Britain is full of opportunity for the channel and it's one of the most exciting times to work in this industry
Providers that utilise big data will also gain a competitive advantage in the FTTP arena. As part of our offering we can help partners truly understand their customer base using analytics and big data to highlight which of their customers would benefit from FTTP, reducing churn and improving the customer experience. Plus, as we learn which areas are due to get FTTP next, we'll share this information and work with our partners to develop an effective go-to-market strategy. This information helps them to build targeted campaigns to sell the right products to the right customers at the optimum time.
FTTP will close the digital divide which has left millions of businesses and homes behind and bring them up to speed with the rest of the world. Higher bandwidth, faster speeds and an improved customer experience all equate to a reduced customer churn and a lower cost to serve. Once a customer is on FTTP, they are unlikely to move and there is a clear and easy bandwidth upgrade path. Therefore, access providers who move first will reap the rewards and we've already begun to see the first offerings emerge. Our partners will benefit from our experience as we help them lead a successful FTTP proposition in the B2B market.
I urge every business to think about FTTP now. We will work shoulder-to-shoulder with our partners to build and shape a business grade FTTP product based on their needs. Digital Britain is full of opportunity for the channel and I personally believe it's one of the most exciting times to work in this industry. The channel community thrives on competition and therefore more competition from multiple providers should create more opportunity for everyone.
It takes Vision to be a leader
Comms Vision is the leading annual leadership forum for CEO, MD and CTO delegates making up the major league of the UK reseller community. Places are limited and by invitation: If you would like to join us this year, please register your interest to attend at www.commsvision.com