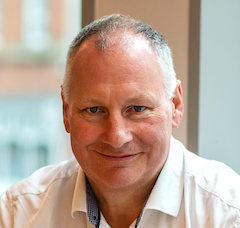 It is incumbent on billing vendors to act in concert with technological shifts in the market and all that entails, says Aurora COO Derek Watson.
Aurora has long deployed its development wit and energy into reseller products built around its Affinity platform, and has embarked on a fresh £5 million software investment roadmap. In warning the channel that there is no room for complacency, Watson spelled out Aurora's busy plans. "We are developing user focused cloud-based applications, investing in technologies such as AI and chat bots which drive business automation, eliminate human error and drive down costs while speeding up processes," he commented. "We are focusing on slick integration with different reseller modules, and building self-serve software which customers can access anywhere, anytime."
Products with near boundless technical capabilities that also provide a sublime user experience will be the most important drivers of billing software platforms, believes Watson, especially when you consider that various sectors present different challenges and product selection is key. "In the mobile arena, 75 per cent of the charges are for line rentals and bundles, but for most billing providers this represents around 10 per cent of their capabilities and development focus," he said.
"Usage charges represent around 90 per cent of the billing issues and queries, but only 25 per cent of overall margin from selling mobiles. So Affinity has more focus on product charging and helping the reseller to select the correct network product."
On the other hand, cloud computing is moving from product to usage-based charging, which presents a new challenge to a market sector that has been used to charging for hardware, connectivity and storage on an allocation basis. "Therefore, billing systems of the future need to bill for compute, power and bandwidth to compete in this area," commented Watson.
Billing systems of the future need to bill for compute, power and bandwidth to compete
"Resellers want to buy and sell everything but owning the customer is the challenge. Hence, a billing system must keep up with the resellers' end customers' demands. There is also the challenge of billing service delivery and having a platform that can compete from the SaaS level up to the all-encompassing system that runs a large reseller or carrier grade service."
For the larger players, this is par for the course, noted Watson. "We have a large investment to keep customers up to date and enable them to grow into new and emerging markets," he added. "Our roadmap also drives resellers towards more profitable areas of the market, and allows them to get more out of their staff by utilising software to replace the functions traditionally performed by employees. Smaller counterparts may struggle to keep up with the pace of change, and there could be some consolidation of billing providers.
"We have already seen the market move towards data being the most sensitive of the usage elements and the largest potential area for bill shock. Usage of data is getting ever more demanding, and we will need to be able to bill and manage data much more flexibly. Keeping end customers updated on bill shock issues, and gaining access to quicker CDR feeds is paramount to regaining control of the usage and being able to provide appropriate protection to the end user."
Such moves would enable resellers to meet their own and end user objectives. Yet, Watson expects to witness high levels of customer inertia, meaning that innovative solutions should allow customers to continue using legacy telecoms services on new technology.
"This may lead to billing opportunities," he commented. "IP-based services are less supported by the networks with regards to CDR information, and charging is far more complex, with city breakouts rather than a simple system of country-based international calling. There will be more emphasis on understanding how the supplier should be charging the reseller, and indeed, the reseller self-certifying their own bill with the carrier. Billing systems need to be capable of providing a full carrier level service, rather than a simple system of uplifting and bundling.
"The cost of supporting reseller billing platforms is also significant, and there is great emphasis on software to be simple to use and fit for purpose. However, pulling in the opposite direction is the desire of resellers to have their own USPs, which can lead to bespoke software and more complexity."