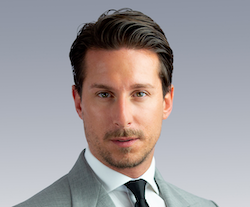 Serial tech entrepreneur Matthew Riley has struck a deal to merge his Aurora business with Union Street, creating a billing powerhouse in the channel.
The new entity processes almost £2.5bn in retail billing per annum, employs over 250 people and serves circa 900 partners – and Riley is pitching the organisation as a force for industry change with the capacity to redefine channel billing.
Union Street's Sales and Marketing Director Vincent Disneur (pictured) is now overall MD of the enlarged business – and he plans to double the size of the firm within three years.
Kevin O'Brien has been appointed Chief Finance Officer and Union Street founder Tony Cook remains as an advisor to the board.
"Our immediate priority is to ensure our partners know that it's business as usual without any disruption to service whatsoever," stated Disneur.
"One of the most exciting aspects of this deal is the combination of Union Street's and Aurora's software, bringing tog-ether complementary features such as Union Street's billing capabilities and Aurora's solutions for supplier integration."
The organisation, which is chaired by Riley, will retain the Union Street Technologies brand. With significant new investment Aurora will operate as the firm's development arm.
Riley first signalled an interest in investing in Union Street early this year. The outreach came as Covid-19 hit and Union Street's PE plans, which at the time were well advanced, became obstructed by the lockdown.
As a prominent figure in the close-knit comms channel with many industry transactions under his belt Union Street bosses knew Riley well and that he could potentially be helpful in taking the company to the next level.
When Riley made a concrete proposal a deal materialised, creating an independent and significantly strengthened cloud-based billing and provisioning software business for the channel, which came into effect late last month.
"I've known Tony and Vincent for a long time and seen them take Union Street from strength to strength – that's going to continue," said Riley.
"Union Street's strong historic profile and brand equity combined with Aurora's development muscle will add value to the telecommunications and IT reseller markets.
"There's a significant opportunity in the channel for the right cloud-based billing and provisioning solution."
The securement of an emphatic presence in the comms billing sector marks the latest push by Riley to target a bigger share of the country's growing ICT partner community and exert a telling influence on the channel billing landscape.
The addition of Union Street's capabilities and market presence gives the combined organisation greater size, scale and flexibility with a wider channel reach, which is key to Riley's and Union Street's pursuit of more partners.
According to Riley, the number of comms channel firms will grow and combined with IT resellers the market sits at approximately 14,500 prospective partners.
"By combining Union Street and Aurora, I see enormous potential to digitally enhance how the channel not only bills end users, but also how it provisions services," said Riley.
"Getting your bills out right first time, on time, every time is the goal and to do that you have to effectively provision services and get the sales paperwork correct at entry.
"We intend to revolutionise the sales-to-bill process for the benefit of the channel."
Disneur is eager to further distinguish Union Street Technologies by focusing on strengths made more significant in these times of market and economic uncertainty.
"We see opportunities and lessons learned from Covid-19, with customers and partners emphasising the need for resilience and stability in uncertain times," said Disneur.
"Lockdown has provided time and space for many channel businesses to look at their billing operations, and this crisis has exposed actual or potential vulnerabilities.
"Furthermore, many business owners are getting to grips with the 'new normal' with online sales, remote teams and teleconferencing, and they're asking themselves if they could do better than the services provided by the big incumbents.
"Billing and cashflow are the lifeblood of any business, so business owners and senior managers need real-time billing information at their fingertips.
"Our combined track record of innovation, longevity and stability is reassuring for the channel, which needs continuity and the ability to scale up quickly and smoothly."
According to Disneur the rise of the subscription economy and advances in technology are having a transformative effect on consumer expectations and could potentially drive greater levels of consolidation in the comms billing space.
"The channel will need to evolve to keep up, particularly in the way it supplies and bills services," he added.
"It's not just technological challenges at play. Providing SLAs and support that resellers can count on while adhering to best practice for data security and accuracy is increasingly becoming a challenge.
"Beyond this, there's many more disruptive technologies impacting the market. Blockchain, 5G, public cloud and the move to all IP telephony are just a few.
"Each will bring its own challenges and opportunities to the channel. We are going to develop our solutions to assist partners in all of these market and technological requirements.
"The objective is simple – to help partners become bigger, better, and more profitable."