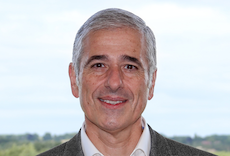 The rise of AI has redefined the channel as a facilitator of an ever more intelligent workplace, according to Joe Macri, VP for Commercial Partners at Microsoft UK.
Macri's flourishing expectations for Artificial Intelligence in industry allows Microsoft to maintain its reputation as a leading channel innovator, but doing full justice to the opportunity at a time of disruption is a challenge. "AI is undoubtedly the focus," stated Macri. "The fourth industrial revolution is bringing huge challenges and opportunities for customers and partners. With the rise of AI and machine learning, technology is altering every aspect of the corporate and social landscape, fundamentally disrupting established business practices." 
That AI will be the next big thing is obvious, believes Macri, and its potential must not remain pent-up behind a lack of digital skills and the maelstrom of unprecedented industry upheaval. "Customers and partners are facing a period of rapid and intense change which is creating a new environment for all to operate in and do business," he added. "Three key trends are impacting customers and partners – Digital Transformation, AI and Digital Skills. Partners can create new opportunities in all three of these areas using intelligent technology to innovate products and processes, while attracting and developing great talent with the digital skills our customers need."
Macri defined the proper balance of AI as between empowerment, innovation and ethics. "Organisations are already taking a principled approach to AI, establishing underlying ethics and values, and outperforming those that aren't by nine per cent," he stated. "Helping our customers to get their use of AI right enables them to take advantage of the enormous potential AI creates. AI and machine learning can help customers innovate, empower, and accelerate their business through different tools to transform experiences for customers and employees."
In using AI, workers can be relieved of repetitive and time-consuming tasks, customers can be better understood, and both products and processes can be optimised to serve everyone more effectively. "The guiding principle should be to augment existing jobs, rather than eliminate them," affirmed Macri. "This is an area that we work with our partners on to add value and help customers navigate the changing economic and technological landscape and ensure they experience lifetime value from their investments and progression." 
With the rise of AI and machine learning, technology is altering every aspect of the corporate and social landscape
Figures from two household name industry research houses suggest that resellers would be wise to board the AI gravy train. According to IDC, 75 per cent of applications will use AI by the end of 2018, while Gartner says 85 per cent of enterprises will be using AI come 2021. Microsoft's own delve into the market draws a similar picture. Its new report, called 'Maximising the AI Opportunity – How to harness AI's potential effectively and ethically', is based on input from more than 1,000 business leaders and 4,000 employees, and includes respondents who are already embracing AI within their own organisations. "We are at a pivotal moment in AI adoption," stated Macri. "In our report over 40 per cent of leaders believe their business model will cease to exist in five years time, with technology, AI specifically, driving the transformation. Yet 51 per cent do not currently have an AI strategy in place."
The research makes clear that AI is a top priority for many businesses but knowing how to strategically adopt it is another matter altogether. Macri hopes that a significant portion of Microsoft's 21,000 UK partners (which collectively employ circa 570,000 people) will plug this gap. "Each of our customers operate in diverse industries, so we've invested in bringing industry expertise and focus to our customers," he said. "By doing so we are able to better relate to our customers, understand their opportunities and help them maximise the potential that technology creates."
AI is not the only technology in town, pointed out Macri. "To leverage other new opportunities such as Intelligent Cloud and Intelligent Edge we create new channels to market with AI and high impact solutions," he explained. "It's not only our customers and partners that are going through transformation, Microsoft has been on its own journey too and we are committed to transforming the ecosystem to ensure the continued delivery of customer lifetime value from each engagement and outcome."
According to Macri the lines continue to blur between Microsoft's partner ecosystem so in response it has created a Global Services Partner organisation that provides coverage for all partners building a managed service capability, services, IP, accelerators and solutions on any Microsoft platform – Azure, M365 and Dynamics as well as Bing search and the Microsoft Gaming platform. "Customers want the ability and agility to move partners and platforms, so partner competency and service will always remain a significant differentiator," he added.
The guiding principle should be to augment existing jobs rather than eliminate them
In FY18 Microsoft's UK ecosystem grew over 25 per cent. "The economic impact of this is truly rewarding because for every £1 of revenue that Microsoft does, nearly £9 is done by our ecosystem," noted Macri, who, armed with insightful business knowledge and past experiences must be credited with helping Microsoft to achieve these impressive figures. 
Rewind the clock: With a Computer Science degree under his belt Macri's first job was a software analyst programmer. He saw how sales teams were working with customers to identify and solve some of their biggest challenges. "I then moved into a tech sales role," he said. "Doing my MBA a number of years later gave me a great breadth of skills in problem solving and developing strategic plans and capabilities."
But Macri's first objective is to share a principle he aims to live by every day – to ensure people don't prioritise their career at the cost of their personal life. "I've got a supportive wife and family who have been a huge influence on me over the years and helped me to be successful in my career," he commented. "Enjoying time with my family, doing the things that are important to us and putting family happiness front and centre has enabled me to make the right career choices. I'm passionate about how your personal life can influence professional success."
Just a minute with Joe Macri...
Role model: 
Tom, my career coach for over 15 years, who helps me to see different ways of approaching challenges and opportunities
Name three ideal dinner guests: 
Nelson Mandela, an incredible person; Professor Carol Dweck, her research on Growth Mindset is insightful and empowering; and Ayrton Senna, an all-time great in F1
Tell us something about yourself we don't know: 
I was born in Australia to Italian parents and I live in Ireland 
If you weren't in IT what would you be doing? 
I wanted to be a pilot when I was younger. I got through selections but didn't make it as I needed glasses. If that hadn't had been the case, I would have loved to be a pilot
Best piece of advice you have been given?
My coach Tom has guided me to think differently over the years, helped me ask the right questions but never tells me what to do. This is far more valuable than a piece of advice
How do you relax when not working? 
Getting fresh air on my bike helps to clear my head and relax me
Name one thing you couldn't do without in your job: 
OneNote: It's the place I store all of my notes, links to presentations and reports etc. It's where I collaborate with my team each day. OneNote is the primary tool for me, enabling me to be so much more efficient and informed
Top tip for resellers: 
Have a clear services and customer value strategy