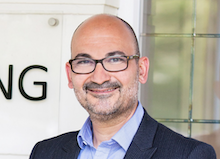 Most channel opportunities seem modest in comparison to those of real-time Interaction Management and Reporting (IM&R), according to leading developers and proponents of such technologies.
Here, we examine how best to leverage, optimise and build value from insights derived from business intelligence and reporting.
Speech analytics and Artificial Intelligence are transforming how companies engage with their customers, and the way businesses improve the customer experience. The advantages are such that Tollring CEO Tony Martino (pictured has witnessed consistently high IM&R attachment rates and a widening customer profile that extends far beyond the formal contact centre.
"The most effective use of IM&R is when users fully utilise features that help them to identify and explore the complete customer journey," said Martino. "Cradle-to-grave and interaction resolution reports give this kind of insight, ensuring that decision makers receive actionable feedback that allows them to improve their customer service processes in a targeted way."
Martino also reported significant growth in analytics and call recording in the cloud. "The past year has seen over 150 per cent growth in cloud endpoints, compared to 20 per cent growth in on-premise licenses," he said. "Hybrid is also proving to be a popular deployment option and provides an easy route to the cloud, where cloud analytics are delivered to on-premises PBX users."
For partners, IM&R provides ample opportunities to differentiate their proposition, but it is important to adopt a consultative approach where the right metrics can be identified and adopted for each customer profile. "Our most successful channel partners fully integrate IM&R into their overall business proposition, adding value to their product portfolio with analytics and call recording," added Martino.
"Integration of analytics and call recording into the overall proposition can be achieved in various ways – by providing basic level analytics with every sale, or bundling call recording with every sale. The big advantage for our partners lies in understanding how their customers use the solution," he added. "This is even more effective when combined with custom KPIs and SLAs as the ability to set your own targets makes the data more valuable and more accessible to decision makers."
Creating a consistently excellent customer experience is a priority for businesses, and omnichannel brings data together from a wide range of sources to provide a true picture of business communications.
"APIs play a huge role in making data accessible and actionable, but with the availability of more data comes a renewed emphasis on the need to focus on the most relevant data in terms of content, context and timing – which will change depending on the business, its customers, and its long and short-term goals," stated Martino. "We have significantly enhanced our framework of APIs to allow organisations to take full control of their data with insights that match and measure business goals against analytics in a smart way."
Anything that's actionable will benefit from IM&R insights. But drawing out actionable business intelligence is the challenge. Another challenge for some in the channel is to change from an outright sales to a professional services model. "As everything moves to the cloud there is less requirement for a local footprint to support on-premise solutions, and resellers do not want to be bypassed," said Steve Tutt, Marketing Director, Kakapo Systems. "Recognising and understanding opportunities to mesh together different parts of their customers' go-to-market components is becoming more important. For example, by CX enabling the customer website with chat and incorporating Salesforce into incoming customer contact rather than using it as an after-the-event CRM."
The point at which IM&R meets CRM is becoming more blurred by the day and understanding the journey customers are taking before they engage is the big battleground. "We are building 'personas' which will allow customers to map visitors across disparate channels, such as web chat, calls and tweets to join up all these transactions," added Tutt. "Our strategy is to incorporate different platforms like web chat into a unified framework. With our cloud IM&R engine we can layer other digital channels, such as LinkedIn, Salesforce and Trust Pilot to build out a central transaction management platform. Our current priorities are adding new channels, SMS and WhatsApp for example. For a customer interaction platform to have most value you need all of the customer contact channels together."
The definition of an 'interaction' is also getting wider. For most it's about customer-facing touch points like chat on the website, call centre calls, call back requests, email, Facebook, twitter and WhatsApp. "You need to be able to map this to the customer's business operations," said Tutt. "For example, it's not enough to say a business had 56 tweets, because the value lies in data that shows the support queue had 345 interactions, of those 134 were email, 86 were WhatsApp and 56 were tweets etc. That's nirvana for the customer.
We see massive uptake of omnichannel in the SMB space, and the specific requirements of these customers means you cannot easily port down an existing enterprise play. You have smaller agent teams, therefore need the ability to dynamically add and remove contact centre channels based on agent availability. Also, you need to make the solution simple to set up and control without having to get the web team involved every time a change is needed."
Despite strong arguments in favour of IM&R there is still a long way to go before it becomes mainstream at the front end of business-driven decisions. "There is still a number of businesses that see IM&R as an expense," said Akixi Product Manager Colin Gill. "They only see the costs involved, not the value. To gauge whether something is of value it helps to be able to measure its effectiveness. Fortunately, at its most basic level any decent solution that provides IM&R facilities, if used effectively, is designed to aid a business in both measuring change and providing insights for decision making."
In this there are two points that need to be considered, noted Gill. Firstly, is a company operating as efficiently as possible, specifically in cost centres such as contact centres? Secondly, are they maximising the revenue that is being generated through those cost centres? "These easily translate into key questions," added Gill "Are lost sales being minimised? Are lost sales being dealt with effectively to potentially recover missed revenue? Do you have the optimum number of staff to effectively cover customers' calls? Evaluating these questions in real-time and responding immediately makes insights more valuable and lets a business deliver efficient, good customer service while also maximising revenue by reducing potential lost sales."
The combination of many streams of data is massively greater and more valuable than the sum of its parts, pointed out Gill, who added: "One of our long-term aims is to make data integrate more easily with other streams and in real-time, to give more power to businesses when it comes to making those critical real-time and longer-term business strategy decisions."