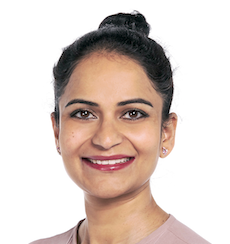 The story of male domination in the comms channel is all too familiar but there are clear signs that the gender imbalance is starting to equalise, according to Sky Business Head of Operations and Pre-Sales Harmeet Kapoor.
The UK comms and IT industry has always been bad at representing and supporting the ambitions of career women, but it is no longer fantasy to think the IT channel is anything other than a land of opportunity for aspiring females, believes Kapoor. "Perceptions of the tech world are changing from a male dominated environment to an open and supportive landscape for all who wish to succeed," she stated. "Technology and telecommunications do not discriminate between male or female. Anyone with an interest in technology and innovation is welcome to thrive and develop in this industry."
Kapoor has over 15 years experience in setting and achieving strategic objectives across Sky's EMEA region, and during this time she has witnessed a shift in the IT industry towards embracing both male and female talent. So much so that she firmly believes that now is the best time for women to seek a career path in technology.
Restricting the career prospects of females has never been a comms industry blood sport, that would be nothing short of a howling outrage. Women have always had an opportunity to make their own mark, but the general problems, believes Kapoor, have been their negative perceptions of the IT industry, self-imposed capability limitations, and no schemes designed to attract women into the sector and support them through to leadership roles – which all tolled creates the perception of an endemic lack of opportunity for women in the exciting IT environment. 
"Women must dismantle the barrier in their minds and believe that anything is possible," said Kapoor. "There is nothing a woman can't do. More organisations are recognising women and pushing initiatives to support females in technology. Many of the FTSE 100 and 500 companies now have gender balance as yearly targets, as does Sky. People are purposefully recognising women as leaders and the stereotypes are changing."
The broad challenge is clearly to find a conduit through which women can conduct their careers and break free from the historic perception of their aspirations being strangulated by a male dominated sector. "There are initiatives at Sky, Get into Tech for example, that specifically encourage women with little or no previous technical experience to learn some of the skills necessary to begin a career in technology," explained Kapoor. 
Women must break the barrier in their minds and believe that anything is possible. There is nothing a woman can't do
"Sky recognises the lack of gender diversity in the technology sector and believes that encouraging capable and talented women into technical roles will bring enormous benefits, both to women themselves and also the teams and companies they work with. By introducing women into this talent pool Sky hopes to increase diversity in its technology teams and urges the wider industry to follow suit."
Kapoor, who is part of Sky's Women in Leadership programme, is tasked with supporting Sky Business revenue growth through partnerships in the Wi-Fi and wholesale connectivity sectors. She is responsible for wholesale operations, new partner on-boarding, bid management and provisioning. The programme has helped to advance Kapoor's career progression while instilling the value of mentoring others. 
"Sky champions the case for  building authentic leaders and giving everyone an opportunity to benefit from mentoring programmes," she explained. "I have personally developed my career, become a much improved leader and fully encourage the use of mentoring programmes. I like to be compassionate in my leadership role so provide flexibility to my team in order to balance their work and home life. I trust them to deliver great results and I'm always there to guide and support my team in their personal development and help them to build a strong career for themselves. This is encouraged at all levels at Sky."
Too many females working in the comms sector have spent the past quarter century foregoing career independence and opportunity, but they should no longer misjudge their opportunities nor see their career prospects suppressed by the fact of a male dominated sector. "There hasn't been a better time for women in technology," Kapoor enthused. "This is the right time for those who want to excel. But we must start from the ground up with schools and parents to encourage girls to explore all aspects of IT, open their minds to careers in technology and operations, and urge them to pursue this life course, just like they would advise on being a doctor or a teacher."