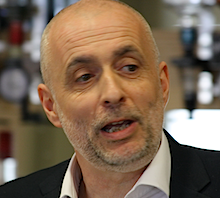 Many sales experts have become centres of entrenchment with no capacity to truly sell the dream UC solutions in their hands, argues VanillaIP Sales Director Iain Sinnott. 
The comms sector is blessed with UC technology and stands ready to transform British businesses, yet all too often those charged with selling it are in no position to serve the nation, observes Sinnott. He says UC would flourish if liberated from mediocre sales pitches that lack even a modicum of education on its transformative potential. So much so that UC risks going from a beacon of universal connectedness to the domain of a minority few. The crucial point Sinnott makes is that there will be no accelerated adoption unless things change and UC becomes fully understood by all, including customers. 
"As a salesman with over 30 years experience I am still staggered by how many of the field sales forces in our industry invest so little time in understanding every element of their product and every possible benefit the customer can derive," stated Sinnott. "Our products are so cool it seems absurd to dumb them down or drop them into some shapeless bundle. Goodness only knows how much margin is wasted in Dutch auctions. With cloud, each feature is a choice, and each well designed solution a contribution to the productivity of UK PLC. We should be proud and excited about doing a great job every time we go to see a client. When they say they just want the lowest price we should slap them – metaphorically of course."
For UC to be at the beating heart of UK PLC the priority must be to focus on and deal with the current challenges faced by businesses, noted Sinnott. "The majority are still wedded to on-premise solutions," he said. "Although some PBX systems have high levels of capability the capex model means progress and development is nobody's priority. So we aim to sell cloud UC as a true cloud service, available to all, easy to deploy and based on need." 
It follows that cloud services should be straightforward to consume, test, and if unsatisfactory summarily rejected. "All inclusive packages are for many users counter intuitive," added Sinnott. "Low function users should have low costs, high function users need the best technology fit – and as people change so should the solution mix. For partners our main responsibility is to bring as many functional options into the portal as we practically can and let them decide what they bundle into their user packages and what UC means to them."
The biggest opportunity for the channel and the element that keeps it vital and relevant to today's market is the sharing of knowledge, believes Sinnott. "Businesses are confused by our industry messages around UC, AI, VR, plus the additional considerations of MiFID II, PCI and GDPR," he added. "They need a supplier that is informed, realistic, supportive and above all flexible and dynamic. If channel partners can listen to customers, educate them on options, advise them based on experience and help design the solution rather than just selecting one they will lead the market and guarantee their future in a high value revenue business."
Failure to do this is an undoubted waste of revenue and business improvement potential, and does not bode well for the success of emerging technologies in the UC space such as AI and VR, which bring their own viability challenges. "AI and VR can be off-putting to sales channels and SMB buyers," observed Sinnott. "AI seems an unlikely ally of a small business but if a reception tool for a chain of hairdressers can identify where the caller was last transferred it makes for an enhanced customer experience. If the data we capture can streamline call management, shorten waiting times or give customers new chat options then AI will be valuable. VR will be slower in the same way that video calling has never truly taken off. Managing the tasks has always taken priority over seeing the people. We all recognise the need to retain face-to-face meetings so video and its derivatives will lag other developments." 
Technology push is around group working and collaboration, noted Sinnott, but because the SMB sector is 'very busy' it's slow to embrace or drive change unless prompted by solid reasoning. "Businesses need management tools to break their old habits," he added. "So, as well as smart-simple services it is the management portal that gets our focus. 
"Smaller businesses are slow to invest in activities they distrust. For us it is all about making the existing products easy to adopt, supporting them with management tools and ensuring that progress towards the latest UC options can be controlled within the same trusted space. Resellers without such management tools leverage buyer distrust to justify a PBX replacement. We built Uboss to help buyers take advantage of technology without taking risks with productivity."
In trying to woo new customers resellers would do themselves a big favour if they keep prospects sweet with messages on the benefits of services that are already in evident demand, highlighted Sinnott. "In the marketplace we are seeing the adoption of smart mobile services, call recording and conference bridge with feedback that tools like TeamViewer offer a simple way to bring screen sharing into the mix," he said. "As these solutions become commonplace a wider base will be able to examine a move towards a more 'team' focused solution. Work and workplace flexibility must change in order for smart tools to truly deliver value. While this is growing it is still in its infancy." 
The SMB sector moves forward in steps rather than strides, and in recent years it has advanced by small degrees into the UC world. As for the future? "We have not moved far to date," stated Sinnott. "How we progress is up to us in the industry. If we keep talking too far into the future but deliver a slightly remodified version of the past then things might not look too different. We need to drive the pace of change through high quality selling, true cloud delivery and automated control at customer, partner and platform levels."