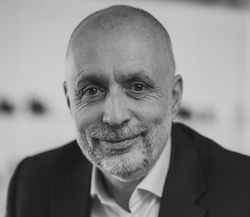 This month's panel of experts discuss how they are factoring in the lessons learned during  Covid-19, and they share insights that will enable all organisations to move forward with greater resilience.
We can see an upturn coming as Covid-19 vaccines offer hope of a return to a new version of normal this year, and the role of the comms sector in helping to deliver business and economic recovery cannot be over stated, believes Iain Sinnott (pictured), Sales Director, VanillaIP. "There is so much we can do to deliver productivity in the emerging landscape – as an industry we hold the key to the pace of recovery," he stated. "If we work hard, advise well and deliver professionally we will look back from 2025 with pride."
To achieve favourable hindsight resellers need to accept that the old telecoms world has gone, believes Sinnott. "While the features of the telephone system do and will remain part of the service mix there are other drivers and options that customers will focus on," he added. "Currently, it is virtual meetings leading the conversation, but CX, mobility, flexibility and productivity in the normal working day will return to be major drivers of change within all businesses."
He says that resellers also need to consider their future and which portfolio will deliver it, saying: "Is this a long-term play? In which case you need a portfolio that you, your team and potential investors can truly believe in. Is it a build to sell? In which case it may be prudent to ensure your base is consuming products that a buyer can easily integrate.
"We need to inform them about all the options. If we want to stay relevant, we need to bring options they had not considered. If we see ourselves as trusted advisors, then we must be prepared to advise. If you are not part of the decision making process there may be less need for you to be part of the supply chain. Furthermore, resellers need to remove the concept of 'the end of the sales process'. Our portfolio is evolving daily and as a result the service we deliver to customers should be truly fluid. We are the customers' technology partner, not a shop to be visited when a contract runs out."
The pandemic has driven a huge demand for businesses to adapt quickly and embrace new systems, affirmed Chris Morrisey, Managing Director, Lily, who has been helping SME clients with mobile to office 365, voice to video and everything in between. "We've had to continue to adopt our digital transformation methodology ourselves, bringing in new solutions to support our clients such as hardware as a service and Microsoft Teams," said Morrisey. "Digital transformation means adopting new technologies and changing with your environment.
"The rise of video conferencing software that bridges the gap between IT and telco leads to a much bigger conversation with prospective customers. However, that doesn't mean you will automatically win both. Resellers still need to continue to differentiate and show how they can add value to their client's business. Collaboration is the new normal and if you haven't embraced it, you really need too. Also, look at every single way you can build more recurring revenue. A simple way of doing this is everything as a service, this brings security to your business."
But the biggest lesson Morrisey has learnt in recent months is the role and importance of engagement. "Creating an environment that supports communication and wellbeing is essential to how engaged your employees are and was the key to our success when adapting to working from home," he added. "If you apply the same amount of effort to your people and culture as you do when in an office, then you can still have a highly engaged, highly operational team that delivers even better results."  
Lockdowns have also emphasised how important it is to be positive, proactive and agile – and to keep looking ahead while being consistent in terms of strategy and direction, believes Andrew Wilson, Head of Wholesale, CityFibre. "The biggest impact of the pandemic for businesses has been to accelerate trends towards home working, mobility and the cloud," he observed. "Having great connectivity has become more important as a consequence of that acceleration. Strategically, connectivity will be critical for resellers to form strong partnerships with organisations that can deliver both the connectivity services and the support that will enable them to meet the needs of their end user customers."
Wilson also noted that the pandemic has seen many more IT-focused businesses moving in this direction. "More than ever, resellers need a clear and definitive business plan and direction – a clear focus – one that's attuned to the needs of modern and progressive businesses," he advised. "They need to identify clear target markets, prioritise the strategy they develop to build business in these target markets and be willing to invest in measurable activity to achieve their goals."
According to Matt Dykes, COO at Abzorb, the last year has also taught everyone that life can change in an instant. "Never before have we been exposed to such extremities as this," he said. "So it is important to be flexible, accept change, be willing to learn and evolve to improve. During the pandemic everyone has become tech savvy. Resellers now need to sell solutions and not individual products.
"They need to talk to their customers about what challenges and issues they face and how technology can solve them and help deliver their objectives, save money and achieve a return on investment. Many companies will be reducing real estate therefore remote working solutions are a huge opportunity. But there is competition, so resellers need to be one step ahead of the curve."
Adept Technology Group CEO Phil Race says his first priority is to motivate the company's people. "The stop-start nature of lockdowns, the challenges of home schooling and home working from kitchens and bedrooms, and the dark rainy days against a backdrop of energy sapping news will challenge motivation at the best of times," he said. "As an executive team we need to cajole, lead, inspire and enthuse."
During the first lockdown Adept focused on over-communicating with investors, staff, partners and customers. "This is going to be ever more important as we tackle Lockdown 3.0, a pretty rubbish sequel! A lack of information creates a void that can be filled with frustration or fear," added Race.
He also noted that Adept focused on executing flawlessly during Lockdown 1.0, assiduously defining projects, agreeing plans, reviewing and being proactive. "This stood us in good stead but needs continuous rigorous management," he added. "A lot of projects have been fast and short-term. We need to help our teams deliver for clients a transition from tactical to strategic.
"This leads to a greater need for advice and guidance and consulting. Hence our push towards Adept Consulting. We also need to ensure that we have the right systems to power the business through Project Fusion, our system strategy that allows work to be managed effectively, customers to be understood better and information about our performance to be quickly obtained."
Adept's focus has also swung onto its approach to what Race calls 'mega-themes'. "Technology is so crucial that there is a need to provide highly resilient solutions, with clear managed back up for rapid recovery, in a secure environment, in a frictionless manner supporting an organisation's need for awesome customer engagement," he said. "These mega-themes lead to opportunities for tech such as cloud, security, UCaaS, data connectivity and contact centre.
"There's a need to make these mega-themes relevant for your audience as they are all seeing the world in different ways. We deal with lawyers, construction companies, schools and the NHS. Each of their worlds is very different. We may have the same ingredients but they want different meals!"
According to Race, Adept is increasingly becoming a restaurant, not a supermarket. "We have the various ingredients and can sell these at a price such as M&S," he explained. "But the competitive threat of Lidl and Aldi – in our case Microsoft and Amazon – means that selling ingredients is a journey to decreasing margins. We need to be Rick Stein or Gordon Ramsay, creating solutions, blending elements and delivering an impeccable experience.
"In this way we can protect margins and engender loyalty. We must also remember that a bad review travels fast, just like a restaurant review on TripAdvisor. So getting feedback and acting on it fast is the same challenge for resellers as restaurants. In this world we need to keep trying, innovate in a relevant way and execute flawlessly. If this doesn't work then fail fast and try again."