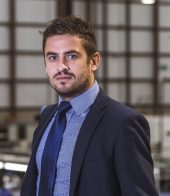 Circular IT provider Stone Group has saved over half a million items of unwanted tech from landfill using the Stone 360 app.
The app, designed to help organisations arrange the responsible disposal of their unwanted IT assets, has been downloaded by 11,000 UK businesses.
Following this news Stone's IT asset disposal facility (ITAD) will operate 24x7 from April.
Stone Group will also launch the second iteration of the app to help organisations meet 2020 regulations on electronic waste disposal that required organisations to classify items that contain hazardous substances or persistent organic pollutants.
Craig Campion (pictured), Director of ITAD Sales, said: "We are aiming to at least double the reach of the Stone 360 app this year and we anticipate that the addition of our new functionality to help organisations comply with Government legislation on IT disposal will drive this."