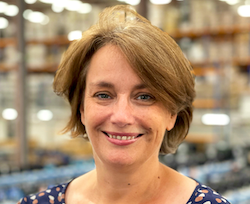 Stone Group's Head of Sustainability Sheryl Moore shares insights into how the pioneering business plans to achieve its ambitious Net Zero ambition.
Stone Group's 2030 Net Zero target is reflective of a growing urgency for businesses to engage with and reduce their carbon impact. Here, Moore takes us through Stone's sustainability journey step by step, and explains how it is building a pathway towards Net Zero...
What are Stone's organisational building blocks for Net Zero transformation?
We developed a carbon reduction plan that identifies the stages and milestones to achieve this target. Net Zero transformation can be achieved by reducing and eliminating the 3 scopes of carbon emissions. Scope 1 and Scope 2 are directly under your control such as energy costs and fleet fuel costs. These are the easiest ones to tackle first as you have more influence such as buying different types of fuel or reducing mileage. Scope 3 includes all other indirect emissions that occur in your company's value chain.
How did Stone start its Net Zero journey?
You need to start with a vision and consider how your business impacts society and the environment. You need to consider the product and service lifecycle because sustainability impacts at every stage. This includes reviewing all operations and activities. From this review we have set a challenging but achievable target of being Net Zero by 2030.
Energy usage is a great starting point. Can you save on usage? Is the property as insulated as possible? Are you using renewable energy as this has one of the biggest impacts on carbon emissions? Stone converted to a renewable energy tariff and is looking at installing solar panels which will also support our fleet of hybrid and electrical vehicles. We plan to switch to electric vehicles for all our company car fleet.
What are the challenges involved in setting a realistic Net Zero target?
There is still a lot of confusion on carbon and inflated promises through greenwashing. It all starts with data and awareness. We have been working hard to identify our carbon footprint and have engaged with The Carbon Literacy Organisation which provided training for our employees, raising awareness of carbon impact. This has helped us generate a personal plan impacting our home activities and also supporting our company's carbon reduction plan. We already have ISO 14001 which is a useful framework to support carbon reduction aims.
 
What is your strategy to reduce e-waste?
End user computing contributes directly and indirectly to 2.5 per cent of global emissions, and it is estimated that in 2021 the world generated 57 million tonnes of e-waste. These are significant figures, but every company can play its part to help reduce these statistics. We created a sustainability framework, called Making a Digital Difference, which helps us address a number of sustainable issues, not just carbon emissions but also a circular economy. This enables us to support customers not only by delivering new products but also by collecting and refurbishing surplus and redundant devices saving on landfill and saving on manufacturing energy.
We evaluate suppliers' sustainable goals and achievements and have worked on several initiatives to support joint aims
We are working with customers so that they gain an understanding of full life cycle costing including looking after equipment through maintenance and repair, and buying refurbished products which will save on raw materials including mining which also has a massive negative impact on the environment.
We saw the advantage several years ago not only to offer a recycling and refurbishment service but to support customers from initial design and installation to reduce overall running costs, and therefore reduce the impact on the environment. This takes into account the full lifecycle of IT equipment from design to disposal, offering a sustainable solution at each stage.
How have you embedded a net zero mindset into company strategy?
Our business values include sustainability and we encourage a sustainability mindset that drives the consideration of the environment with every decision. This can be down to the individual having Teams calls rather than driving to different destinations, using local suppliers to reduce transportation costs, to waste segregation that ensures food waste is identified and collected rather than going into landfill. Other great things have been happening such as reviewing all our packaging and moving to more environmentally friendly alternatives such as paper tape, non-bleached packaging and the use of paper rather than plastic.
Are you, or do you plan to drive Net Zero action with suppliers and partners?
We work with a range of suppliers from large plc to local ones. We also produce Stone products as well as selling devices from the likes of HP and Acer. We are working together to reduce the carbon impact during the lifecycle covering all stages including manufacturing, packaging, configuring, distribution and recycling. We evaluate suppliers' sustainable goals and achievements and have worked on several initiatives to support joint aims such as a reduction in packaging, improved logistics and reducing energy running costs.
We have also joined a group called Techies Go Green which is a movement of IT and tech-oriented companies committed to decarbonising their business, working together and sharing best practice on how we can all tackle global warming.
What next for your Net Zero strategy?
We have set a challenging target of Net Zero by 2030 which is now incorporated in our Making a Digital Difference sustainability framework, which includes environmental and social topics. This sets out 10 pillars for action. We have not jumped to offsetting. To be really sustainable is to reduce the consumption of energy and production of greenhouse gasses to the minimum.
We are working with the National Forest to help transform 200 square miles of derelict and damaged land caused by centuries of coal mining and other heavy industry in the midlands. We are also working with Ecologi on a tree planting initiative that is shared with our customers. Through our three year sustainability framework we are also supporting other Sustainability Development Goals (SDG), including a formal certificate on our reduction of carbon by achieving PAS2060 accreditation.
What are the three most important elements of a Net Zero transformation strategy?
Confidence and the integrity of data to reliably indicate your environmental impact. Identify through each of your activities that generate carbon emissions, and break it down in stages to tackle the biggest impact first and set some targets. Raise awareness with colleagues, customers and the supply chain of your targets and plans.
For those businesses yet to get going on sustainability, what first steps should they take?
Look at the energy consumption of property and vehicles. Reduce energy waste and then look for renewable energy sources. Learning more about sustainability and the UN sustainability goals is a useful reference point. And speak to your local business chamber of commerce or trade body as there is support through business networks, many of which are free and provide access to grants that support your journey.
You don't have to be a sustainable professional to make a difference. But having sustainability as a mindset makes you consider your actions and options. The Carbon Literacy Project estimates that small changes can make a difference of five to 15 per cent carbon saving per person.