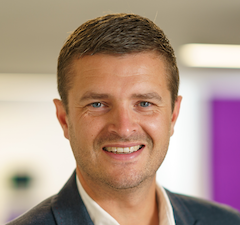 It's early days for most channel companies to have executed a strategic reinvention with ESG (Environmental, Social and Governance) at the core, but the message is clear – leaders need to quickly establish ESG priorities.
So says Matt Worboys, Business Development Director Channel at Gamma during last month's Sustainabiity Channel Forecast Insight Session.
As the climate change crisis deepens it creates a rapidly changing context in which channel organisations operate, making it a critical priority for leaders to implement ESG initiatives that align with growing environmental concerns among whole populations. "We are absolutely seeing this, and it's coming from a variety of areas," stated Worboys. "We're seeing a real drive towards environmental, social and governance aspects – from our customers, our own board, our investors, our senior leadership team and employees."
Gamma has established an  ESG Committee and ESG Steering Group to evaluate its positive impacts. "Things have moved forward at speed and are now reflected in the priorities of these teams," stated Worboys. "Gamma has put a stake in the ground about our intent to understand the true environmental impact of the services that we deliver. That applies across the whole value chain. It's about understanding that impact and then setting out our objectives to drive down some of those consequences on the environment."
The pressure for businesses to address ESG challenges is also reflected in new demands from end users, observed Worboys. "In terms of the tenders we receive there is a significant weighting around how you're going to support them around environmental impacts," he commented. "Gone are the days where you copied and pasted the text across a number of different tenders. Now, they need to be tailored to particular organisations. We're currently seeing this mostly in the public sector, but the private sector will undoubtedly catch up. The focus around these issues has sharpened over the last two to three years and ESG is creeping into the private sector. Change is in the air and it is likely that new legislation will ensure that businesses are acting in an environmentally responsible way."
Adopting a responsible sustainability approach may prompt business leaders to consider buying carbon credits to become carbon neutral, but this approach is becoming less of an attractive option and may prove costly, emphasised Worboys. "It's not just about offsetting," he commented. "People now expect more from businesses in reducing their carbon footprint. It's important to act now."
The fundamental shift towards an ESG strategy will take stakeholder scrutiny into full account to reflect their view of the future business. "We've spent a lot of time talking with stakeholders within our organisation," explained Worboys. "It's about understanding the values that they consider to be important. They represent Gamma as a company, and they need to believe in the organisation. So we talk to our staff and customers to ensure we meet their expectations. We've also seen it around staffing. When you're interviewing for new staff, candidates are asking challenging questions around the diversity of the board, your strategy around pay and diversity, and environmental considerations. For us, this year is around putting that stake in the ground and identifying where our priorities are for 2022 and beyond."
Gamma's heavy bias towards ESG-based strategic reinvention is also reflected in the outlooks of a growing number of investors. "Companies attract investment from various funds, and some are particularly targeted at a subset of businesses," said Worboys. "Organisations that don't meet their criteria around delivering on environmental credentials may not appear in certain funds."
This year Gamma is taking part in the Carbon Disclosure Project, an initiative that drives environmental action through transparent reporting, identifying environmental risks and opportunities and tracking progress. Worboys believes that as organisations such as Gamma become more transparent in the way that they represent themselves, others will follow. "We'll start to see people wanting to do this as opposed to being forced," he commented. "We're happy to help our partners to achieve that.
"Responsible channel partnerships will be key. ESG is about partnerships and identifying opportunities. The consumer has never been more environmentally aware around the products and services they're purchasing. To ignore that would be foolish. We have an opportunity to present products and services that meet those requirements. That's the real take away."
A reseller's ESG journey will start with a reappraisal of operations which will also create opportunities to form stronger channel partnerships. "In terms of an audit of partners, there will be a need to discuss those topics as we come under pressure to disclose our whole supply chain from sourcing right through to the end customer," said Worboys.
"But it's also about ensuring that there is a balance between allowing businesses to thrive without burdening them in red tape. Over time, we will see legislation come in. Yet many resellers will probably leave it relatively late to become fully compliant. Taking steps towards that now is the right course of action."
What the channel now needs is to deploy that ability to be flexible, exemplified by the industry's Covid-19 lockdown response, and establish ESG initiatives. "To target the buyer successfully channel partners need to demonstrate responsibility around ESG," reiterated Worboys. "Partners operating in the public sector will really start to see this – and it will soon also come into the private sector. Channel partners must consider how they are going to respond. By articulating their sustainability message they will develop a competitive advantage.
"There's a lot of learning to be done. Understand your company, understand your suppliers, understand your customers and your staff. Establish processes now to ensure that you're on the front foot and ESG legislation does not come out of the blue."