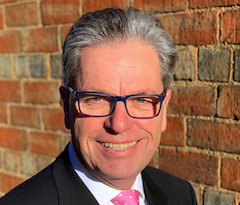 Embarking on a franchisee recruitment campaign is the latest in a long line of measures intended to boost Pink Connect's growth prospects, explains Managing Director James Pink.
Pink's objective to double revenues is as crystal clear as the merits of each component of his growth strategy – which in addition to franchising external sales and growing the internal sales arm – includes close consideration of the separate profit centres of the business, particularly retaining and growing existing customers, tasking separate staff with new business acquisition and taking every opportunity to resign 60 month agreements. The increasing relevance of GDPR and the push for meaningful security has also proved fruitful.
Businesses are today subject to two separate eruptions. One concerns security as SMEs are not doing enough to counter the threat; the other eruption is the spread of FTTP. It is Pink's view that both offer significant growth opportunities, and he is preparing the ground for big advances in these important markets. On the issue of security he commented: "Security has been low on SME agendas and they still typically say 'it won't happen to us, they won't hit the little guy'; but I foresee that large fines from the ICO and escalating losses from criminal activity will feature ever more prominently as we move into 2020.
"It is clearly a poor and risky business strategy to bury your head, especially when you consider that the Crime Commissioner estimates that 160,000 people are engaged in cybercrime in the UK alone. That's a lot of clever people looking to profit from someone else's hard work."
Cybercrime together with the Information Commissioner's Office fines will kill huge numbers of businesses in the next ten years, believes Pink. "Billions of hard earned pounds will be spirited away by clever people who will never be caught, let alone prosecuted," he added. "The police are still running Windows 7 on 100,000 PCs, so what chance do they have? It's like the Wild West with no sheriff."
In 2002 with a pot of cash and no route to market we decided to establish Pink Connect
To introduce a semblance of law and order Pink Connect has developed the Sentinel Unified Threat Management device which offers SMEs easy installation and meaningful security. "We see the relentless march of cybersecurity threats of primary importance – it is an issue for all businesses," added Pink. "Our security offering is a one-stop-shop solution that guarantees a business is compliant and secure at an affordable price point. No business can be GDPR compliant without such a device, and it puts us in a business critical position with the customer, trusted with their security, connectivity and IT support, earning monthly revenue for long fixed-term contracts, and any changes have to be run past us so we are in a prime position to cross sell our whole product set. Security is a core product for us and key to capturing all client consumed services."
On all past evidence Pink can lead business growth campaigns and win in his chosen markets, and FTTP is no exception. "We are also selling FTTP by identifying trading estates and business parks with poor Internet access – there are thousands of them – and installing FTTP by amortising the cost between the businesses on the site, using the Gigabit Voucher scheme," he added. "Say a 60 business unit park requires a £30,000 investment to bring FTTP to site, we just need 12 of the 60 businesses to want better connectivity to fund the scheme. The approach is seen as manna from heaven by organisations struggling with poor ADSL as we can offer either 160Mb or 330Mb connections for £80 or £120 and it puts Pink Connect in a prime position as we are first on the scene with the real answer."
But franchising offers Pink the gift of his dreams, and he is embracing it, doing everything possible to maximise on past successes with a renewed ambition. He has a focus on franchising far beyond the activity of the past ten years, and has reset his strategy to double revenues over the near-term in large part fuelled by a franchisee recruitment campaign.
"Growing our business through franchising is our biggest opportunity," he stated. "We see growth through franchising as sustainable, reliable, long-term and good for all involved. It also gives us the opportunity to leverage our knowledge and SME offering through franchisees in every postcode in the UK. The business generated is effectively free for Pink Connect, the franchisee retains 32 per cent of turnover, a high percentage for any business and we almost never lose a customer because we have local representation on the doorstep. We have prioritised finding the right 20 franchisees in 2019. Franchising has been incredibly good for all concerned."
Pink also acted ­impeccably when establishing the company with his wife Gisela soon after they married in 2002, and then crafting a one-stop-shop. "The ability to reduce call costs from those of the incumbent got us off the blocks initially," commented Pink. "After we agreed terms with Openreach we were able to bill all lines, increasing turnover and profitability with our whole client base within a month. The introduction of broadband helped to secure customers with the essential conduit for business.
Having run several businesses requiring the standard distress purchase items to trade, like power, phones, Internet, security and mobile, the product set we now present to prospects makes sense for almost every business we approach."
The result is that the provision of multiple product sets to customers has nurtured long-term commitment and increased client value. To achieve this happy state Pink's portfolio is also built on partnerships with Openreach, Gamma, MyPhones, Wavenet, Ubiquiti, Cisco and Microsoft. The company services circa 1,000 B2B customers (ranging from one man bands to multi-sites for global organisations), and generates turnover approaching £2 million (with plans to hit £4 million post haste). Pink Connect's 16 staff are based at its Shipston on Stour head office.
Its three franchisees have each been in operation for over 10 years, and in addition to plans to recruit more franchisees during this year and next Pink will take on four more direct sales staff to develop existing customers, target connectivity and hosted VoIP sales, business mobile and new commercial power business. "We have all the back office capacity we need to handle twice our current turnover as we have invested heavily on remote access and service control," added Pink.
What is also clear from Pink Connect's activities is that hosted VoIP is central to its offering. "We have co-developed our Pink IP pro platform and pricing structure," Pink explained. "This allowed us to sell Pink IP pro into situations that are hard for BroadSoft resellers to enter, like schools and hospitality etc, where low call volumes and large handset numbers prohibit traditional hosted VoIP suppliers succeeding because of their high per-seat price constraints."
 
Microsoft Teams is another important next step for Pink. As a Microsoft partner he has a large customer base using 365, so they already have the software deployed across their organisations. "To capitalise on this we are developing compatible SIP trunks and a billing platform to allow us to profit from this strong new competitor," he added. "The managed roll out of on-premise servers to Microsoft 365 is a complex area to get right. We have invested in the staff to take customers through this step and make it a pain free experience."
A policy of marrying end user requirements more closely to Pink Connect's all encompassing proposition is vital and has significantly contributed to its success. "It is essential for any supplier to offer a complete business product set," added Pink. "VoIP, security, access and cloud IT have moved towards each other and are inextricable on site. As soon as one facet needs to be looked at the quoting supplier will pitch a complete solution and net the customer for everything, for good. Good luck selling boxes on the wall!"
Luck had no role to play in Pink Connect's formation and subsequent successes. You could say Pink was fuelled up for the journey having started his career selling petrol. "I was running a petrol station in Kent when a regular customer said 'have you looked at the telecoms business, it's residual income'," explained Pink. "I didn't know what residual income meant so found out and quickly signed up to a multi-level marketing (MLM) telco. The telecoms sales side came easy to me, the MLM part not so. However, after a short time I was earning substantial residual income but realised I should find a more commercial deal for my B2B customers. So I signed with a WorldCom reseller and business flew for 18 months when, to everyone's surprise, WorldCom bought our customers for a large multiple of turnover. With a pot of cash and no route to market we decided to establish Pink Connect."
Pink is right to describe himself as an entrepreneur, people person and natural salesman, and he learnt the importance of integrity, customer service, consistency and commitment from his father, a life-long salesman who built 30 year relationships with customers in the wholesale bedding trade. The influence of Pink senior continues to be strongly felt.
"The integrity I saw in my father is embedded into Pink Connect and reflected in everything we do," said Pink. "We are passionate about making a difference with people and children. To that end, we sponsor 14 children around the world for their education and medical needs. We also take on apprentices and sponsor staff education both in telecoms and IT, and outside the industry in personal development."