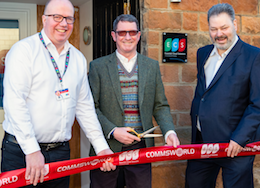 Scottish tech firm Essential Cloud Solutions (previously Edinburgh Computer Services) is set for the next phase of expansion, based on an entirely flexible workforce, following the opening of refurbished offices in Edinburgh.
ECS, which launched in 1991, was acquired and rebranded by Commsworld in 2018.
After nine years in the same office, Commsworld and ECS took the decision to invest in overhauling the 2,800 sq. ft space to enable growth, including the addition of two new employees, and a lab which is used to bench test equipment.
"This provided the perfect opportunity for ECS to stress-test the strength of its operations and disaster recovery options," said Willie Fairhurst, MD of ECS.
"With any acquisition it's important to feel part of the bigger picture – refurbishing our outdated offices makes the team feel part of the Commsworld family."
Councillor David Key who attended the opening said: "It's always great to see companies embracing their commitment to becoming greener - ECS has its own high-quality ventilation system and only runs low emission vehicles, which are both positive steps in becoming more sustainable.
"I was also speaking with Willie, who said the team are actively encouraged to cycle or run to work as well, and they have put in showers and changing rooms to facilitate this."
Pictured (l-r): David Key, SNP Councillor for Fountainbridge and Craiglockhart, pictured with Willie Fairhurst, MD of Essential Cloud Solutions and Steve Edwards, Business Development Director at Commsworld.