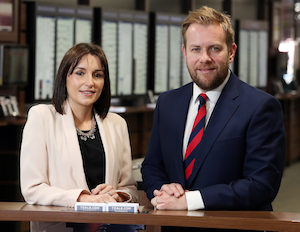 Irish bookmaker Toals made a safe bet when it tasked Belfast-based Rainbow Communications to upgrade its telecoms network in a £500k deal.
Rainbow is replacing Toals' single landlines and traditional broadband with a hosted phone systems and a MPLS network that will connect all Toals sites to its HQ in Belfast.
 
Toals Bookmakers currently has 50 locations across the six counties of Northern Ireland and 262 staff. It has been a Rainbow client since 2014.
Toals Director Lauren Toal said: "Our business is continually evolving and we aim to make the most of any new technology available that will benefit our patrons and staff. This investment will drive efficiency and cost-effectiveness for Toals."
  
Rainbow Sales and Marketing Director Stuart Carson added: "The evolution of MPLS comes at a time when traditional ISDN lines are becoming increasingly defunct, so it is imperative for companies and organisations to ensure they are ahead of the game."
 
Pictured: Lauren Toal and Stuart Carson