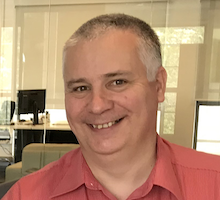 Just Telecomms CEO Richard Powell's grand project shows the depth of his conviction in a mobile-first future and strong belief in the power of the channel model to deliver it.
A good industry question might be to ask on what does Powell's mobile mission have in common with fuel, alarms and central heating. Read on... To keep his financial tank topped up while at college Powell worked as a petrol station attendant in between study time. The job had its attractions – meeting people (which he enjoyed) and some of those chance meeters are still in touch today – so he continued to tend the forecourt after finishing college and would programme a BBC Micro Model B with some success in the evenings. Then one day he'd had his fill. "I woke up one morning and thought this is not the job I dreamed of as a boy," said Powell. "I wanted to do something with real purpose. It was time to make things happen."
At 22 Powell holstered the nozzle for the last time and went back to college where he achieved a number of electronics qualifications. "I became a computer engineer in the mid-1980s and started my first computer business in 1990, which didn't work out," he recalled. "That experience taught me many helpful lessons. I then set up a burglar alarm company in 1995 with friends. After it went public in 1997 it was time for the next venture, Heat Assured, a central heating servicing company and the precursor to Just Telecomms. We originally focused on gas, electricity and telephone brokerage, but became a telephone business due to our passion to do a better job than our existing telecoms supplier which was failing us and our customers miserably."
Powell and his business partners then set up Just Utilities with the trading name Just Telecomms, under which they offered telephony services and also took on other energy suppliers to become a true broker rather than an introducer. "It was a good job we did, as about 14 months later our supplier Enron became the biggest bankruptcy the world had ever seen," said Powell. "Tough times followed but we kept at it by keeping our customers happy, building the business, and now we are an MVNO with our own exchange capabilities."
Becoming an MVNO is the latest in a string of company milestones which include the addition of phone lines and becoming one of the first wholesale line providers in 2001. "I was nervous about doing what was then called Calls and Access," noted Powell. "None of the big boys were doing it. We saw it as a way to have full credit control as we were using dialler boxes in those days. As none of the larger telcos appeared to be interested we thought there must be a catch as we were so far ahead of the market. Fortunately, there was no snag."
Five years later Powell saw the potential of VoIP and began to white label certain products but they weren't his and they didn't fit the company's aspiration to move into mobiles. "The biggest step change was the launch of our new platform using Centile's technology, which has been proven in Nordic countries and packaged to allow us to offer something exciting to the UK market," said Powell. "We have added our mobile brand with full phone system functionality without having to rely on an app, so it's a true FMC solution."
Just Telecomms currently operates in the SME market but in launching as a FMC MVNO Powell hopes to attract more corporate accounts. "However, we don't intend to abandon the market we operate in, our platform has something to offer everyone, from the sole trader to the multi-national," said Powell. "The industry has long talked about UC but we are only now unifying voice communications for the masses. We are offering full PBX functionality on mobile devices without compromise, treating a mobile phone like an IP device on GSM. Our priorities are to get the product embedded in our organisation and recruit channel partners."
The channel is where Powell expects to see the most growth, driven by enabling other resellers and MSPs to offer full FMC hosted on a business grade mobile network. "Just Telecomms will continue to retail its own offering but also develop a channel as the quickest way to sell seats and get market penetration," stated Powell. "The partnerships forged with Centile and Transatel are key here. We will be as hands on or hands off as our resellers require, offering a bureau billing service and first line support. Within five years we will be purely channel focused. In building the right team and giving the correct training at the right time we have an excellent chance of realising our aspirations, and they are big."
Powell plans to increase staff numbers by 20, all dedicated to supporting the Our Telecom product during the next 18 to 24 months and in anticipation of double digit growth over the coming three years. "The hosted PBX was our core bread and butter and the shift into mobility is a natural evolution," added Powell. "We are creating a new market and our biggest opportunity is to talk to end users and match technology to their preferred way of working. This surely revolves around a mobile phone supported by an app. It is a paradigm shift.
"Big organisations such as PwC are going all-mobile. This is an interesting trend and has significant implications for the products we offer, the handsets we support, and the financing route and support skills we are adopting. Gigabit Ethernet handsets were important a few months ago, but now we are considering how much we even need PoE switches or IP desk phones. Perhaps we will see banks of GSM handsets going to site if they achieve the same outcome and work with fixed and mobile numbers."
Potential market shifts such as these are reflected in how Just Telecomms has evolved over the past three years. In this period Powell formed the aforementioned partnerships with Centile and Transatel which proved transformational and he bid farewell to the company's co-founder who retired. "Having started a new chapter we are removing the silos that housed landline and mobile for years," said Powell. "Technically this was a steep learning curve and much money has been spent getting the technicians on board and up to speed. Our target markets will be dictated by our resellers and I am looking forward to seeing where this approach will take the business. The only real need is for the users to be in areas where our SIMs can get coverage, which is why we selected Transatel to access the EE network. Having said that, we can use a picocell to offer sites in GSM black spots – so the market is big!"