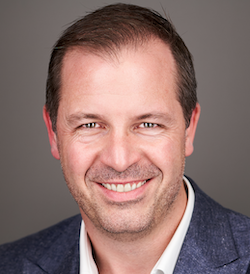 The unwavering conviction of 4net Technologies MD Richard Pennington is that he can achieve his business goals only by continuing to re-engineer the company. This is his big £100 million strategy.
There is no denying that the future success of 4net's bid to become a £100 million business within five years is inseparable from Pennington's pragmatism in meeting both the great strategic challenges and opportunities that lie ahead. "There is rapid change all around us," he stated. "Not just in the development of communications and technology but also in the way buyers are procuring our solutions and services. Customer expectations go far beyond the technical solution in itself. Therefore we need to make sure we're able to deliver more."
A new focus on business outcomes is the one constant in this fast changing market, hence there is greater measurable value in holistic approaches to familiar scenarios. "There is a clear move by customers to measure our projects on business outcomes rather than simple, or complex, technology deliverables," explained Pennington.
"Sophisticated customers now expect a fully managed project delivery measured against their own business goals and user experience, rather than a clean technical implementation. Previously, we would build, install and train on the software, and our customers would try to make it work. Now, our projects need to be aligned to what the customer wants to achieve from the software.
"Once we have ensured it is working we don't say farewell. The customer wants to see the benefits in a measurable way. That means we need to prove that the 'dream' of the solution being transformational is real. This has an impact on how we plan for and execute the delivery of our major projects. It means we've had to broaden the skill set of our workforce, employing business analysts as well as the technical team for example."
Another key to unlocking future growth prospects lies not in traditional comms but in a big shift towards public cloud services. "Take Microsoft Teams, which customers now procure directly and then work with partners to consult on, embed, customise and manage the service," said Pennington. "There was a time when we would have sold the service, built, supported and managed it. That 'sell, build, maintain' infrastructure piece is starting to disappear for us. As a result our business model is changing from designing, selling, building and supporting technology infrastructure to consulting, integrating, customising and managing public and private cloud services."
For the three times 2019 Comms National Award winner (Enterprise Reseller of the Year, Best Enterprise Cloud Solution and Best Reseller Innovation), growth is also about capitalising on the inability of large legacy providers to change and adapt quickly to meet customer needs. "We are seeing a shift in customer buying patterns and we are winning eight figure deals which, ten years ago, didn't happen to businesses of our size," commented Pennington. "Bigger organisations are getting left behind because they can't adapt fast enough, whereas we can and do. We also listen to and stay close to our customers and ensure we have the appropriate open channels for customer feedback and input."
Future success also lies deep within the 4net business, in its ethos and morale as well as staffing. "Maintaining culture during an expansion phase is often a major obstacle for businesses like ours and I'm determined as Managing Director, and one of the founding partners of 4net, that we don't lose our culture, which is one of Customer First," stated Pennington. "A big differentiator for 4net is that we do work as a team – cross functionally. Part of our culture is that we empower staff to try new things, to be agile, flexible and innovative, and to fix issues quickly as they arise. We also ensure transparency across our objectives and empower people to help us reach them."
In the short to medium term, and as new developments come along in technology and customer requirements, as well as nurturing culture there are other challenges faced by 4net. "The biggest challenges we see ahead are staying at the forefront of the new wave of technology coming along and meeting growing customer expectations," explained Pennington. "Secondly, ensuring that we fulfil all of our recruitment requirements, that means not only managing to recruit the growing numbers we need, but also the correct skill sets across the business."
As we have seen the genesis of 4net's upcoming expansion period in large part lies in a refashioned plan for the age of the cloud and its project delivery credentials. "Our biggest opportunities sit within a cloud first strategy," added Pennington. "Customers are turning away from legacy environments to the cloud. And we are recognised – not least through our recent industry awards from Avaya, including Enterprise Cloud Partner of the Year 2019 – as a leading cloud player, so we have experience and credibility to capitalise on.
"More complex and sophisticated customer requirements enable us to add to our solutions and services, so we not only meet the customer's business outcome specifications but enhance the overall service we offer. The increasing reliance on application development and customisation services is also a major trend. This includes everything from application integration to chatbots and Artificial Intelligence which growing numbers of our customers are demanding."
The way to realise targets like Pennington's £100 million objective can only be to remain alert to the demands of the market and develop the agility to adapt, because an ICT provider's relevance to the changing customer and technology landscape is neither inevitable nor guaranteed. Prepared on all fronts, Pennington's three year £60 million revenue target is a prelude to something much bigger. "We are preparing to double our revenues," said Pennington. "Becoming a £100 million business will require transformation. We will continue to grow and focus on our core markets. For example, in the public sector and all the different verticals – central Government, housing, blue light, health etc.
"But we will also need to grow more in other sectors such as large enterprise and expand our international business, with the possibility of small bolt on acquisitions that add capability to our cloud and managed services. Our portfolio of services is also broadening, particularly with enhancements to the customer experience and making sure we provide secure services. 4net's ambition is to be around longer than any of our competitors. We will do that by providing the best solutions and service within our power, and keeping up with the times."