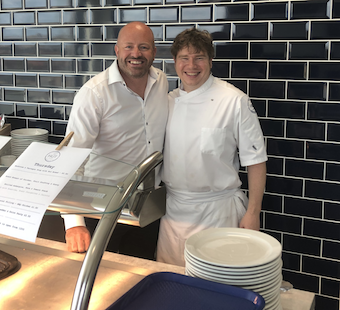 Not many people working in the ICT industry enjoy a chef cooked meal every day, but it's an experience staff at Focus Group are relishing.
On the top floor of their new headquarters in Shoreham, Sussex, owners Ralph Gilbert and Chris Goodman have installed a purpose-built canteen called 'The Hut' from where top chef Stuart MacGarvie serves up culinary delights for staff members every working day. There's even a rooftop terrace for alfresco dining in good weather.
MacGarvie, Chris Goodman's brother, has been in the restaurant trade since he was 16, working in boutique bistros, private dining, gastro pubs, suburban brasseries, independent healthcare, event catering for thousands and a stint in contract catering.
"During my time as a chef I've been lucky enough to win a couple of competitions and cooked for a bit of royalty and their entourages along the way, built up some great teams and trained chefs to take on their own kitchens," he said. 
"I jumped at the chance to work with Chris at Focus House and we now cater for all needs, delivering great quality food while ticking as many boxes as possible. 
"We'll use local suppliers wherever possible and serve up simple, casual enjoyable, food."
Focus researched local prices to make sure The Hut's prices are competitive, as Goodman explained: "We completed 'beat the street' style research on the pricing and availability of food and drink. 
"While we won't be looking to make a profit, we still need to ensure we're offering top quality refreshments at a better price than staff would find locally. 
"Any profit we do make will be rolled back into events and theme days for our teams to enjoy and, essentially, the busier we are, the more events we'll be able to stage!"
Pictured: Chris Goodman and chef Stuart MacGarvie at The Hut