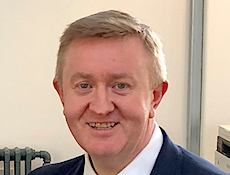 Sterling Scottish ICT provider Silver Cloud has transformed its growth vision into long-term strategy following a leadership revamp and the appointment of Michael McMillan as Managing Director.
McMillan's entry into the army's Junior Leader's Regiment at 16 put him on the road to a career in comms when he undertook a City & Guilds in Radio and Telephony Engineering (later moving into management). But his army career ended after the first Gulf War when, with an injury, he was told he wouldn't walk again without the aid of a stick. "Following a lot of help from fantastic physiotherapists people today wouldn't even know I had ever used a stick," he said.
Yet at times McMillan still relies on a stick with a difference, this time kept up his sleeve – a magic wand. It's true: The war veteran can regularly be seen performing magic to paying audiences, something he's been doing for over 20 years – and now he brings a magic touch to Glasgow-based Silver Cloud where he was appointed as Managing Director in early February, taking over from company founder Anthony Quinn who's assumed the CEO role. The management restructure, which also saw investor Steve Smith instated as Chairman, prepared the business to scale locally, expand across the UK and build on its portfolio of products and services with the help of acquisitions.
Over the last year Silver Cloud has grown from £2.5 million turnover to £4 million and increased its headcount from 20 to 35. "We expect similar growth this year," stated McMillan. "My immediate priority is to continue this growth curve and we are looking closely at acquisitions, not just telecom companies but IT firms too. Given the fast pace our industry we want to ensure that we are at the forefront of new technology."
My army career shaped me in many ways, especially in leadership, communication, motivation and forward planning
Silver cloud was established by Quinn in February 2014 following his successful career in selling office products and services. "Tony set high standards from the outset," added McMillan. "He was determined to build a business not just driven by sales but based on respect, empathy and trust. That's why we enjoy positive relationships with our customers which in turn helps us to grow rapidly."
From the outset Silver Cloud put the pedal to the floor and now counts itself as one of Scotland's top performing independent companies. Its success had not gone unnoticed by McMillan who was equally impressed by the high levels of ambition and infectious enthusiasm displayed by the company's founder who, perchance, was on the lookout for a kindred spirit like McMillan to take things to the next stage.
"With Tony's experience in sales and my background in management, operations and engineering, my appointment as MD was a yin and yang moment," stated McMillan. "I too am a naturally passionate and enthusiastic person, relish a challenge and strive to be the best I can be. And my army career also shaped and defined me in many ways, especially in leadership, communication, motivation and forward planning."
Silver Cloud has four powerful weapons in its armoury which combine as a single cultural vision. First, the company is proactive in seeking new opportunities and heading off potential issues; second, it maintains high levels of energy and enthusiasm when getting to grips with the latest products and commercialising them; next, professionalism is also key, along with promise-keeping and plain language; and lastly the company understands that businesses are ultimately about people so it aims to connect with everyone on a personal level.
With this cultural formula as its blueprint, McMillan says Silver Cloud has more opportunities than you can shake a stick at and rates smart cloud technology as a front running prospect, fuelled by the attractiveness of putting customers in control. "We continue to invest and develop our cloud offering and we are coming up with more creative and innovative services we can host from our data centre," added McMillan.
"On a granular level we want to make sure all operational processes and procedures, ISO accreditations and industry wide compliances are in place, as well as the systems and staff to drive the business forward. When a company grows as quickly as Silver Cloud it is imperative that our processes and procedures are clear, and that we have enough staff to facilitate a professional and smooth running process from beginning to end, thereby ensuring we keep customer satisfaction levels high." 
Just a minute with Michael McMillan
Role model
My mum: She brought up five kids single-handedly and held down four jobs – a true inspiration. She taught me how to be humble, work hard and do everything with honesty and integrity
What do you fear the most?
The unknown
Tell us something about yourself we don't know
I have been performing magic to audiences for over 20 years
Name three ideal dinner guests
Niki Lauda, Gordon Reid and Ricky Hatton. I have had the pleasure of meeting all three – they are humble, down to earth and have the passion and drive to be winners
Your strengths and what could you work on?
My greatest strengths are tenacity, impartiality and adaptability; but I could work on knowing when to quit 
How would you like to be remembered? 
As a team player who had an abundance of passion and enthusiasm for all things, loved to have fun and carried things out with respect, honour and integrity
Name one thing you couldn't do without in your job
Listening 
What possession could you not live without?
My watch. I am obsessive about punctuality as I hate being late
If you weren't in IT what would you be doing?
A rock drummer
How do you relax when not working?
Performing magic and Thai boxing
Top tip for resellers
As Winston Churchill said, never ever give up