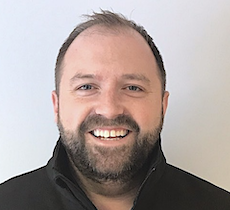 When cheffing no longer cut it, Managing Director Martin Dunne decided to cause a stir in the comms industry and bring Mtech Communications to the boil.
Dunne was once a sceptic on pursuing a career in the comms sector. Uninspiring jobs made the prospect unappealing, and there seemed more chance of rising majestically, like a perfectly executed souffle, in returning to the kitchen environment from where he came. The shift to comms could well have been a brief hiatus from cheffing, because cold calling and doing research were repetitive jobs that lacked fizz. "Had I not been tasked with driving a salesperson to an appointment I would have left," stated Dunne. "I then moved through the business via telemarketing into sales and telemarketing management, becoming Sales Director and Group Sales Director in a career spanning 15 years before starting Mtech."
The move from trained chef to telecoms was as you might expect unplanned, but as noted above there has been nothing adhoc about what was to follow in short time. Christchurch-based Mtech Communications started life in February 2018, set up by Dunne and his partner Laura. They first operated out of their living room but a poor Internet connection and bad phone signal prompted a move to an office with space for one person with a single desk, but that's not to say there have been any constraints in growing the business.
 
"We have grown at an incredible rate," stated Dunne. "In my previous role I became familiar with growing sales teams and I have adopted a similar method at Mtech. In our first year we moved office five times, generated just over £2.2 million and have built a base of over 200 customers. Our plans are to double revenues in our second year and pursue steady growth in years three and four when we will establish a franchise model."
There is no other explanation for Dunne's stellar growth path other than his complete relish of the task in hand, an exhilaration that was beyond reach in his previous role. "I've had a great career in a larger business with multiple promotions and a key part to play, but ultimately this was attached to an existing company structure – we were simply growing it," he explained. "I only had to worry about achieving sales targets and growing the overall performance. With Mtech we started from nothing and I had to learn fast on aspects of the business that were new to me. I've learned about provisioning, billing, installation and support along with gaining suppliers and agreeing terms. It's been a massive learning curve, but I love the challenge."
With Mtech we started from nothing and I had to learn fast on aspects of the business that were new to me
In the case of future growth, the plan is clear, and hinges as much on the power of technology to transform lives as it does on the usefulness of traditional telephony in keeping customers happy. "We are the tech generation and understand the importance of what technology can bring us," he added. "Communications in general is becoming more about texts, emails and social media. This is also true in business to business. This means that the telephone is more vital than ever. It is still the quickest way to speak to someone; and if you receive a call it is clearly important as an urgent response is likely required."
Mtech's technology partners include Ericsson-LG via Pragma and Tollring for call recording and call reporting software. Mtech uses Audpro for its on hold marketing offering along with Phonelink CTI from Mondago. "Our proposition is simple, to become a one-stop-shop for telecoms and associated services," added Dunne. "We will be looking to offer IT support, printers and copiers, and potentially CCTV. One of the main reasons people change is not just to save money, it's to save time and hassle."
But the motivation to save time and hassle could have the opposite effect when unscrupulous telcos blatantly renege on their duty to do what's right for the customer. "The way certain companies over inflate termination charges and use scare tactics to bully the new provider via the client is wrong," stated Dunne. "It's a small minority that do this, but when a company goes against their own terms to make more money from a customer leaving, than if they were to service them for the duration of the contract, that's anathema to me. It's annoying to lose a customer, but that's part and parcel of business. That aside, I love the industry, it is exciting and ever-changing which keeps us all on our toes."
Just a minute with Martin Dunne...
Role model:
Sir Alex Ferguson: I admire how he kept a team focused and motivated for so long
What talent do you wish you had?
To rewind time and try for different outcomes
 
How would you like to be remembered?
As helping lots of people from all walks of life
Best advice you have taken:
Never make a promise you can't deliver
How do you relax when not working?
Aside from being a dance dad to my seven year old daughter Coco, I love to play with my lawn mover and other garden machinery with my two sons Harry and Freddie
The biggest risk you have taken?
Starting Mtech when my partner was six months pregnant with our third child
Your main strength and what could you work on?
My greatest strength is my ability to lead; but my weakness is that I always look for the good in people. This can have a negative impact and lead to getting burnt