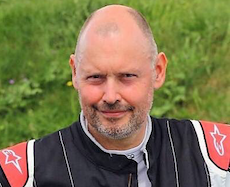 With felicitous timing in 2004 MPS Networks Managing Director Tim Docker recognised that IP was the future and its potential only realisable through a series of strategic turns and a programme of business change.
Docker embodies to great advantage the significant aspects of his past experiences and deep insights into the ever evolving comms marketplace in which he thrives. This synthesis can be traced back to when he left school with A levels and joined Lloyds Bank's Management Development Programme, working in the Birmingham branches and studying to become an Associate of the Institute of Bankers where topics included economics and accounting. Frustrated by the pace of the Bank's programme he jumped ship after three years. "A friend of my father suggested I would be suited to a sales role, so with little to lose I took the first sales position I could find with a Midlands-based Ricoh photocopier dealership," stated Docker. 
"The partners were experienced salesmen and provided me with a great grounding and a cultural reality check – sell to survive. I learned about presentation, negotiation, overcoming objections and gaining commitment, all skills used every day with customers, suppliers and probably most importantly my own team. Everyone needs to buy-in to the concept and work together towards a common goal."
Having embraced the emerging fax market and built specialist sales teams for a couple of resellers Docker established his own business in 1989 sub-contracting Panasonic orders to Midland Phone Services (now MPS Networks). Docker acquired the company from the Midland Phones Group in 1996. "Since then we have grown organically and by way of acquisition," noted Docker. "Our portfolio of products, services and skills now provides our clients with end-to-end, fixed and mobile, voice, data and IT solutions from a single source. We have also acquired three further PBX resellers."
From 1991 to 1996 growth had been slow due to an absence of a sales strategy properly aligned to the opportunity. This was quickly rectified following Docker's acquisition of the business which then achieved 100 per cent sales growth in 18 months. Fast forward to 2000 and the company entered into a dealership agreement with BT Cellnet and introduced mobile into its portfolio. Three years later MPS was established as Panasonic's leading UK telephone system dealer and strengthened this position by acquiring Belworth Telecom, a Panasonic telephone system dealer based in Bristol.
 
"Following a review of the business and its strategy in response to market demands a decision was taken to differentiate from the traditional competition by broadening the portfolio of products, skills and services," said Docker. "New relationships were created with suppliers of data and IP networking infrastructure including Cisco and various wholesale ISPs. Technical staff with data networking expertise, experience and qualifications were recruited. 
"The plan was to transform the business into a converged voice and data networks systems integrator where solutions would be designed, delivered and supported exclusively by our own in-house resource. Data networking expertise would be required to proficiently integrate IP telephony and VoIP into the LAN and WAN environment and, in turn, capitalise on the opportunity afforded by the introduction of these technologies to the UK market."
 
In 2006 MPS acquired ADV Maincom, another Bristol-based Panasonic PBX reseller, and became a BT Openreach reseller. Two years later the company became a Mitel Partner and introduced the MPS Intelligent Communication Solutions brand to deliver a broad portfolio of products, skills and services throughout the UK and Eire. "In 2010 many customers start to request IT services so an IT team was recruited," noted Docker. "The company became a Microsoft Partner and started to develop relationships with other IT vendors."
The acquisition of Portsmouth-based Panasonic PBX reseller Telecall preceded the introduction of the NEC PBX portfolio. "2015 marked the 25th year of trading and following a prior share restructure we changed the company name to MPS Networks which more accurately describes the nature of our business in conjunction with our established strap line 'intelligent communication solutions'," commented Docker.
 
The company has grown from six staff and £500K annual turnover in 1996 to 40 staff and turnover of £6 million in 2018, with organic growth trending to £6.5 million turnover in 2019. MPS has been profitable every year since acquisition by Docker in 1996 and debt free with surplus cash at all times from 2000. Its circa 1,200 customers include around 300 public and 900 private sector organisations. 
The target public sector verticals are education and healthcare while private sector deals are aligned to a 20 to 2,000 seat horizontal market where the average is around 50 seats. "Our private sector sweet spot is 25 to 350 seats where businesses readily buy-in to our end-to-end ethos and are keen to outsource all ICT to MPS," added Docker. "They want to drive process change through ICT but don't want to manage the significant internal IT resource to do so."
 
Docker has witnessed much change in the market with a notable increase in the migration of fixed voice to SIP and/or the cloud, a rise in UC and mobile integration, a lift in connectivity sales at the expense of ISDN, greater demand from the established customer base for IT services, including Colo and VDC, in particular Office 365 and cloud back-up.
A fraction of our customers take IT services so we have a significant opportunity in this area
"A fraction of our customers take IT services so we have a significant opportunity in this area," added Docker. "Key to growth right now are partnerships with Gamma and GTT, and we have built our own Veeam Cloud Backup solution in the GTT VDC which we believe is superior to Azure and AWS in a number of key operation and commercial areas."
According to Docker customer service is the 'absolute cornerstone' of his business as it continues to develop staff through a training and development programme, as well as near perpetual systems and process improvements. "The aim is to work more and more closely with every customer to add value, underpinned by technology but ultimately driving business process change and RoI," noted Docker.
"Organic growth is driven by customer satisfaction, granular customer and prospect base analysis, proactive sales and marketing activity, recommendation and referral. We have a comprehensive sales and marketing strategy involving exhibitions, seminars and user group meetings for example. Our most recent focus has been around how we use social media and third party validation to nurture customers and new business prospects."
The ramping up of Docker's marketing function pushes his overall strategy to the front line and mirrors his early efforts to be at the vanguard of technology and industry developments. "In 2004 we realised IP was the future," he commented. "We knew we needed to add more value to our customer base and find new, larger more complex clients where the potential value add was greater. We committed to transforming the business into a converged voice, data and IT systems integrator where solutions would be designed, delivered and supported exclusively by our own in-house resource. This was the absolute turning point in the business."
Just a minute with Tim Docker...
What talent do you wish you had? 
To be a decent golfer
 
If you weren't in comms what would you be doing? 
Working in another business. I have some mileage left in me yet and I get easily bored
Tell us something about yourself we don't know? 
I race a VW Golf GTI TCR car in the Dunlop Britcar Endurance Series
The biggest risk you have taken? 
We've made acquisitions from our own cash and there is always a risk involved. The upside is a quantum leap forward   
Top tip for resellers: 
Invest in people, delegate based on capability and capacity, and don't micro manage
Best piece of advice you have been given? 
You should get a job in sales
One thing you could not do without in your job: 
A sense of humour
Your greatest strength and what should you work on? 
Determination and commitment, but I could work on knowing when to give up
How would you like to be remembered? 
Trustworthy beyond any doubt but didn't take much too seriously