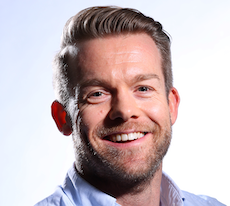 Since a boy the one thing that Adam Turton, Managing Director for Communications at Elite Group, has consistently shown is that he cannot contain his potential to blossom.
What is clear from Turton's educational and work career is not so much his performance, but his commitment to succeeding and passion for developing people. Having studied psychology and completing a Masters in sports psychology he worked for a number of years in professional sport as a coach, mentor and sports psychologist before entering the business world. "I have a track record of motivating and leading high performance teams and have helped mentor and develop many people at Elite Group who now hold key or senior positions," he said.
Turton 'stumbled' into comms 16 years ago, and by a twist of fate was offered a job by Elite Group founder Matt Newing, previously known to him as they attended the same school. "We were later introduced by a common friend," explained Turton. "In 2004 Matt offered me a cold calling job on the minimum wage, paid hourly. He was driving a black Porsche 911 at the time which also happened to be my dream car. So I took a leap of faith and accepted, hoping some day to drive a similar car."
 
Turton rose through the ranks and became Sales Director, and is now Managing Director for Communications with a small minority shareholding in the organisation. "I am passionate about business and sit on the board of other successful growing companies," he added. "I'm also an active investor across a range of sectors, particularly within technology, media and telecommunications, including various public and privately owned businesses."
Elite was founded in 2000 to take advantage of opportunities following the deregulation of the telecommunications market. There have been many milestones, but two stand out, explained Turton. "The discovery of call revenue and Number Translation Services (NTS) was a turning point," he said. "Being early adopters of NTS and network level value added services such as network call recording, IVR and network call queuing was a catalyst for our organic growth from 2000 to 2008. These value added services enabled Elite to penetrate the contact centre market and win some significant trophy accounts that remain key customers today almost 20 years later."
The growth strategy remains weighted towards M&A and a buy-and-build approach, with £30 million funding in place available for deals
The second milestone is strategic investment in M&A to drive growth and increase capabilities and expertise in new technology, products and services. "We completed our first acquisition in 2008 and it became clear that it was far more cost-effective and quicker to expand the product and service portfolio via M&A as opposed to organic growth alone," added Turton. "Through M&A we have been able to increase our core capabilities in UC, mobility, IoT, cloud and IT services, meaning we can bring more value to customers."
 
Elite Group's revenues in 2008 reached £11.1 million, but with 17 acquisitions under its belt and with a CAGR of 14.7 per cent the company's revenues are now in excess of £50 million. Elite is active in all markets and vertical sectors but is witnessing most traction and growth in the SME and mid-market space. "Given our size and economies of scale the growth strategy remains weighted towards M&A and a buy-and-build approach, with £30 million funding in place available for deals," added Turton. "Nonetheless, there is a significant  opportunity and ongoing investment into delivering sustainable organic growth from cross-sales, supporting customers and their adoption of new services including cloud, IoT and SaaS technologies that drive productivity and profitability for their businesses.
"You can't ignore the strong and consistent growth in cloud services including AWS and Microsoft Azure, along with the impressive growth in Microsoft Teams as the fastest growing workplace messaging and collaboration application. Through a number of IT services acquisitions we are well positioned as a Microsoft Gold Partner to capitalise on this opportunity and the demand for Microsoft products and services, including bespoke development and systems integration as a fully managed service."
Not surprisingly Elite is experiencing a decline in traditional telco products and services, in particular traditional voice which is registering a 10-15 per cent reduction in revenues in line with the market. "This has been accelerated by the 2025 shutdown of BT's ISDN and PSTN services which is also driving demand for SIP, hosted voice and UCaaS solutions underpinned by access technology," added Turton. "We are seeing an evolution in access, applications and services that businesses now demand to increase productivity and ensure they stay competitive. We are very fortunate to be operating in an exciting fast paced market where innovation and change is a constant – and whenever there is change, there is opportunity."
Perhaps the biggest opportunity to support customers will be 5G, which Turton tips as a 'game changer' that will enable businesses to do more and access apps anywhere at any time. "5G access technology includes the analytics and insights required to maximise value from adopting the service," he stated. "This is a significant opportunity to level up in our IoT capabilities and bring seriously powerful and transformational solutions to businesses."
Against this backdrop of industry trends, within five years telco revenues will be a distant memory, superseded by SaaS and cloud technology, believes Turton. "I'm confident that we will more than double revenues through a combination of M&A and organic growth, with a focus on the client experience and bringing more value to customers through new technology and professional and managed services," he commented. "Coinciding with and supporting this strategy is ongoing investment into optimising our people and business systems to ensure we are ready to scale."
Just a minute with Adam Turton...
Role model:
My father. He worked hard, set high standards, taught me how to be a good man and the value of hard work, loyalty, mental toughness and attention to detail – and the value of family
Tell us something about yourself we don't know:
I met my wife for the first time on a plane to Ibiza
One example of something you've overcome:
From a young age I was focused on having a career in professional rugby, but an injury left me debilitated for a number of years and unable ever to participate in competitive sport. Overcoming this adversity made me better equipped to deal with pressures and setbacks later in life
Your greatest strength, and what could you work on?
My biggest strength is that I'm aware of my weaknesses, and I'm making an effort to reframe problems from perceived stressful and negative situations into opportunities
Best piece of advice you have been given:
'To be patient and play the long game' (Elite founder Matt Newing). And 'Your true worth is determined by how much more you give in value than you take in payment', from the book Go -Giver by Bob Burg and David John Mann
If you weren't in comms what would you be doing?
I'd still be involved in advising, investing and running businesses
How do you start the working day?
I wake up at 5.25am and go to the gym. I like to do high intensity training first thing and sharpen my mental state