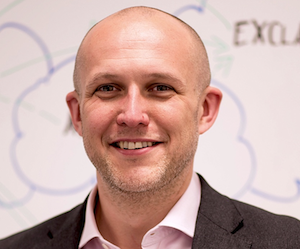 Entrepreneurs are so often fuelled by all-consuming gas guzzling ambition, but not Mirus IT Solutions Managing Director Paul Tomlinson who's driving hard and fast on a mix of aspiration and contentment.
A long-held interest in technology brought a dose of inevitability to the direction of Tomlinson's career journey which began with an engineering role for a small Milton Keynes-based IT provider. Spurred by bigger ideas he went on to launch his first business, an IT support operation, before co-founding Mirus IT in 2002 as a provider of IT support for local SMEs. "The plan was to keep things relatively small but over the years we've added a comms company and more recently a managed print business to the group. Our key vendors now include Microsoft, Gamma, Datto, Mimecast and Olivetti."
Mirus secured a presence in the managed print sector with the acquisition of Leighton Buzzard business 2r Systems in June last year. The deal boosted Mirus's revenues to circa £10m and headcount to 100-plus. "This acquisition was a major change for us," said Tomlinson. "We recognised the need to provide high margin services to our customers and by acquiring an existing provider it gave us a larger client base to sell our current services into."
Tomlinson aims to complete an acquisition every two years so long as a right-fit prospect appears on the radar screen. The security space is a likely target given his view that Mirus's turnover could double if he cracks into augmenting his portfolio with cyber security services. "Providing we can complete our acquisitions and continue the organic growth we've undertaken we'll generate circa £15 million revenues with around £11 million recurring revenue within five years," stated Tomlinson. "But if things happen with security it could be a very different story." 
This outlook reflects the strong top line growth experienced by Mirus in its early years. "But then the world changed and we moved away from large technology projects to monthly services which had a positive impact on our recurring revenue," noted Tomlinson. "However, introducing hosted VoIP and mobile telephony was something new and different. 
"My background is predominantly in IT services so the introduction of data connections was a simple enough change. Not the same experience with mobiles. I still struggle with the direct model competing against the reseller channel. In most other areas there's a clear approach to engaging with the end user, but with mobiles we're just in a big fight."
Tomlinson has higher hopes in voice and will sharpen his focus on Office 365 integration as well as addressing opportunities in the provision of security services. "We have a plan to tackle these areas and will always keep our eyes open for new solutions that would benefit customers and maximise our margins," he commented. "The migration away from on-premises phone systems is also something we're keeping a close eye on as we've got solutions that can help with the transition to cloud environments. Traditional box shifters need to look at this trend and start aligning services to their products to ensure customers get the most from their purchase. There will be less demand for a product shifting approach and a growing expectation from customers that an ICT solution should deliver real value and make an impact on their organisation." 
Vaulting ambition, like a hard and fast growth target, is an overrated concept in Tomlinson's book. Instead, ambition tempered by contentment is the running theme. "We're privately owned so don't need to worry too much about pushing for aggressive growth plans," commented Tomlinson. "Mirus is doing very well and the culture within the business is the best it's ever been, so we've got some conservative targets of adding around £1 million per annum turnover in the group with circa 75 per cent of that being from recurring services. I love what we're doing right now and am proud of the exceptional team I have around me. If we just keep up the great work we do and don't hit those financial milestones I'll still be a happy man."
Just a minute with Paul Tomlinson...
Role models: 
My management team: They've all got different qualities which I respect and admire greatly
What talent do you wish you had? 
To sing  
What do you fear the most? 
Things that are outside my control 
In hindsight: 
I'd have  focused more on quality of service in the early days
Tell us something about yourself we don't know: 
I'm working at becoming a qualified Mountain Leader
Top tip for resellers: 
Collaborate: We should share ideas and grow together rather than always compete
Your greatest strength and what could you work on? 
I'm a good people person and can read others well, but sometimes underestimate the time it takes to bring change, forgetting people need time to alter habits and behaviours
Name one thing you couldn't do without in your job: 
My Outlook calendar
What's the best piece of advice you have ever been given? 
Not to overreact to normal challenges in business. Now I'm more comfortable just working through these
If you weren't in ICT what would you be doing? 
Leading people up and down mountains
 
Name three ideal dinner guests: 
My nan who is a very funny Irish lady, Shane MacGowan for music and Oliver Reed to liven things up
 
How would you like to be remembered? 
As a great father to my children and a firm but fair leader