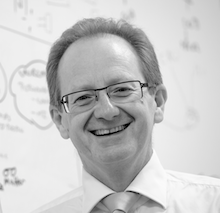 A priority job of ICT providers is to create sticky new service offerings by integrating mobile comms into corporate customers' telephony and ICT systems, says Tango Networks General Manager for Cloud Services Andrew Bale.
Tradition dictates that mobile comms management is not a matter for CIOs and business leaders. But, says Bale, it clearly should be for individual organisations to decide how to deploy and manage their mobile communications. Perhaps more importantly, this 'fundamental right' has stimulated the rise of MVNOs and opened up a significant opportunity for ICT resellers of all kinds. "There is a golden opportunity for VARs, CSPs and hosted service providers to launch a new breed of MVNO focused on business mobility, and shine a light on the last major blind spot in corporate IT," stated Bale.
In a typical enterprise CIOs have direct control over IT assets and services such as networking, Internet, applications, security, telephony etc. But mobile phones are now the primary communications devices in many enterprises, and everyone uses them to access business applications that the CIO's staff can't control in the same way they can other parts of IT.
"Mobile communications is controlled by a range of mobile operators over a number of networks, involving various devices and many different subscriptions," added Bale. "That's the enterprise mobility 'unknown'. But resellers can solve this pressing issue with new white labelled enterprise-tailored MVNO services."
Previously, becoming a MVNO involved heavy lifting on the technology and service delivery side. "It's much easier now and turnkey types of implementations are available for basic MVNO services that are straightforward to white label and bring to market," added Bale. "That's the big opportunity for resellers. They can specialise in delivering mobile services that are tailored to customer requirements. Customised service bundles address the mobility blind spot directly and become sticky offerings."
Customised service bundles directly address the mobility blind spot and become sticky offerings
Today's fixed-mobile convergence touches a wide range of areas, such as integrating mobile communications with business applications and workflows and moving beyond voice convergence to include placing messaging and mobile data usage into corporate IT's control. The benefits include the capture and recording of mobile voice and messaging (including SMS messaging) to comply with communications archiving or monitoring rules.
Additional boons include enabling text messaging from business numbers, integrations with workforce optimisation, field worker management and other enterprise applications. Furthermore, desktop replacement strategies such as going 'mobile first' and making mobile phones the primary communications device enterprise-wide can be an attractive option, observed Bale.
"Many enterprises are moving to 'mobile first' strategies and making mobile phones the primary communications devices for employees," said Bale. "Last year PwC did away with landline desk phones for its 18,000 employees in the UK, going 'mobile first' and making mobile phones the main communications device for all."
To take advantage of this mobility opportunity resellers can become a MVNO by partnering with solution providers that can deliver a platform that is easy to configure to the customer's requirements. Tango Networks (which acquired Simetric Telecom in November last year), for example, has enabled channel partners to give large distributed enterprise customers a single, global mobile network service that is private, secure and directly in control of the enterprise CIO.
"The offering unifies the control over mobile services and puts it in the hands of the enterprise," explained Bale. "It consolidates many contracts and operator relationships into one. The enterprise IT manager has direct control over the mobile voice, messaging and data usage by employees even when they are distributed across many regions and operator networks. With an offering like that, resellers can become high value solution partners."
According to Bale, resellers who are interested in becoming a MVNO also need to leverage their deep relationships with business customers and think through how to position and deliver the service, at the same time giving some consideration to taking advantage of their team's particular skill sets and experience.
"Many of our MVNO reseller partners launch vertical-specific mobility solutions," commented Bale. "Others focus on a functional aspect such as workforce optimisation or field management. Some offer specific mobility services designed for very small firms, medium sized companies or large global enterprises. When starting out as a MVNO, resellers should focus on their existing proposition and commercial relationships, not be distracted by the background technology."