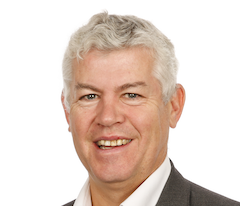 Having no mobile proposition is detrimental to a reseller's prospects, and they should be doing everything in their power to get in touch with the opportunity at their fingertips, says Abzorb's Head of Indirect Channel Mark Riddell.
It's increasingly clear that in the eyes of most if not all customers, comms resellers that do not offer mobile solutions will not be up to the job as conversations will inevitably focus on mobility. "Businesses are assessing how they move forward, and that will include mobile broadband," commented Riddell during his Margin in Mobile interview. "The evolution and roll out of 5G will make that an obvious choice. Don't hang about: Mobile is the place to be and there is money to be made."
He also pointed out that Abzorb counts among its customers some big names including National Networks. "We are finally seeing the adoption of hosted communications across the piece," added Riddell. "The 2025 switch off is a big driver for IP voice which also lends itself to remote working."
He claims that in a mobile capacity Abzorb's biggest USP is offering 100 per cent white label wholesale across Vodafone, O2 and EE. One upside is that if a customer wants to flip from one network to another they can do so without penalty, noted Riddell.
Abzorb started its commercial life as a mobile dealership business and now has over 180 wholesale partners ranging from a national network, ISPs, service providers, distributors and wholesale resellers. "We've evolved with technology, moved into data and hosted, and it's going to be about those sticky overlay services," added Riddell. "Our foundation is around our portal. It is key for small to medium sized resellers to go to a single portal where they can transact all of their products and services and have a single throat to choke, allowing them to focus on sales.
Launching hosted through the portal was a key step for the firm, enabling partners (through a single pain of glass) to order, for example, a combination of leased lines, FTTC, FTTP, DSL, hosted seats, SIP channels and a blend of mobile connections, all provisioned via a single portal and single bill on a single contract. "It's about transacting as painlessly and easily as possible, and allowing partners to be as autonomous as they can be while providing the level of service the customer is looking for," commented Riddell. "We also deliver APIs to partners that have their own environment."