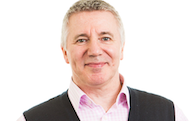 Isle of Man-based plan.com was crowned the UK's fastest growing tech company in The Sunday Times Hiscox Tech Track 100 league table.
The ranking measures the sales growth performance of  private tech companies over the last three years.
plan.com also notched up the highest sales rise figure in the last ten years.
plan.com sells through its network of 650 mobile partners across the UK, which helped grow sales an average 364% over three years to £35.4m in 2017.
Co-founder Keith Curran enthused: "It's the combination of everything we've worked for over the past four years. 
"We're building something world-leading under Dan Craddock's visionary leadership, and to have it validated by such a prestigious award is an incredible feeling."
Plan.com employs over 100 staff and is currently developing a new seven floor hi-tech HQ with living walls, suspended meeting pods and roof-top bar.