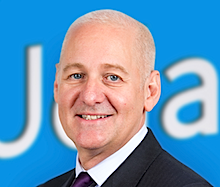 It's not the simple fact of mobile's popularity that makes it a market worth unlocking, it's the data element that really matters, says Jola Managing Director Andrew Dickinson, but the key lies in unseating MNOs. 
With mobile being the natural device of convergence and trends in workplace flexibility and mobility increasing, making the move to mobile will become unavoidable for resellers, so what steps should they take now? "Most resellers avoid traditional mobile - the handsets and airtime - because it's low margin, high risk and dominated by specialists and the MNOs," stated Dickinson. "But mobile data is completely different and far more aligned to the products they currently sell. With 4G/5G integration into products like SD-WAN and Ethernet (pre-Ethernet and mobile data backup) every reseller will soon be selling mobile, even if only indirectly. Now that a layer 2 product is available, all the ISPs will soon be offering 4G/5G back-up on DIA as standard. And to get into M2M/IoT directly, resellers should look for a true mobile data aggregator, with an MVNO, eSIM capability and a focus on the channel."
Breaking the model where the MVNO simply gets a discount off the retail MNO's list price is critical to enabling the channel
For its part, Jola has invested in becoming an eSIM MVNO and its product roadmap this year will develop this capability. eSIMs solve a number of problems for end user organisations, and therefore represent a significant opportunity for resellers looking for a magic mobile data bullet to compete with a MNO in M2M and IoT, believes Dickinson. "An eSIM MVNO with network agnostic, un-steered or steered, embedded or plastic triple-cut SIMs, gives resellers significant advantage over the retail MNOs," he explained. "eSIM MVNOs buy mobile data wholesale, from massive global data aggregators, so rates are attractive and reseller margins are good. eSIMs are invisible to individual MNOs so, unlike with consumer eSIMs, these MVNOs don't need permission from MNOs in each country. Breaking the model where the MVNO simply gets a discount off the retail MNO's list price is critical to enabling the channel. Especially when MNO enterprise sales teams are given so much flexibility on RRP."
Breaking mobile market moulds is important for a number of reasons. Among the top priorities is the IoT which has received much industry commentary predicting its potential impact. "IoT is not the future," stated Dickinson. "It's now and growing rapidly. Resellers have bid many big IoT contracts recently, but successes are rare because they are usually up against a retail MNO that will drop their data price at the last minute to win the business."
It is difficult for end customers to switch out SIMs as MNOs seek to make money over the entire term and beyond. So mobile data aggregators need to break their direct dependence on MNOs to give resellers a differentiated product and a fighting chance of winning some of these huge deals, according to Dickinson. "Resellers also need to add M2M/IoT capabilities beyond just mobile data," he commented. "My advice would be to specialise in a growth sector they are already familiar with, and partner for aspects like management portals, gateways, sensors, and maybe even intelligent truck-roll."
 
Adept at targeting its own growth sector, Jola doubled in size last year, and since it only sells through channel, that means resellers have won some big contracts. "Most of their success has come from selling 4G data for back-up and primary connectivity, supported by products the MNOs can't or won't offer, like data pools and back-datable bolt-ons," explained Dickinson. "This year Jola partners are also going to win some significant IoT contracts. The number of IoT devices deployed worldwide will at least quadruple in the next three years."
 
Dickinson is mindful that the torrent of upbeat research and predictions about IoT and 5G don't mean anything unless there are practical applications that meet the needs of the market. "Our roadmap this year is based on what we know about the end user business market and the channel ecosystem," he commented. "For example, there are over 200 ISPs in the UK all looking for a simple and affordable 4G/5G back-up service. Using domain knowledge gleaned from Griffin, we have built a layer 2 (L2TP) service into our eSIM multinet MVNO platform. It works without the need for additional CPE or significant router config changes. True fail-over backup has a high perceived value with enterprises and so ISPs and their resellers can make great margins."
 
The question now is where the best mobile data opportunities for resellers reside. Dickinson cites retail as key (especially when growing sub-sectors are identified), along with construction, logistics and transport, physical security and the public sector. "The MNOs are prioritising big manufacturing, logistics and drone deployments so avoid these," he advised. "Resellers should be modelling monthly ARPUs of around £1 in IoT and £10 in M2M and 4G/5G back up. Every reseller has at least one significant IoT/M2M opportunity in their customer base. The right supplier will help them find, and win it."