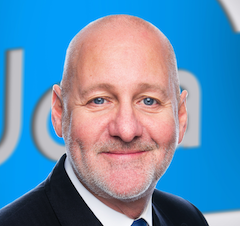 Jola MD Andrew Dickinson's entrepreneurial weight has increased as significantly as the rise of mobile data – both a welcome indication that the comms sector is fertile ground for those wanting to emphatically make their mark.
Dickinson's career history teaches us that daring to be different can bring remarkable results. His comms career began with a 10 year stint at Mercury and Cable&Wireless before turning entrepreneur in 1996 when he co-founded one of the first start-up dotcom companies in the UK to make a profit. "We sold 30 per cent of the business to private equity in 2000, valuing the company at £30 million post-money," he said. "My second venture was a Cambridge IP spin-out which was sold to trade pre-revenue. There have also been a couple of MBO deals, including Griffin which we sold in 2012. Jola is my third start-up from scratch and probably the most satisfying."
Dickinson wrote the business plan for Jola after leaving Griffin in 2013 and formed the company in 2014 the moment he was able to work in the industry again, giving up his controlling interest almost from the start. "It was an easy decision," he added. "I needed the absolute best individuals to run each part of the business and it was clear that the only way to achieve this was through substantial shareholdings and joint decision making."
The Jola 'dream team' and co-founders Adrian Sunderland, Cherie Howlett, Lee Broxson and later Rob Stevens helped drive record revenues for 2018-2019, a growth spurt that saw the firm double in size and scoop Megabuyte's award for the UK's fastest growing telecom services company. The fact that Jola's partners vary in size from £1 million to £13 billion turnover is also reflective of its growth success to date – as is the recent appointment of Ronnie Smith as CFO who is well known in the sector for his work with Spiritel,  Six Degrees Group and TiG. "For the year 2019-2020 we will again post record numbers with revenues up over 40 per cent and EBITDA doubled," commented Dickinson. "By the end of 2022 Jola will be worth over £100 million. We have 750 partners and between 15 and 20 new resellers and MSPs sign up every month."
I needed the best individuals to run each part of the business, and it was clear that the only way to achieve this was through substantial shareholdings and joint decision making
Jola began life selling hosted voice and traditional connectivity, performing well against its peers. "Then an opportunity alerted us to the changes in mobile data technology," explained Dickinson. "The move from 3G to 4G meant mobile data was suddenly able to compete with fixed line and a wave of IoT/M2M projects accelerated this growth. Now we are a MVNO and our business is 75 per cent mobile data. Every day Jola partners are finding new opportunities in their customer bases and discovering how easy 4G is to sell and support. Our pipeline is bursting, with opportunities over 50 per cent running at TCV of £30m-plus. 4G is getting faster and more ubiquitous and innovations like eSIM, L2TP, Fixed IP and multinet are enabling Jola partners to differentiate and win deals from established incumbents at reasonable margins."
The channel is well positioned to ride the mobile data wave, believes Dickinson, and the priority must be to galvanise the mobile data market opportunity where possible. In the first instance opportunities are most likely to be found in a resellers' own back yard. "Every reseller and MSP has at least one huge mobile opportunity in their customer base right now, they just have to ask the right questions and partner with the right suppliers," he stated.
"That said, the roll out of 5G has been slower than expected. But this hasn't affected our business at all. On the contrary, the noise around 5G has made many resellers think about mobile data and IoT/M2M. Furthermore, Covid-19 and the Openreach lockdown reduced opportunities for traditional comms and many resellers have pivoted into mobile data. The number of Jola partners placing orders on Mobile Manager has doubled since March."
This is surely another sign of the channel's inherent strength and flexibility, which has seen it through four recessions. "I expect the channel to ride out Covid-19 too," added Dickinson. "Resellers serving hospitality and retail have mainly hunkered down and most have recurring revenues to keep them going. Others have taken the opportunity to pivot into growth sectors with new products. Three of our biggest deals in the last three months have come from nimble partners who had never sold IoT/M2M or mobile data before."
According to Dickinson, such resellers stand out in a channel which is fragmented and complex, populated by hundreds of infrastructure vendors and 20,000-plus resellers and MSPs, many of which still rely on one-off projects. Moreover, Covid-19 has reinforced that a focus on one-off deals is a dangerous strategy, says Dickinson. "The best MSPs and resellers are nimble because they don't tend to build out a lot of infrastructure," he added. "They can re-purpose their primarily sales and marketing and support capabilities and pivot into new areas much more easily than the networks."
Jola's strategy to 'simplify, innovate and multiply' dovetails neatly with those partners able to act with flexibility and give the market what it wants. And the 'Jola approach' of which Dickinson speaks should be deployed strategically by partners keen to stand out and unblock any logjam they may face in the market, he says. "We write software and APIs to give partners choice and create new products so they can differentiate," added Dickinson. "We also use our buying power to drive down prices and make it all zero-touch so we can scale without adding cost."
Such a vivid opportunity as mobile data is what resellers should be harnessing and prioritising, urges Dickinson, and he acknowledge this potential in his longer-term outlook for Jola. "I am hoping Jola will be my greatest achievement," he added. "It's certainly the most fun I have had in my 35 years in the industry. Also, my children Joseph and (Daisy) Lola are thrilled to have the company named after them, although neither could tell you what we do, and as of yet there is no sign they may want to follow in their father's footsteps."
Lessons learnt...
Over the years I have developed good judgement in people – I don't let people talk me out of this instinct any more. Also, starting companies from scratch is difficult. There can only be one boss, but you must surround yourself with good people and make sure you are meticulous in recruitment and development.