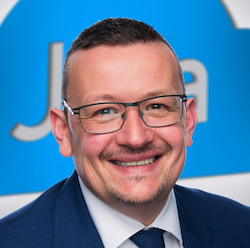 Two things are clear. One is that the IoT opportunity is growing by the day. The other is that eSIMs should reside at the centre of a reseller's IoT strategy, according to Jola's CTO Adrian Sunderland.
As a spearhead into the UK's new IoT age, Jola has pioneered eSIMS in the comms channel, and Sunderland wasted no time in giving Margin in Mobile delegates a crash course on the capabilities of eSIMs and their place in the market. eSIMs in the consumer space, he noted, enable an Apple Watch or Fitbit to have a cellular connection. "In the context of resellers and the IoT, that's not an interesting capability," he stated in his Margin in Mobile interview. "The eSIMs we are interested in can be deployed in devices that can be reprogrammed remotely. M2M eSIMS can be deployed in any device ever made with a SIM slot."
There is no lock-in with eSIMs as they are not owned by the operator, unlike conventional SIMs. And if a user's requirements change due to geographic or regulatory alterations for example, the SIM may need to be changed, which for a traditional SIM could be expensive if it's deployed at the top of a wind turbine or in an oil field in the middle of a desert. "Changing the SIM would be very expensive if not impossible," explained Sunderland. "But the ability to reprogramme an eSIM remotely and repurpose it with the right profile for particular circumstances is a powerful capability."
The more Jola became involved in the larger mobile broadband and IoT opportunities the more it found that SIMs from mobile operators were solving 95 per cent of problems. "But being an MVNO puts us in full control of the service," stated Sunderland. "We started our MVNO journey at Mobile World Congress last year – all around eSIM and 5G – that's all everybody was talking about. It was clear that if we were to build a mobile network we must build it from the ground up to support the latest technology. Today we can say that every SIM on our network is an eSIM. We are in control of every packet that goes through the network. This allows us to deliver the five per cent that differentiates our connectivity from that of the operators and aggregators."
Two examples of scenarios that sit within that five per cent bracket occurred during lockdown. One customer needed connectivity for NHS district nurses who relied on a mobile solution based on a single network but experienced coverage problems. Pre-pandemic the nurse would revert to the local GP or nearest NHS base when experiencing poor coverage. But suddenly, because of Covid-19, that remedial action was no longer an option. Good coverage was required along with secure access back into the NHS network. With eSIMs Jola achieved that quickly.
The benefits of Jola's service are no less evident in the education sector. Not all children have fixed line broadband or a spare laptop, and when the lockdown kicked-in local Government regions searched high and low for laptops and mobile broadband connectivity to get pupils without those resources connected back to their school. "But giving children access to the Internet without control and filtering in place is not an option," noted Sunderland. "So Jola deployed connectivity and SIMs with content filtering built into the service."
We are in control of every packet that goes through the network. This allows us to deliver the five per cent that differentiates our connectivity from operators and aggregators
The company is a channel-only supplier and segments the channel into telecoms resellers, ISPs and MSPs. "Telecoms resellers have been really busy during lockdown," added Sunderland. "We've been supplying them with remote working solutions and remote education solutions. They've been gobbling up unlimited SIMs often bundled with managed routers because they need to provide connectivity where fixed line broadband installations had been delayed.
"MSPs are becoming much more involved in the IoT. This technology is being adopted by all kinds of different industries. At one time there was IoT specialists, now IoT is not cutting edge, it's standard, it's the way manufacturing and monitoring happens, so businesses are going to their trusted MSP and asking for help with IoT solutions. In that space we have the SIMs, IoT gateways and the custom software, and we have a strong partnership with AWS in terms of data destination."
He also explained that MSPs look for connectivity delivered often over Ethernet, a VLAN or delivered straight into a public cloud. "The ISPs want to use the L2TP protocol," added Sunderland. "They are experts at terminating broadband and managing large broadband networks in terms of hundreds of thousands of end points, so we added the L2TP capability to our eSIM enabling ISPs to consume and deploy mobile connectivity just as easily as they do fixed line connectivity."
In the reseller world Sunderland tends to observe 'pull demand'. "Most resellers do not have a huge team of product managers and product developers who then try to persuade customers that IoT is going to be good for them," he stated. "Resellers are good at building trust with customers and responding to pull demand."
Sunderland also suggested that the emergence in a reseller's customer base of a requirement for IoT is a near certainty. "The customer may think they can make their production, distribution or logistics more efficient, for example, and consider IoT as a solution," he added. "That customer then speaks to the person they trust, their MSP who already supplies the SIMs and the broadband, but probably not the IoT.
"All of our marketing is about making such resellers aware that we exist as the trusted partner to them, so that they can deliver the end-to-end solutions to their customers and we hold their hand along the way. Once they win the first, second and third deal they quickly understand that they have value to add in bringing together the different components of an IoT solution. And once deployed it's very low cost to support."
In July during lockdown Jola signed up 34 new mobile resellers. "The reason we can do that is our onboarding process, which includes teaching on portals, how to manage the products and identify opportunities in existing customer bases and match them to solutions," explained Sunderland. "If a reseller has not billed mobile before it can be a little involved with different types of usage, charge codes and call classes. But with over 750 mobile resellers we have relationships with every billing company in the UK and help overcome this potential challenge."
The ability to reprogramme an eSIM remotely and repurpose it with the right profile is a powerful capability
A far bigger challenge Jola helps partners overcome for their customers relates to the high cost of operator lock-in, which Sunderland says cannot be overstated. It also represents an emerging and timely opportunity for resellers to exploit. "The pioneers of IoT connectivity deployed their solutions three to five years ago and they are now coming up for renewal," he said. "We worked on a project recently for a large operator of car parks as their mobile provider locked them in with completely the wrong tariffs.
"The car park business wanted to deploy technology such as image recognition, CCTV and number plate capture on the same service. Even though the tariffs were on three year contracts and were out of date the operator would not facilitate an M2M solution despite having one in its portfolio. The business side of that operator didn't want the revenue to go to the M2M side of the business. Only when the organisation was faced with a six figure inflated cost did they look around for an alternative and found one of our resellers. They are now on a journey to take back control of their connectivity, which is making them more efficient, saving them money and removing the headaches."