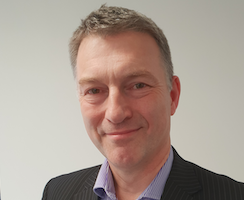 As the 3G shutdown comes into view it's time to take advantage of significant mobile device upgrade opportunities that exist in customer bases, writes Steven Lowe, Product Director Mobile, Gamma.
In December 2021, the UK Government and the UK's mobile network operators announced the intention to switch off the 2G and 3G networks by 2033. This step, dubbed 'sunsetting', aims to free up spectrum for the newest network generations, such as 4G, 5G and eventually 6G. The switch off aims to improve network efficiency, leveraging newer, more efficient technologies and increased spectrum allocations to support the ongoing exponential increase in mobile data usage at ever greater speeds.
This major industry shift provides a significant opportunity for the promotion of high quality voice services and faster speeds, and a reason to engage positively with business customers. We know that there are approximately 10.8 million business smartphone users in the UK, so there is a huge addressable market for the channel.
The 3G shutdown means that in order to continue using native mobile voice services, customers will require a VoLTE (Voice over LTE) compatible device. The good news is that the vast majority of devices released over the past few years are VoLTE compatible. However, many business customers still have a residual base of non-VoLTE compatible devices within their estates. Customers relying on the 3G network or using 3G only enabled devices (including car navigation systems, M2M, CCTV or even Amazon Kindles) will also have no choice but to upgrade to a new device in order to stay connected.
While 2033 may seem a while away, other countries have already started switching off their 3G networks and UK MNOs won't be far behind. A&T shut down their 3G at the end of February 2022, with other American operators following up by the end of the year. In the UK, three out of the four MNOs have already announced earlier dates than the 2033 deadline. Vodafone and EE have stated they will switch off their 3G network by the end of 2023, and Three UK has announced it will do the same by the end of 2024.
In this light, it's essential that MNOs, MVNOs, resellers and dealers start working with customers as soon as possible to ensure that they have access to VoLTE compatible devices – that is 4G, and later, 5G compatible devices. Customers will have already started to notice degradations in 3G service relative to 4G and increasingly 5G as operators continue to expand and deepen their 4G and 5G coverage.
There are approximately 10.8 million business smartphone users in the UK, so there is a huge addressable market for the channel
In addition, and in advance of the 3G network switch off, operators continue to re-farm spectrum from 3G to 4G as 4G demand continues to grow. The Voice over LTE service also offers a much higher quality of voice service than the 3G experience. Employing the EVS (enhanced voice services) codec, operators are able to provide high quality, high definition voice via the VoLTE service.
Just like any other change, this switch off won't come without its challenges, but it also presents new opportunities for partners and their customers. By migrating from 3G-only enabled devices to 4G and 5G enabled devices, customers will be able to leverage the benefits of new generation networks, including faster download speeds, better voice quality and lower latency.
Partners should start engaging with customers to check whether 4G voice and 5G are available in their area and whether their devices are fit for purpose. Ofcom estimates that about four million active devices continue to rely on 2G and 3G, and about three per cent of the UK is only covered by 3G.
While this might be concerning to customers in those areas, MNOs are greatly investing in their 4G networks to increase coverage across the country. Moreover, the Shared Rural Network initiative promises to ensure that 95 per cent of the UK's geography is covered by all four networks by the end of 2025.
Choosing the right provider and service to offer to those customers needing to migrate will also be key. For example, Three UK, which powers Gamma Mobile, has invested £2 billion into its network and IT infrastructure to improve both 4G and 5G speeds and coverage across the UK. This means that Gamma Mobile has 99 per cent outdoor coverage and 98 per cent indoor coverage across the UK.
VoLTE with the enhanced voice services codec has been rolled out across the whole 4G network, so high quality voice is assured nationwide. The service also benefits from the fastest 5G (recognised by the Ookla speed test award) a game changer for customers choosing to move to a 5G-enabled device.