The role Knight Corporate Finance played in helping to seal the merger deal between Aurora and Union Street Technologies has been praised for the thoroughness of its diligence process.
Knight Corporate Finance advised the shareholders of billing software business Union Street on its sale to Aurora, which is owned by serial tech entrepreneur Matthew Riley.
    
Union Street shareholders Tony and Sara Cook approached Knight in early 2019 to consider their strategic options for the business. 
Knight conducted a dry run diligence process (Knight Vendor Assist) to ensure the business was ready for a transaction and highlighted the most appropriate options, with the management team keen to remain with the business.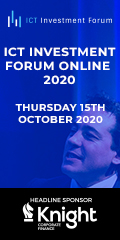 Knight approached a pre-qualified group of industry buyers for a trade sale and institutional investors for a Management Buyout. The twin track approach enabled the shareholders and management team to assess all the options. 
Adam Zoldan (pictured), Director at Knight Corporate Finance, commented: "We had a great interest from private equity and there was an opportunity for the management to take-over the reigns of the company. 
"However, the opportunity to join forces with Aurora was unique. It enabled a full exit for the founders while presenting a great opportunity for management, backed by the resources to drive the business forward."
Tony Cook, CEO of Union Street, said: "I knew the process was likely to be challenging. Until we started the journey, we did not fully realise how complex and demanding the transaction could be. Knight provided support and expertise throughout all steps of the due diligence.
"Adam and the team overcame a number of obstacles, including keeping the conversations going through lockdown at the height of the pandemic and successfully defending our position on key commercial points in diligence to ensure that we were not susceptible to any late price negotiations."
Zoldan added: "Lockdown hasn't stopped the channel, and we have successfully delivered another deal in what is our eighth completion in the past six months."
The deal team comprised Adam Zoldan, David Middleton and Tom Jones.  
Make a date:
ICT Investment Forum online - October 15th