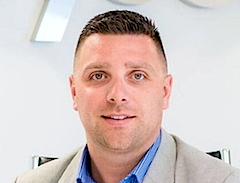 MSP SysGroup's £8m acquisition of Newport-based Certus IT gives it a stronger presence in Wales, the south west and M4 corridor and extends its reach into professional services and manufacturing, adding to its existing specialities in financial services, retail, insurance, charity, education and healthcare.
SysGroup raised £10m through an issue of new shares to fund the deal, its eighth acquisition to date which also brings Dell EMC Gold Partner status to the enlarged group.
SysGroup CEO Adam Binks (pictured) stated: "The addition of Certus IT represents a step-change regarding the scale of the business and our capacity to better penetrate target markets and drive growth."
Last November SysGroup reported revenues up 47.3% to £5.8m for the six months ending 30th September 2018. Recurring managed IT services represented 77.8% of the Group's total revenue during the period.
The results follow the unification of SysGroup's operations and service offerings which were launched under a single brand earlier last year. 
Binks (who joined the business in April 2018) added: "Since taking on the role of CEO we've spent the first half of the year investing in our business, our people, our brand and in our systems. 
"As a result, we have a more sales-focused workforce all working towards the same common goals. We are beginning to see the results of this investment through a strengthened pipeline and remain confident in delivering full year performance in line with current market expectations."
SysGroup has offices in London, Liverpool, Coventry and Telford and is a WatchGuard Platinum Partner, Microsoft Gold Datacentre Partner and Kaspersky Gold Partner.
Certus IT was founded in 2000 and crowned Dell EMC Cloud Partner of the Year in 2015. It provides end-to-end managed IT services to customers including Admiral, Confused.com and Hugh James.