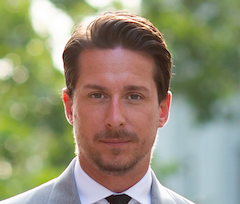 Since the merger of Union Street Technologies, Aurora and Shaftesbury Systems much attention has focused on the strategic realities underpinning the combined group's growth plan. Here, Vincent Disneur, MD of the billing powerhouse, reveals all...
Disneur can reasonably claim that the merger of Union Street, Aurora and Shaftesbury Systems has sent a shockwave through the channel's billing community. "By combining the resources of these three businesses we have created a billing and provisioning powerhouse for the channel, employing circa 200 personnel and serving over 900 partners that collectively use our software to bill around £2 billion per annum," he said.
Now at the helm of a significantly larger independent cloud-based billing and provisioning software business, Disneur says the enlarged entity holds far greater potency. "The combined knowledge and expertise of our team coupled with greater investment and development muscle will add significant value to the telco and IT reseller markets," he claimed. "Billing and provisioning are inextricably linked and when the two processes work in harmony numerous productivity and efficiency benefits can be unlocked. Our plan is to revolutionise the sales to bill process for the benefit of the channel."
Because of the trend towards convergence, CPs are increasingly evolving into single source suppliers for comms, IT and an ever-increasing range of services for end user customers. Clear and consolidated billing is highly desirable for end users, so being able to combine all these service charges into one bill is a major selling point for CPs. "To achieve this a billing platform must be able to process and categorise all recurring and one-off service charges in addition to any rateable charges for call traffic, subscriptions, licenses and more," said Disneur.
Our plan is to revolutionise the sales to bill process for the benefit of the channel
He also noted that there are significant obstacles posed by increasing pressure on prices and the shift towards bundles and 'all-you-can eat' subscription models. "Effective billing and revenue assurance must be key to CPs' strategies for overcoming these challenges and ensuring profitability," added Disneur.
"Consolidating all billing into a single system doesn't just offer benefits for end users, it can deliver massive improvements to CPs' operational efficiency by providing complete and continuous visibility of customers' profitability without having to collate data from multiple systems. We've introduced a number of features into our software to enable CPs to effectively consolidate their billing and also provide consultancy services to help them achieve this."
Furthermore, the transition from copper to fibre along with the migration from traditional fixed line services to mobile and data will create a more varied supply chain, as will convergence and the growing opportunities available in the IT space.
"The rise of the subscription economy along with other changes in customer behaviours and expectations also present the channel with potential for growth," stated Disneur. "Billing vendors must support their partners with solutions that assist in the monetisation of emerging opportunities."
Full fibre roll out and the closure of the PSTN means that transitioning customers to VoIP must also be a priority. However, with margins continually under pressure, generating growth from VoIP services remains a challenge. For CPs that have come to enjoy the least cost routing options available with Openreach's carrier preference service, VoIP could in some ways be a step backwards with a significant loss of control over how CPs' estate traffic is routed. "One of our objectives is to help CPs redress this imbalance and ensure the profitability of their VoIP services," noted Disneur.
CPs now expect their billing platform to deliver the same mobility, accessibility and collaboration benefits offered by other cloud-based software. They want to be able to access their billing system from anywhere, at any time, on any device. "To meet this demand we've made two enhancements to our aBILLity billing platform," explained Disneur. "First was to relaunch it with a new web-based user interface, having redesigned the platform from the ground up. Second was to launch a mobile app for aBILLity which was designed to complement the existing features of the core platform, providing a high-level overview of billing activities and access to customer information. Both the app and the web client have been met with positive feedback from our partners. This will continue to be a focus area for development in the coming months and years.
"We're also looking to introduce increased capabilities for supplier integration. The objective is for aBILLity to federate the ordering systems of multiple suppliers so that orders for various products and services can be placed simultaneously with all related charges set up in the end customer accounts ready to be billed when services go live. In tandem with these developments we're working on highly configurable workflows which will allow CPs to control how orders are managed as they progress to fulfilment."