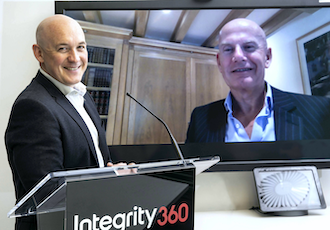 Industry big gun Ian Brown has joined forces again with August Equity in a bid to create a leading European cyber security powerhouse following August's investment in Dublin and London based Integrity360. 
Brown joins Integrity360 as Executive Chairman and is ramping up an aggressive pan-European acquisition strategy alongside founder and CEO Eoin Goulding who is now President of the business. 
Also pivotal to achieving their objectives is the expansion of Integrity360's portfolio of services, with a particular emphasis on Managed Detection and Response (MDR) services.
Brown is an established and much lauded entrepreneur and industry veteran and has run technology businesses for over 25 years, including SecureData, the cyber security services business acquired by Orange in 2019.
The man at the centre of Integrity360's UK business development operations is Matt Tomlinson, who previously worked at SecureData where he operated in a similar position for almost 20 years.
Brown confirmed that he had 'followed and admired Integrity360 for some time'. 
"Integrity360 already has a strong reputation in the industry and an end-to-end portfolio of services," he stated. "The market need for such services has never been stronger given the massive digital transformation acceleration within businesses, alongside the rapid evolution of cyber threats." 
Goulding added: "Over the past 16 years the company has grown to become a high profile cyber security specialist within Ireland and in the UK. 
"Working with August and Ian will continue to bolster our service capability and expand our reach internationally."
Mehul Patel, Partner at August Equity, noted: "We look forward to working with Ian, Eoin and the team as we accelerate the growth of Integrity360 and build a substantial leadership position across the European market." 
Integrity360 was founded in 2005 and during 2020 reported revenue growth of 15%, driven by the need for organisations to protect remote working environments and securing the rapid move of IT operations to the cloud.
Pictured above (l-R): Eoin Goulding and Ian Brown