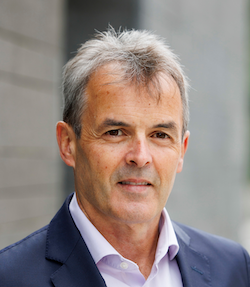 Viatel is approaching an expansion milestone as it seeks to establish a strong presence in the UK and Europe, according to CEO Paul Rellis.
The leadership approach and ethos that enabled Rellis to secure high profile roles at Microsoft remain unchanged and are paying even greater dividends as Viatel enters international expansion mode. Rellis' early interest in technology drew him to Microsoft where he was appointed EMEA Finance Director for Operations in 2000. Seven years later he became CEO for Microsoft Ireland before climbing the ranks to COO for the software giant's EMEA division. "My 17 years with Microsoft coincided with the company's critical transition from a traditional software vendor into a cloud-based entity, and I oversaw the establishment of some of its major data centres in Dublin," said Rellis.
After leaving Microsoft, Rellis invested in a business he judged to be inherently strong with great potential – Viatel – which was formed by Digiweb (Irish residential telecom operator) founder Colm Piercy in 2013 when he acquired the European assets of the original American incarnation of the business. A new direction was set when Rellis became CEO in 2018 with a strategy to establish an Irish and European focused business comms, cloud and cyber security provider.
"Over the last four years we have seen significant growth and developed our digital provider capability on top of the classic ISP business," added Rellis. "Viatel will multiply in size in the next three to five years and we are keen to expand our international footprint overseas. An international network and transatlantic data centre facilities underpin our global capabilities and ambitions. The UK is an obvious target, but Viatel is also considering longer range opportunities in Western Europe."
Following considerable organic growth and a series of acquisitions Viatel now employs over 275 people with locations throughout Ireland. Revenues for 2022 are expected to reach 70 million euros, generated from over 4,700 companies including many household names and global brands. Viatel's customer base spans many industries but it is notably strong in the financial services, healthcare and retail sectors.
According to Rellis, in recent years Viatel has been characterised as much by agility and diversification as rapid growth. "Following a series of bolt-on acquisitions of other telecoms providers, our acquisition of ActionPoint in early 2022 lifted us firmly into the software services and digital transformation space," he added. "Operating in a technical marketplace means that platforms, products and opportunities are constantly evolving. While traditional telecommunications providers have a reputation for intransigence, we take great pride in our agility and our ability to react to opportunities in the market. Our innovations are never isolated. They are proactive responses to the issues our customers face every day."
Viatel will multiply in size in the next three to five years and we are keen to expand our international footprint overseas
Rellis observed that more and more businesses welcome the leading-edge technology and standardisation that global players have deployed, but they hate the downsides of that standardisation. "The demands on businesses are so intense that they need the support and innovation that local tech companies can provide," he commented. "They are closer to their markets, understand customers' real needs and are more responsive. There is a huge opportunity to consolidate brilliant local tech support organisations and provide these services at scale."
But no single company can deliver the entire digital service so Viatel partners with a select group of strategic technology players such as Microsoft, Cisco, Veaam and VMWare. "Any new products we consider all have a common trait – we're not selling technology, we're selling a service that is more important than the technology underneath," said Rellis.
"For example, the rate of digital transformation, cloud migrations and remote working accelerated during the pandemic at a pace beyond the wildest of ambitious IT strategies. We serviced our customers' needs while adapting to new working practices.
"Viatel demonstrated that we are responsive in a crisis and resilient in maintaining services, despite the significant increase in demand on our networks. The telecoms industry has a terrible reputation for customer service. Viatel is working hard to be an outlier and challenge that perception with every single customer interaction."
Given the upsides of tech for business and Viatel's pedigree it is fair to say that the company is pushing against an ever opening door. "Digital transformation helps businesses to grow, acquire new customers and manage their bottom line," added Rellis. "Who doesn't want that? Many companies source their comms and network infrastructure from incumbent providers and were reluctant to move despite non-competitive pricing and poor service. But the Covid era and soaring inflation have made many organisations more cost-conscious and aware of their service needs. This change in attitude opens doors for Viatel as an alternative, proactive partner. The market is ripe for disruption."
With the bit between his teeth Rellis is energetically pursuing an assiduously planned growth strategy yet he never loses sight of the basics. "I intend to continue to do job number one really well – grow organically quarter on quarter – supported by acquisition opportunities," he stated. "Another priority is creating the right environment where our people can do their best work helping, supporting and advising customers. Happy people in our organisation make our customers happier. By earning the trust and respect of our customers we win more of their portfolios and we retain our relationships. It's good business for everyone."