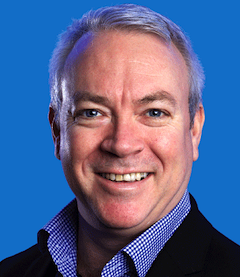 Cloudcell Technologies MD Kevin Boyle is strategising at a pivotal time not only in the pandemic but at a critical juncture in the development of new connectivity technology including 5G and satellite.
Boyle has worked in the telecoms industry for over two decades, enjoying a varied career across all aspects of comms including systems, voice and BT wholesale services, data and connectivity, IP voice and UC. During this time he achieved significant results driving revenues, training sales teams, restructuring departments and developing businesses. "I then saw an opportunity to disrupt the market and do things differently by providing businesses with both cellular and hybrid connectivity solutions," stated Boyle.
He founded Winchester-based Cloudcell Technologies in 2016. The company generated steady growth up to 2020 when Covid-19 hit and Cloudcell lost a significant percent of its recurring revenue overnight. "The future seemed uncertain and I was forced to furlough all staff except myself and an apprentice," added Boyle. "Working hard through the pandemic, our grit and determination meant that we made a major bounce back during the autumn months, achieving impressive year-on-year net growth despite the dire outlook at the time."
2021 proved to be an exceptional year for Cloudcell with its reputation as a supplier of robust and reliable connectivity solutions growing stronger by the day. Last year the company generated 50 per cent growth driven by an expanding reseller partner base and hot demand from direct construction clients. "With a 10-strong workforce we grew our annual revenue by over 50 per cent between 2020 and 2021," explained Boyle. "The team and I have ambitious plans to achieve another record increase in turnover by the end of 2022."
Cloudcell's cellular technology and engineering expertise have combined to provide solutions and tools that help overcome the most challenging connectivity issues presented by Covid-19, pointed out Boyle. "Wireless broadband solutions have many potential uses and can boost connectivity, providing a more reliable and well rounded end user experience," he stated. "Cellular and SDWAN as a connectivity solution is a viable alternative to standard forms of connectivity. Cellular is about much more than simply back-up. It is an entire solution in itself and offers great opportunities to resellers of all shapes and sizes to secure revenues from new and existing customers."
This year Boyle aims to continue his partner recruitment campaign which is known for its marketing and sales support. Not so obvious is his evolving plan to advance Cloudcell's core mission into new territory. The mission has always been to provide businesses with access to connectivity that they can trust anytime and anywhere. Therefore the company is network agnostic and has relationships with all four MNOs. These will develop as 5G comes into the frame, as will a strategy around SpaceX's satellite Internet constellation called Starlink.
"Since 2019 there has been a lot of talk and buzz about the 5G network and ultrafast connectivity," added Boyle. "Many cellular providers have been pushing this. However, we have refrained. Despite the obvious advantages of 5G we feel that the infrastructure in the UK isn't where it needs to be right now. With full 5G coverage across the UK expected by early 2022, and based on extensive network testing including speed and network stability aspects, we hope to provide 5G connectivity to our customers soon thereafter. We're also excited by satellite connectivity such as SpaceX's satellite Internet constellation called Starlink. We have been brainstorming ways to combine satellite and cellular connectivity to provide the ultimate high connection speed and low latency service to customers."
Boyle hopes that within five years Cloudcell will become a major player in the connectivity industry. "We will see significant organic growth," he added. "Our mission has been to educate the nation on the benefits of cellular-based and hybrid connectivity. Fixed line services have always been seen as the holy grail, while cellular-based connectivity has been dubbed the poor cousin. This couldn't be further from the truth. Following years of development and significant investment into cellular infrastructure, cellular connectivity provides so many opportunities for business, especially in rural locations.
"As a telecoms provider, you understand better than anyone how important it is to offer customers a choice. Cellular connectivity is growing in popularity and there is a significant opportunity for resellers to drive revenue by including cellular and hybrid options in their service portfolio."