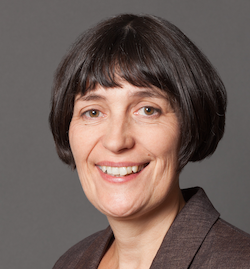 President of CGI's UK and Australia operations Tara McGeehan addresses the key issue of improving diversity in the boardroom.
How important is it for businesses to have diverse boardrooms?
Any room that has a diverse group of people is stronger for it. Whether it's a lab or a board room, we need to ensure there are strong female voices along the whole business chain. Only by having a diverse presence throughout a project lifecycle, or a business's infrastructure, can you ensure that innovation and creativity are being given a fair chance through different perspectives. Furthermore, the tech industry is constantly evolving and transforming, and I firmly believe the boardroom should reflect this to keep up with competitors and ensure innovation of thought.
 
How are you taking a lead on the issue of increasing female representation at the top in your business?
We do a lot to encourage women to join and stay in the tech workforce – from encouraging girls still in school to spark a passion for STEM topics, to creating flexible environments that support experienced women with families to continue their careers without fear of imbalance. As an industry, we need to be more aware of the issues women face throughout their life to effectively support and nurture them.
Diversity is more than a buzzword – it's an essential component of any business. Without it you risk stale ideas and falling behind
A study this year found that more than a million women with menopausal symptoms are under pressure to quit their jobs because they are not getting the support they need. This is a shocking figure and risks the industry losing out on an incredible pool of experienced talent.
CGI has several diversity networks where colleagues can collaborate and have open and transparent conversations with one another, and one of our most popular is the menopause network. Not only is this a space where members can share tips on vital working practices, but they can share these key findings with the rest of the business. This means they are creating awareness and shining a light on something many of their male colleagues may be unaware of.
What other initiatives do you participate in to help increase the presence of women on boards?
In today's world, more organisations should consider programmes like the networks I've discussed as a business obligation rather than a nice-to-have. If you want to truly be inclusive you must break biases, you have to empower employees, and you have to give them the tools to make the change they need, rather than the change you perceive. From a day-to-day stance, we work hard to ensure that women are given the tools to support themselves. Men and women often have very different needs, so making sure that both groups are being given a fair platform to shine is vital. Doing this could be as simple as creating a flexible environment and ensuring measurement is on outputs rather than hours spent in an office environment.
The goal should be setting up a framework to make sure women can succeed and move up the corporate ladder without impediment
We have also launched a shadow board which is a diverse group of CGI members who discuss the same topics alongside the CGI Cabinet to see if they reach the same conclusions. This gives us a well-rounded perspective from people of all backgrounds to foster trust at all levels at CGI.
What are the objectives of these efforts?
The biggest objective of these programmes is to create an even playing field to ensure we have an environment where anyone can prosper and thrive. Diversity is more than a buzzword – it's an essential component of any business. Without it you risk stale ideas and falling behind.
 
What more action needs to be taken to boost the number of women on boards?
Accountability is vital when it comes to accelerating the pace of women in tech. This means identifying where the industry has gone wrong and acting to fix errors and gaps. As a sector, we need to keep having serious discussions around subjects like the gender pay gap and we should be holding each other to account. Having a balanced board is just common sense and we should all want this outcome.
What barriers have you identified to having more women on boards?
Identifying talent that is the right fit for positions on boards is one thing, but helping them to get ready to be on a board and to see the benefit for themselves and the wider organisation of being on the board can be a bigger challenge. Nobody wants to be a lone voice or just make up the numbers and this can impact the desire of women to put themselves forward for board roles. CGI is keen to encourage all members to reach the level in the organisation that is best for them, offering mentoring and coaching that helps to overcome any lack of confidence. We have a vibrant Women's Network too where our future board leaders can network with the current board members to discuss the roles and challenges.
What cultural considerations should be taken into account?
It is important to consider that a hurdle some women encounter is returning to work after maternity leave or a career break. Suppose employees are offered support before, during and after parental leave in the form of remote training – in that case they can return to the business feeling confident with any recent developments in their space. Providing training courses for women while on maternity leave is a key part of our diversity and inclusion strategy at CGI UK, and it's helped prevent employees from feeling out of the loop or unneeded when they return (which of course is never the case).
Research suggests that for a group to have an impact on decision making it needs to form 30 per cent of the whole. Do you agree?
It can be risky to put a number on diversity as you run the chance of treating it as a goal to be met rather than surpassed. Ultimately, we all have different life backgrounds and experiences which offer unique perspectives, and we should be looking to leverage that experience. The goal should be setting up a framework to make sure women can succeed and move up the corporate ladder without impediment.
How can ambitious women influence their own ability to reach a board level position?
The journey I took to get to where I am today was not planned, so it's difficult to say you should pick a path and stick to it, especially as the tech industry is fluid. Ultimately, we need to champion one another. Women who have succeeded in opening doors need to make sure those doors remain open to the women coming up behind them. Also, embrace your curiosity and commit to lifelong learning. In tech, the skills and tools we need to work are always shifting. It's vital to stay on top of these advancements by adapting and keeping your skills current. So sign up for classes, listen to podcasts, go to networking events and ask questions.
 
Has the comms sector made progress on increasing diversity at leadership level?
There has been a real push in the sector to grow the diverse talent pool, but as I've said before this is a journey without a destination. There is always more we can do, and more we should be doing. As long as we have that mentality driving us we will see even greater numbers of diverse talent leading the industry in the next ten, 20 and 30 years.