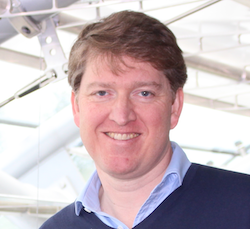 Staff wellbeing has become a priority for employers and initiatives that extend beyond physical health are being implemented as part of an all-embracing approach to the wellness needs of colleagues.
Here, four industry trailblazers show how to set the wellbeing standard.
To support its employees Excalibur put in place a health and wellbeing programme in 2018. In consultation with its people the company created a plan that focuses on physical, financial and mental health. The programme's component parts range from free fruit in the kitchen and having a small gym to inviting experts to talk about managing personal finance, effective time management and mental health.
"Employees like having a programme in place," said Peter Boucher (pictured above), CEO, Excalibur Communications. "It shows them that we care about how they are as individuals as well as looking at the wider health and wellbeing of the company. The programme makes sure we regularly review how engaged employees are and how our structure works. It's not a static programme, so suggestions on how we can improve or enhance it are welcome. Furthermore, it is the role of management and leaders to keep health and wellbeing on the radar. We review it every month. It's not just the job of the HR department."
Even before Boucher joined Excalibur over five years ago the company aimed to be a Top 100 Sunday Times Best UK Small Company to Work For. Since then it has been recognised as a Top 100 Best Company four times. In 2021, Excalibur ranked as the UK's 75th Best Small Company to Work For. A key measure of Excalibur's progress is an annual staff satisfaction survey that gauges employee engagement. This is done externally via the Best Companies to Work For scheme. Boucher noted that it's also a good way for the Excalibur management team to garner feedback and ensure its health and wellbeing plans are on track. In 2021 the company scored highly with over 80 per cent of staff giving a thumbs up on their work-life happiness.
"If your team is happy and working well business outcomes tend to be positive," added Boucher. "Over the last three years, which have not been straight forward, we have maintained healthy turnover and profitability. And a constant theme in our customer feedback is that they enjoy working with Excalibur colleagues and that they do a great job. There is a clear link between employee and customer engagement."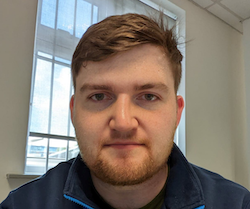 Intercity Technology operates a 24/7 Employee Assistance Programme which offers a confidential counselling line that colleagues can use if they are struggling with mental, physical and financial wellbeing. "We aim to ensure our colleagues pay attention to their thoughts, feelings and the world around them," commented Callum Downing (pictured left), People Advisor, Intercity. "It's been a highly challenging couple of years for many people so our initiatives are designed to support colleagues and help them to focus on what works for them. For example, we have plans to invite a financial wellbeing guest speaker to talk about an area that is often overlooked when considering mental health."
Intercity Technology focuses on wellbeing in multiple key areas, including connecting with other people through regular one-to-ones, team meetings and social events. It also relaunched its annual wellbeing calendar which focuses on two or three key events each month, such as Stress Awareness Month. "These events can range from comms to internal training or practical sessions," added Downing. "For example, we will be using our company Strava page, which promotes physical activity, to set up a walking challenge for On Your Feet Britain."
It is the role of the management and leaders to keep health and wellbeing on the radar. We review it every month. It's not just the job of the HR department
According to Downing, the more options the better for getting colleagues involved and supporting causes. "By providing opportunities through volunteering, charity fundraising, exercise campaigns and guest speakers, we are more likely to attract more interest and uptake from a greater range of colleagues," he added. "Our initiatives allow colleagues who may not work closely to get together and take part in different activities and events, which is at the centre of the culture we are trying to develop. There is nothing more rewarding than getting involved."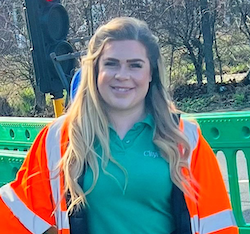 CityFibre has also improved collaboration between various teams across the organisation and has a dedicated team focused on staff wellbeing activities and a budget to support them. "A team of volunteers support the physical and mental health of employees," explained Chloe McGain-Harding (pictured left), Mental Health Lead, CityFibre. "The initiative is driven from Director level and regularly reiterated to all staff by the CEO."
CityFibre also provides private healthcare options to all employees and encourages them to take advantage of additional benefits such as physio and counselling. "We are working on various awareness weeks, activities and events including Mental Health Awareness week in May," added McGain-Harding. "We will be focusing on mental health, physical wellbeing and encouraging physical activity and the importance of sleep. We've planned various events and webinars across the year on things like guided meditation and have ongoing communications across the company offering advice and tips."
According to McGain-Harding, employees who are truly supported will feel more motivated, have a better work-life balance, be less stressed and therefore more engaged within their roles and generally have better health both physically and mentally. "It's an ongoing learning process to see what works best and which types of support and advice are most required by our employees," she added. "That's why we encourage feedback and requests across the organisation so we can deliver what is needed and cover the most useful areas and topics."
CityFibre has achieved high participation and attendance rates for its wellness events and activities, and McGain-Harding says feedback is key to success. "We have a diverse workforce and have been covering a wider range of topics and issues to ensure as many needs are met as possible," she commented. "Most recently we've covered work-life balance for busy parents, prostate cancer awareness and stress awareness."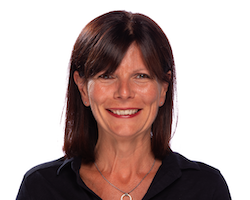 It is clear for all to see that health and wellbeing plays an important role in employee engagement and can have a positive impact on the attraction and retention of talent. It is also a fundamental component of creating and nurturing the right company culture. "Creating a great culture focused around the wellbeing of your people is key to long-term success," said Ayshea Robertson (pictured left), People & Culture Director, Zen Internet.
"Our strategy addresses factors that may affect employee wellbeing from both inside and outside the organisation. We have a number of pillars within the wellbeing plan such as safety, personal health – physical and mental – life factors, working environment, resilience and giving back."
It is important to understand that everyone is different, and we need to consider all aspects of a person's wellbeing – not just the parts that relate to work
Since embedding these pillars into its wellbeing strategy Zen ensures each area gets the right amount of focus. "It is important to understand that everyone is different, and we need to consider all aspects of a person's wellbeing – not just the parts that relate to work," commented Robertson.
She also noted that inspired people who are well led and well looked after will deliver a superior customer experience. In turn this delivers a sustained financial performance. Here, Robertson provides some top tips for those wanting to support and improve their staffs' wellbeing.
"When it comes to your health and wellbeing strategy, remember to consider the scope of impact both internal and external factors can have," she commented. "Listen to your people to ensure activities are inclusive, engaging and relevant. And take a long hard look at resilience and how supporting your people will ensure they can operate effectively in a more versatile working environment."