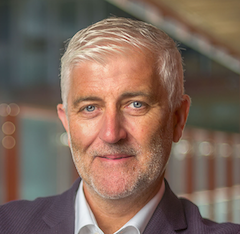 CWSI started life in a living room soon after the advent of iPads, when co-founder and CEO Ronan Murphy quickly spotted an opportunity to help firms manage these new devices in the enterprise space.
Today, the company continues to blaze a trail in the mobile and cloud-first world, driving significant UK growth ahead of a big push across Europe.
CWSI was founded in 2010 in Dublin, Ireland, by Murphy with co-founders Philip Harrison and Conor Headon. The CW part of the name is derived from two previous businesses set up by Murphy (Connected World and Commercial Wireless), and as the firm is a systems integrator the tag SI was added. "The idea for CWSI was sparked by the launch of the first iPad and the realisation that few businesses had the IT knowledge or skills to get the best from these devices in an enterprise environment," said Murphy. "With this initial insight and working from a single desk in the corner of my living room, CWSI underwent huge growth through strong partnerships, patience and careful planning. We now provide a full suite of modern IT security and compliance solutions to some of Ireland's and the UK's leading organisations."
CWSI's decision to become an early adopter of what was, at the time, a new technology (Mobile Device Management) by becoming the first MobileIron partner in Europe was the foundation for its success, noted Murphy. "In 2018, we saw that Microsoft was intent on becoming a major player in IT security and endpoint management so we established our Microsoft practice from scratch," he explained. "That was a major strategic shift but is now one of the fastest growing parts of our business.
"In terms of channel partnerships, our relationship with a major UK mobile network operator, established in 2017, was transformational in terms of UK growth and our ability to service some of the largest enterprise and government clients. Completing our first acquisition in May this year of UK-based mobility and security reseller AVR is another big milestone, proving that we can successfully integrate a business outside of our domestic market."
CWSI has achieved 35 per cent year-on-year organic growth during the last five years and now has 60 people working across the UK and Ireland. In 2021, the UK will represent over half of overall revenue and profit for the first time, partly as a result of the AVR acquisition but also driven by healthy organic growth in UK channel partnerships. "Over half of our revenues will come from indirect channel partners in 2021," added Murphy. "We are targeting annual revenue in excess of 20 million euros within the next 12 to 18 months, with over 80 per cent of this being recurring revenue. We are well on track to achieve this objective."
CWSI has secured a number of EMEA-wide contracts and expects to have a presence in mainland Europe by the end of 2022. "Our longer-term vision is to become a pan-European leader in modern security through a combination of organic growth and M&A activity," said Murphy. "A challenge in any high growth business is to focus energy and resources in the right place. There is so much opportunity in the market right now. We need to be disciplined about where to invest our time, resources and money."
 
Three years ago CWSI pivoted from being mobility centric to security focused, realising that mobility was becoming standard and there was increasing convergence between the management and security tools for mobile devices, laptops, desktops and other endpoints. "This opens up a much bigger market opportunity and means that our sales conversations are increasingly with the IT security team and board rather than the IT operations team," commented Murphy.
This shift means CWSI is doubling down on Unified Endpoint Management, Endpoint Detection and Response, Zero Trust Network Access, Compliant Collaboration and Security Consulting solutions for mid-market and enterprise organisations. Its key technology partners are Microsoft, MobileIron, SentinelOne, Wandera, NetMotion, Corrata, Dubber and Movius.
"We're expanding further into Endpoint Detection and Response through our partnership with Microsoft and, via our recent acquisition of AVR, through a new partnership with SentinelOne," explained Murphy. "Our SentinelOne relationship also brings us into Managed Detection and Response for the first time, an area that we believe has good growth potential for the future."
"Furthermore, our recently formed partnership with Dubber is opening up a new area of Artificial Intelligence in communications. While this is currently positioned mainly as a compliance solution it does create future possibilities to gain insights, which are currently hidden, from voice, video and messaging communication."
Murphy also noted that Covid-19 resulted in the largest - albeit forced - proof of concept for remote technology and a remote way of working. "In rushing to roll out solutions many organisations inadvertently created new risks by relying on old fashioned security tools and approaches that aren't designed for the way we work today," added Murphy. "Our value proposition is built around helping organisations to get secure and stay secure in the context of this modern way of working."
Murphy sees four major drivers influencing the business over the next few years – the growth of hybrid and remote working, the continued and accelerated migration to cloud services, the drive for digital transformation and the growth of organised cybercrime. "The combination of these factors will mean strong demand from organisations of all sizes and in all sectors for advice, skills and services relating to modern IT security.
"VARs and SIs need to have a clear value proposition for their target customer base. This means doing something better, cheaper, quicker, more reliably or with less risk than a customer or competitor can provide. This is best achieved through high quality independent advice, expertise and services in a focused area, rather than being a generalist. While professional services will always be a key part of what we do, we see these as the door opener to recurring service revenue and ongoing relationships with clients that allow us to continuously improve their security posture."