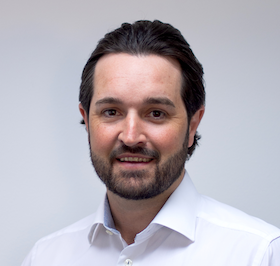 Our 2023 Comms National Awards Reseller of the Year winner Global 4 also bagged the Best Enterprise Vertical Market Customer Solution and Reseller Business Transformation gongs to complete a memorable hat-trick.
What does winning the Comms National Awards Reseller of the Year crown mean to the business?
This was a huge achievement. It demonstrates that all of the small wins, the attention to detail, the putting our customers first, and the focus on maintaining our 5 star Trustpilot reviews is recognised. As part of developing our brand we revisited our core proposition. We looked at what makes us tick, what differentiates us and we came up with four core values – We Love Tech, Exceptional Service, Work Hard Play Hard and Grow Together. The Comms National award proves that we live all of those values to the full.
When was Global 4 established?
Global 4 is a family company and began 25 years ago when my dad, and founder Nigel Barnett, set up a telephony business from his garage. He secured a number of customers across multiple verticals but especially gained an early foothold in the estate agency market, which remains a key strength to this day. A management buyout in 2023 saw 'Communications' removed from the brand name as Global 4 transitioned into its next phase of growth with me at the helm as CEO.
What was the rationale behind the MBO?
The MBO was all about growth. In parallel with Global 4 as a B2B brand, our B2C business Telecom Acquisitions required the same level of focus to maximise its potential. The decision was therefore made to split the businesses with me taking control of Global 4, enabling Nigel to focus on growing Telecom Acquisitions.
What is your biggest opportunity?
When we talk about market sizing we are in a fortunate situation as every single business can take one or more of our products. The opportunity to grow is massive.
Which new technology areas are on your radar screen?
AI is a big area for us as we look to improve our customer experience. We have an internal work stream developing propositions and onboarding suppliers where AI can improve the solutions we offer to the market. Our role is to stay one step ahead and act as customers' trusted partner to advise, guide, and future proof the technology in their business.
 
What are today's comms sector leadership priorities?
For us they sit around continual growth whether through acquisitions or organically via the cross sell and upsell model, while maintaining the culture of the company. We are acutely aware that as teams get bigger we don't want to lose the fundamentals that have got us to where we are today.
Where do you see Global 4 in three to five years time?
Our goal is to achieve triple growth through a mix of acquisitions and organic activity. Ongoing development of the team is vital to ensure everyone is on the same path and being provided with growth opportunities.
In hindsight, what would you have done differently?
We would have transitioned to a recurring revenue model faster and embraced new technology earlier.
Industry bugbear?
The race to the bottom. It's vital to keep value in the market.
How did you get into comms?
Straight out of school I wanted to get into the working world at Global 4 and start earning money. Sales has always been my passion and I learnt my trade by watching closely and taking note. Then, working my way through the ranks enabled me to gain a clear understanding of every facet of the organisation. This gave me insight into all the challenges my teams face.
Role model
My dad, Nigel. What he has achieved is outstanding. His drive and determination to build a business and continually grow is a testament to the work ethic he has taught me. If I can be half the businessman he is I will be delighted.
 
What talent do you wish you had?
To be a better golfer.
 
What do you fear the most?
Needles and heights.
Tell us something about yourself we don't know
I have run the London marathon.
Name three ideal dinner guests
Tiger Woods, a legend who could give me tips to improve my handicap; Boris Johnson for his stories and views on the decisions he's made; and Paul Gascoigne, he knows how to party!
Your main strength?
I can empower my teams, lead from the front and I'm ambitious for everyone in the business to achieve their professional and personal goals. I want everyone to feel they have the ability to run their own agenda and deliver in their style while all driving towards the same goal.
 
Best piece of advice you have been given?
Know what the exit looks like, and work back from there. Planning takes the emotion out of decision making.
One example of something you've overcome
Covid was one of the biggest challenges any business leader has had to overcome. The rules, the uncertainty, keeping everyone safe, understanding everyone's views, all while growing a business with customers needing to adapt and make changes to the way they did business.
If you weren't in comms what would you be doing?
A professional golfer. But in reality, some sort of sales role.
 
What's the biggest risk you have taken?
The management buyout of Global 4 still sometimes feels like a big risk. It obviously comes with additional responsibility but we have a belief that we can succeed. With the right team, anything is possible. I took the risk because I believe we can make a difference, that we have the right proposition, the right team and the right culture to grow.
How do you relax when not working?
Time at home with the family. I am a lucky to have three awesome children and we love a holiday. I try to do that as often as possible.